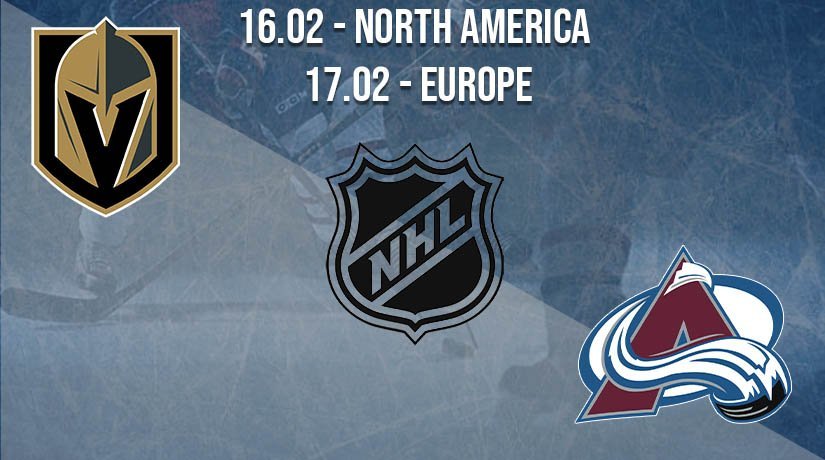 16th Feb 2021
NHL Prediction: Vegas Golden Knights vs Colorado Avalanche on 16.02.2021 North America, on 17.02.2021 Europe
In the next game of the series, Vegas will again host Colorado and will try to prevail over the opponent. Let's find out who might gain the upper hand in this game.
Vegas Golden Knights
Vegas this season is consistently happy with their effective attack, which allows the team to gain points in almost every match. However, in the game against Colorado, the Golden Knights could not show a productive game. The team from Las Vegas still prevailed with a score of 1-0. It is worth noting the goalkeeper Fleury reflected 30 shots on goal. The Knights have lost just two home matches this year – to St. Louis (4-5 SO) and Anaheim (0-1). In all other meetings, Vegas was the winner. Thanks to such successful results, the Golden Knights occupy the Western Division's top spot with 21 points.
Colorado Avalanche
Colorado continues to show an unstable result. From the very start of the season, the team exchanged victories with each opponent. They only managed to win twice in games with San Jose, the worst club in the division. The main reason for such a lacklustre play is that the Avalanche played almost all of their matches away, where they play much worse. However, the Avalanche was able to gain the required number of points to take the third line in the Western Conference table. The main advantage of the team is excellent defence – only 25 goals conceded in 12 games.
Vegas Golden Knights – Colorado Avalanche prediction
Vegas was able to defeat Colorado in the first leg. The fight turned out to be unproductive in terms of goals, as both teams showed excellent defensive play. Still, the Golden Knights were slightly stronger than their opponent. You can bet on another victory for the Knights in the return match since the team plays at the home arena, where it practically does not lose.