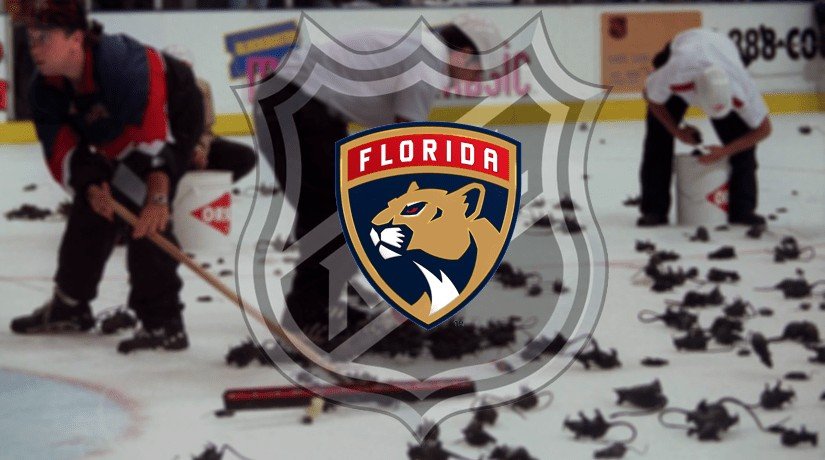 08th May 2020
Florida Panthers fans used to throw rats on the ice until the NHL banned it. You can still buy rats in the arena, though
The Panthers hockey games in Florida (played in Fort Lauderdale) are not quite like hockey: there are ocean and beach vacations nearby, jogging and tennis with a minimum amount of clothes, palm trees, cabriolet cars. Not a winter sports location at all. Inside – especially close to the ice – it gets fresher, but the oddities continue anyway.
In the company store, in addition to jerseys, t-shirts and everything with the image of panthers, rubber rats are sold – a dubious soft and squeaking children's toy that you don't want to touch or buy. But local fans rotate them in their hands, pass them on to each other, buy, and they don't take pictures – for them it's so low that Americans are more likely to retake photos of themselves against the background of ice than with a rat in hand.
Here's a story of those rats
Panthers is a young (born 1993) club without victories in the Stanley Cup. The main achievement in recent years – two victories in the Atlantic Division. At the start of the second season in the club's history (1995/96), a living rat was spotted in the home locker room. The Canadian forward and Panthers leader Scott Mellanby was so frightened that he grabbed a hockey stick and killed the animal shooting it like a puck against the wall.
Further, the story developed rapidly:
Newspapers learned about this from Florida goalkeeper John Vanbisbrook.
Mellanby scored two goals a few days later.
Fans bought in toy rats and started throwing them on the ice after Mellanby's goal in the next game.
Then a rat fall (aka rat-trick) was arranged after the decisive goals of the team and important victories – it reached such proportions that the club paid for the services of the company, which instantly removed the animals from the ice.
In the 1995/96 season, Florida reached the end of the conference, and after defeating Pittsburgh, three thousand rats flew onto the ice. In the Stanley Cup finals, the Panthers played against Colorado, fans prepared thousands of toys to celebrate the victory, but rival goalkeeper Patrick Rua promised: "There will be no rats." And he kept his word. Colorado won the first-ever Stanley Cup, Florida never made it to the finals, and at the same time the NHL imposed fines for clubs whose fans throw something on the ice (pauses for cleaning the site are too expensive). An exception was made for caps – they are legitimately shot after hat-tricks.
Now rats are bought in a company store as a keepsake and are not thrown onto the ice even after major victories. And if they drop out (as in 2016), the judges deliberately confer and remind that the club may be fined.
The league won, but tradition still lives on.