Looking for information on the official 22Bet app for iOS and Android? Then you've come to the right place!
Read this guide to learn all the information you need on how to download the 22Bet app, install it on your device, and start playing. Let's get started!
Download the official 22Bet Android / iOS app HERE to get the most out of your gambling experience and start your dream journey now.
Where to Download the 22Bet App?
Users can download the official 22Bet app directly from our official site or through the Apple App Store.
Scroll down to see detailed instructions on how to download and install it on your device in just a few taps or watch the video below to learn how to download the 22Bet app.
Android Devices
As of today, there is no option to download the 22Bet App through the Google Play Store. All the necessary Android installation files can be downloaded directly from the 22Bet app page on our website. 
NB! When browsing other websites, you may notice that some of them claim that you can also download our Android and iOS app from them. 22Bet takes no responsibility for apps downloaded from these third-party sites.
iOS Mobile Devices
In some regions, the 22Bet mobile app is available on the Apple App Store and iTunes. To install the official 22Bet app for iOS in other regions, you'll need to either download the installation files manually or change your Region settings.
If you don't want to mess around with your App Store settings, simply visit the official iOS app section of our site and click the big "Download the iOS App" button.
Mobile Website
Not comfortable with downloading any new apps to your device? No need to feel ashamed of that.
We understand you perfectly, which is why we made sure that the mobile version of our official website offers the same functionality as our app.
Our mobile site offers the same number of casino games, sports betting options, and payment features as our app. The only difference is a slight amount of latency that may be introduced by your browser.
How to Install the 22Bet App
Here's everything you need to know about installing our app on your mobile device.
Android Installation Process
As of today, there is no option for 22Bet apk download through the Google Play Store. To install the 22Bet app you need to:
Download the 22Bet apk file directly from the 22Bet app page. 
Click the Open button when the download ends. 
A pop-up will appear. It will ask you to allow installation from unknown sources. Switch the slider to allow activation.  
Click Install. Wait for the app to install itself on your Android mobile device. 
You can then hit Open to launch the app and get started. 
After you download the 22bet app for Android, you'll need to follow a few simple steps to get it working smoothly. The entire process should take you under 30 seconds.
iOS Installation Process 
Apple's iOS is much more closed-nature than Android, so installing a non-App Store app is slightly more difficult. This is why we recommend that users install 22Bet app files directly from the Apple App Store. 
However, this can only be done from certain regions. Here's how you can change your region:
Go to your iPhone or iPad settings, tap Apple ID, then press View Apple ID.
Tap Country/Region, select Nigeria, accept the Terms of Service, and fill in the required fields.
Next, go to iTunes or the App Store and download the app in the same way you would any other application.
Mobile Site vs Mobile App – What's Better?
Not everyone loves apps. We understand that. This is why we're giving you the ability to play your favorite slots and enjoy sign-up bonuses and other rewards without having to download anything.
The official 22Bet mobile site can be found at https://22bet.com.
There, you can play a full range of games on the mobile site if you'd rather not download any apps to your phone. 
The mobile site has all the features of the desktop site. It's fully optimized for mobile and can be accessed by almost any phone through your mobile browser. 
You'll be able to start playing as soon as you log into your account or register a new one
Just like the desktop website and the official app, the mobile site is designed to provide players with the best possible gaming experience.
Live casino and sporting events are shown on the home page so that you can place bets directly without using the menu. You'll also see a great collection of brand new and top-rated slots and other games.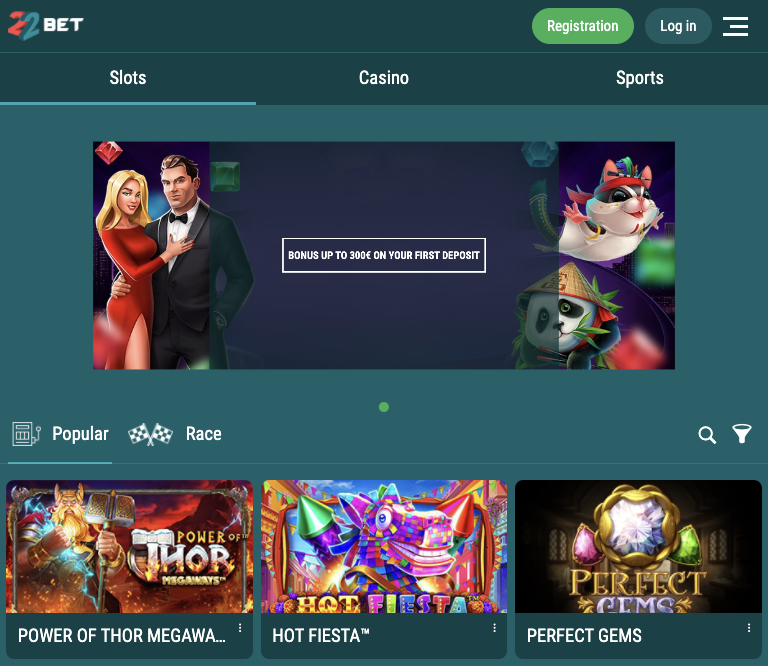 Additional games can be easily found in the top-right menu. Simply click the three bars to access it.
Please note that, unlike mobile apps, which update automatically within app stores, mobile betting sites require your phone's operating system to be updated. Otherwise, the site might not load correctly.
You will need Android 5.0 or higher to play on Android. And you'll need iOS 7.0 or higher to get the best gaming experience on Apple devices. 
A good, reliable mobile browser is also important. Chrome and Safari are the default choices on iOS and Android, but you may also look into speciality browsers designed to make browsing faster on slower devices.
Mobile Sports Betting with the 22Bet Betting App
Installing the official 22Bet sports betting app is a great first step in an exciting new journey. The app gives you access to a massive range of sports to bet on, including such classics as football, boxing, basketball, hockey, motorsports, tennis, and UFC. 
And these events are made even more exciting by our wide selection of live bets that you can make during the event itself.
Thousands of Sports to Bet on
Why limit yourself to just football, basketball, or cricket when there are hundreds of other sports to bet on? 22Bet offers bets on more different sports disciplines than you can even imagine.
Here are just a few of them.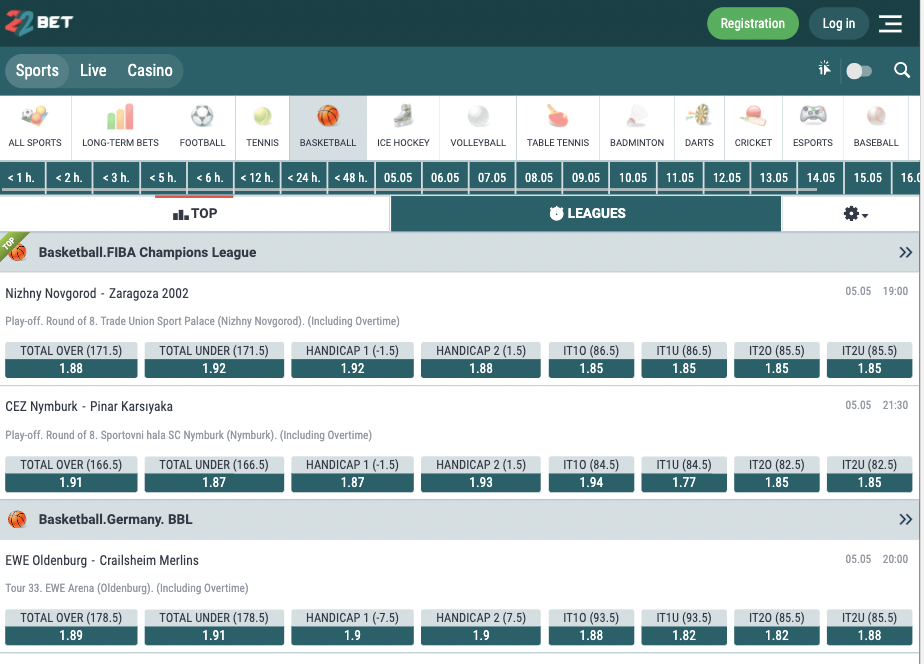 Football Betting
We offer bets on such international club football events as the FIFA Club World Cup, the UEFA Champions League, and the Europa League. Fans of domestic league action will enjoy the widest selection of betting markets on the England Premier League, Bundesliga, La Liga, Ligue 1, Major League Soccer. As well as lesser-known leagues like the J1 League, A Lyga, K League 1, and the Curaçao League First Division.
Fans of national team football will enjoy a vast selection of betting options for a wide variety of international football events, such as the Nations League, UEFA Euros, and the FIFA World Cup and Women's World Cup. We are talking about the classic staples, such as three-way bets, goals scored, teams scoring next goals, and handicaps, as well as niche markets like yellow and red cards.
eSports Bets
eSports are the future of athletics. Being future-oriented, 22Bet offers players the ability to look forward to a dedicated eSports selection on both its mobile site and official app. 
You can make outright bets, handicap bets, and dozens of other types of bets on all your favorite Dota 2, Overwatch, StarCraft II, Counter-Strike, League of Legends, Hearthstone, Tekken, CrossOut, Street Fighter, FIFA, NHL, and PES tournaments.
Live Bets and In-Play Odds for Thousands of Markets
Live bets are a good way to get in on the action during a live match, even if you're only joining after half-time.
You can make in-play bets at any time as the game progresses.
Time the markets and you may just increase your odds. Or just enjoy the ability to bet after the starting whistle.
Enhanced Odds for Popular Sports Events
Enhanced odds is a popular feature that consists of a range of games with above-average odds.
This feature is extremely popular with our users. Everyone looks forward to seeing which games will be offered with enhanced odds next.
Wide Selection of Accumulator Bets
Accumulator bets give you the chance to grow your bet slip by combining several event wagers into one.  
A big advantage of this type of bet is that you can get higher odds than if you would've bet on these same games separately. Choose wisely and you'll be able to get great odds for your favorite events.
The Latest Sports Results In-App
Get the latest sports results in-app with the live results feature. All of the results you see are updated in real-time, so you can quickly glance at the 22Bet app for the latest information on hundreds of events.
You will be able to get the latest stats and scores as they happen. If you're planning on making in-play bets, this feature is going to be a game-changer for you. 
The Latest Word in Mobile Casino Gaming
Along with sports betting, the official 22Bet app offers a fantastic mobile casino experience. 
Our massive game library has thousands of casino games to suit every mood. Head on to the live casino to play poker, blackjack, roulette, or baccarat. Or go check out our popular slot machines if you prefer to keep things simple.
Search for specific games, use the filter to narrow down your search, browse games shown on the casino section, or try one of the popular picks featured on the live casino screen. The possibilities are endless.
The quality, graphics, sounds, and overall experience on the mobile app and the mobile site are every bit as good as they are on the desktop website.
This means that you will always have a great experience playing your favorite casino games.
Captivating Video Slots from the Best Providers
Who can resist a seemingly endless collection of slot machines? The official 22Bet app has a huge variety of online slots from leading providers. These include trusted providers such as Microgaming, NetEnt, BetSoft, Quickspin, and Pragmatic Play.
You can enjoy classic three-reel slots as well as progressive slots with million-dollar jackpots.
If you don't know where to start, these five slots are a great starting point:
Book of Tombs
Book of Rebirth
Buffalo Rampage
100 Juicy Fruits
Starburst
The Best Live Dealer Casino Games
Live dealer games give you an ultra-realistic experience of being at a ritzy Vegas casino. Advanced graphics and sounds make you feel like you are right there at the table, playing poker, blackjack, and other games with Hollywood celebrities.
Only it's better than that. Unlike a real casino, you don't have to get off the couch or dress up for your night out.
The mobile app gives you all the action right there on your phone. All you need to do is choose your game, grab a drink, and settle back for some live dealer casino action.
Live casino games are created by the talented staff of such game studios as Evolution Gaming, SAGaming, Pragmatic Play, Ezugi, Vivo Gaming, and Asia Gaming. We don't want to play favorites, so try out all of them to see what you like best.
Bonuses on 22Bet Mobile Version
As a user of the 22Bet mobile app, you will get the same great welcome bonus offered on the main 22Bet betting site. It's a 100% deposit bonus on your first deposit up to €122.
You can claim this bonus after registering for your 22Bet account and making your first deposit (just make sure that you ticked the box that enables a bonus at registration).
On top of that, other great bonuses can be enjoyed on the app. These include re-load bonuses and birthday rewards.
We even have betting bonuses for those on a losing streak. This means that with 22Bet you win even when you lose. 
Deposit & Withdrawals in the App
You can easily process deposits and withdrawals in the 22Bet app.
We offer a huge variety of payment methods, from Visa and MasterCard to BItcoin and Ethereum to Skrill, Neteller, and dozens of other e-wallets.
NB! It is best to choose one method both for your withdrawal and deposit. This will make it easier to manage your transactions and prevent any potential withdrawal hiccups. Read our 22Bet Withdrawal Guide for more info.
Using the 22Bet Mobile App in Different Countries
The 22Bet app is available in countless countries all around the globe. For the most part, you can enjoy the same experience in all of them. 
However, some regional differences do exist due to local legislation.
These largely come down to the available payment options, the ability to receive bonuses, and the available game selection.
22Bet Kenya App
The 22Bet Kenya app is extremely popular. And for a good reason. It offers an unparalleled level of service, convenient payments via the 22Bet M-Pesa paybill, and all the sports betting markets you can think of.
Our Kenyan app can be easily downloaded from the mobile casino website here as a 22Bet apk file and then installed directly to phones.
Follow the installation tips above to find out how to download 22Bet app files and everything you need to know about installing the app quickly and easily. It only takes a few clicks.
Nigerian Version of the 22Bet App
The official 22Bet mobile app is by far the best way to experience sports betting in Nigeria.
Wager on your favorite sports events, play the most popular slot machines, and withdraw your winnings via bank wire transfer, credit card, as well as dozens of e-wallets and cryptocurrencies.
Share the experience with thousands of other Nigerians: download 22Bet Nigeria app!
22Bet App Tanzania
The 22Bet Tanzania app works just as well as it does in other parts of Africa. 
Tanzanian players are eligible for a 100% cash-back welcome bonus of up to a whopping 300,000 TZS when they sign up for a new account on the app.
App for Uganda
You can download the official 22Bet app for Uganda from the official 22Bet Uganda mobile site. The app is available for both iOS and Android. 
Register through the app and enjoy a generous 100% cash-back bonus of up to 550,000 UGX (no promo code needed).
22Bet App Germany
With its love of football and rich ice hockey culture, Germany is one of our most cherished European markets. 
22Bet's mobile app is fully licensed and regulated by a reputable gambling authority, which gives it the right to operate in the European Union.
Players from Germany can play the vast majority of our online casino games and place bets on all of our matches. This includes the football Bundesliga, Deutsche Eishockey Liga, Oberliga, Handball-Bundesliga, DHB-Pokal, Feldhockey-Bundesliga, Rugby-Bundesliga, Deutsche Wasserball-Liga, Basketball Bundesliga, ProA, and even the Chess Bundesliga
New players get a lucrative bonus of up to 122 EUR when registering an account through the official website or 22Bet DE app.
22Bet India App
The 22Bet app can also be downloaded and enjoyed from India.
We offer the best Indian Premier League, Hockey India League, Indian Super League, I-League, Elite Football League of India, Indian Volley League, Pro Kabaddi League, 
and Premier Badminton League hockey odds in the country.
On top of that, players can receive a generous welcome package just by registering a new account.
22Bet in Other Countries
With a huge number of languages supported, the 22Bet app caters to players all over the world. 
Our government-issued license allows us to operate in virtually all markets of the world. The only exceptions are as follows.
Europe:
Netherlands
France
United Kingdom
West Indies:

Aruba
Bonaire
Curacao
Saba
Sint Eustatius
St. Maarten
As well as Singapore in Asia and the United States in North America.
If you're located in any other part of the world, chances are you can enjoy safe and exciting betting action on 22Bet.
22Bet App Operating System Requirements
The 22Bet mobile app is available on the vast majority of Android, iPad, and iPhone devices out there.
To play on the mobile site, your operating system will need to be up to the latest version. For Android devices, this means version 5.0 Lollipop (released in November 2014) or higher. For iPads and iPhones, you'll need iOS 7.0 (released September 2013) or higher.
This information will only apply to those using older phones. If you've got a newer device released in the last 5 or 6 years, you can be 90% certain that your phone will be able to run our app and mobile site.
What Devices Can Run the 22Bet App?
You can play from a huge choice of mobile devices. As we mentioned earlier, any device made in the last 5-7 years should run our app without any problems.
Listed below are devices we tested ourselves:
Huawei Mate 10 Pro, Mate S, P10, P9, lY6
HTC One (updated to Android 5.0), HTC One Max, HTC One Mini, HTC A9, A9s, S9, 10, U11+, HTC Desire. 
Sony Xperia E5, M5, ZR, Z5, L, V, ZL, SP, X, XA, XZ
Samsung Galaxy S6, S6 Plus, S7, S7 Plus, S8, S8 Plus, S9, S9 Plus, Galaxy Tab 2 & 3LG 
Google Nexus G5, Q6, G6, V30, mach, X Power, K8, K10,LTE, Flex 2, 5X/
Google Pixel range.
iPhone 5, 6, 6s, 6 Plus, 7, 7s, 7 Plus, 8, 8 Plus, iPhone X, XS, XS Max, iPhone XR iPad, iPod Touch 5, iPoh Touch 6.
Untested but likely to work: 
iPhone 4 and iPhone 4S phones (with full software updates).
Data protection 
The official 22Bet mobile app is safe and secure. Personal data of clients are processed with great responsibility and are under the constant protection of our security systems. We strongly recommend downloading the APK file only from the official website to avoid the risk of possible fraud and unauthorized use of your confidential information.
FAQ:
Can I download the app for free?
Yes, the 22Bet app is free to download. Simply navigate to the official page of the app and enjoy the free download.
How do I download the 22Bet app?
You can download the 22Bet app (Android and iOS) from our official site. Alternatively, you can download the app through the Apple App Store by changing your Region settings to Nigeria (see instructions above).
Where can I get the official 22Bet Android apk?
You can download the official 22Bet Android apk from the official 22Bet website.
Simply press the Android button and wait for the download to finish.
From there, follow the instructions above to install the app on your phone.
Is the official app available on the App Store?
Yes, the 22Bet app is available on the Apple App Store. Change your Region to Nigeria and Search for 22Bet on iTunes or the App Store to find the app. Then simply click the 'Get' button to start the installation process.
How do I install the 22Bet mobile app?
Depending on whether you're downloading from the App Store or via the mobile site, there are a few ways to go about the installation of the app.
Scroll up to find detailed instructions on how to install the 22Bet app in just a few taps.
How do I know that the app will run on my phone?
As long as your phone is a 2014 model or later, you should be able to run the 22Bet app on your mobile device without any problems. If you can install it and log in, you will know it is working. If you follow the instructions and still can't get it to work, contact the helpful support team at 22Bet.
How do I log into my 22Bet account in the app?
The 22Bet app login process is as simple as finding the big Login button and giving it a click.
How do I update the 22Bet app?
App updates are carried out automatically. The app will make sure you're using the latest version on startup.
Can I verify my 22Bet account through the app?
Yes, you can verify your 22Bet account through the official app. You can find our security team's official email address in the app. Contact them and they'll help you verify your account.
Is the app safe for all transactions?
Absolutely. In fact, the 22Bet app adds an additional layer of security when compared to the regular mobile site, because your browser (which may be, for example, compromised by a malicious extension) is taken out of the equation.
Security features such as state-of-the-art encryption ensure that betting apps like 22Bet provide you with a safe gaming experience at all times.
Can I contact 22Bet's customer support in the app?
Our customer service staff is always there to help. You can send them a message in the app to get help quickly and easily.
Is there a separate app for tablets, too?
The 22Bet app is universal and is designed to work perfectly on all modern iOS and Android tablets and smartphones.
We hope that this guide helps you get the most out of your mobile gaming experience!
Why do I see someone mention the app as Bet22 app?
It is a common mistake. Sometimes people use the 22Bet Brand name incorrectly which leads to a misunderstanding. The correct name is the 22Bet app.