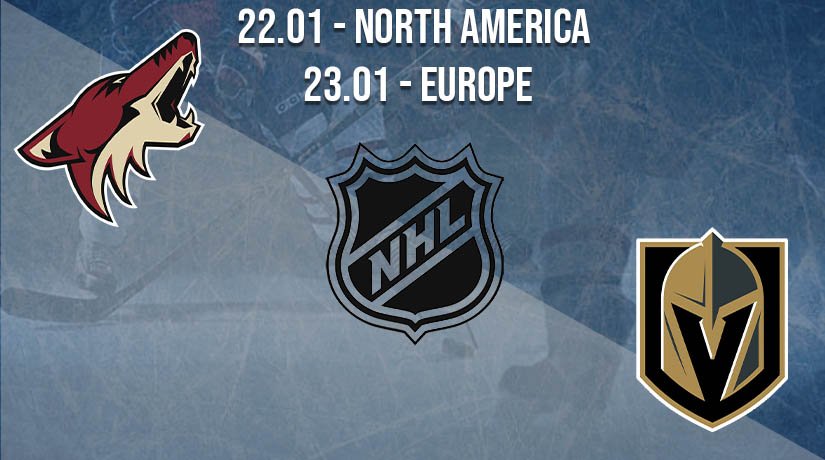 22nd Jan 2021
NHL Prediction: Arizona Coyotes vs Vegas Golden Knights on 22.01.2021 North America, on 23.01.2021 Europe
Arizona has lost the last two matches against Vegas, but on January 23, they will try to take revenge on their home ice. We offer a prediction for this upcoming NHL game.
Arizona Coyotes
Arizona has suffered three defeats in four matches so far and has lost a large number of points. However, at the start of the season, this does not matter because the team can learn from their mistakes and improve their performance at any time. The first thing that they need to improve is defensive play since they have conceded at least three goals in all meetings.
Vegas Golden Knights
Vegas, like last season, is doing great. The team has already climbed to the first line of the Western Conference and secured the maximum number of points, making it clear that they are ready for leadership. The Knights have so far experienced problems only in the confrontation with Anaheim, where they had to prove their superiority in overtime (2-1).
However, in the rest of the meetings, Peter Debour's charges played their usual hockey and completely controlled the course of action, scoring more than three goals.
Arizona Coyotes – Vegas Golden Knights prediction
We think Vegas will not look so confident on the road. Moreover, the Coyotes on their home ice will probably try to play disciplined defence and not concede more than three goals. They are quite capable of doing this, given that the Knights are far from always able to take advantage of their scoring chances. Our prediction is the individual total of Vegas under 3.5.