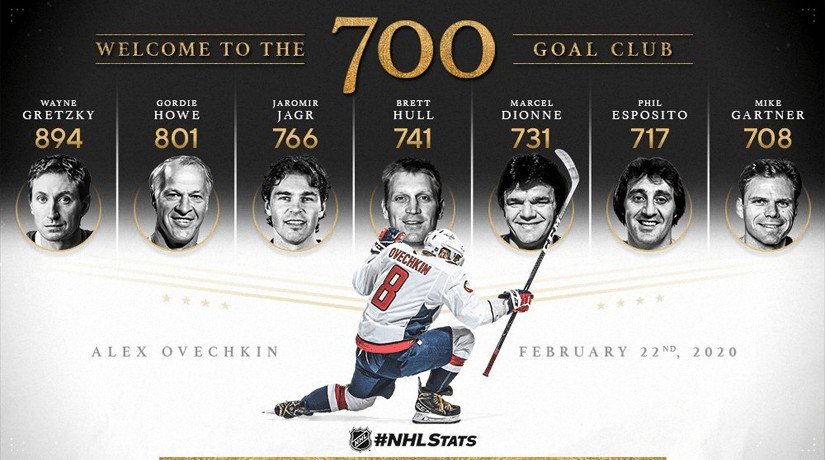 28th Feb 2020
Alexander Ovechkin joins the elite 700-goal club.
On the February 22, Russian hockey player Alexander Ovechkin, who is currently the captain for Washington Capitals in the NHL regular-season game against New Jersey scored his 700th career goal joining the elite 700-goal club. This elite club includes some of the hockey's all-time best players such as Wayne Gretzky with 894 goals, followed by legends Gordie Howe (801 goals), Jaromir Jagr (766), Brett Hull (741), Marcel Dionne (731) Phil Esposito (717) and Mike Gartner (708).
The path to historical achievement was not easy. The captain of Washington, during a couple of weeks, moved to this milestone at enormous speed, making three hat-tricks and scoring twice a couple of times. In early February, everyone was ready to celebrate, but Ovechkin suddenly became silent for five matches. No goals, no points, and Washington began to lose one game after another. Fans followed Washington in the away series, arranging home support at all stadiums. The federal television channel changed the broadcasting schedule, including every match of the Capitals in it, so as not to miss the historical moment. Competitors for the title of the best sniper caught up and pulled ahead. Washington has lost leadership in the standings, and over the past two weeks, Pittsburgh has already caught up with them, having won the backlog of six points.
In the last game with Montreal, Ovechkin has interrupted his silence but limited himself to one goal, and Washington lost again. In an attempt to revive the team, Reirden transferred Yevgeny Kuznetsov to the first link. The situation for the 700th goal might seem ideal because New Jersey is one of the worst teams in the East, but it was the other way around. The Devils recently found their game, and there was no obvious favourite in this meeting. In the first two periods, Ovechkin made only one shot, but in the third period, he scored a most important goal, sending the puck from the right circle tightly with the bar. The guests' bench was empty – everyone jumped out on the ice to congratulate their captain as if they had become champions. It turned out that the club even received permission from the league in advance to move away from the regulations and release the entire team on the ice in the middle of the game.
In a pause, the New Jersey sent congratulations to Ovechkin on a media cube. Even though this match is for two points and no one wants the opponent to score, recognition and respect for the great player – above all. And despite all the delay and drought in these couple of weeks, it took him only 1144 matches to score 700 goals.
Make sure to bet on NHL 2019/20 with 22Bet!