Date of birth
2 March 1994 (age 26)
Current team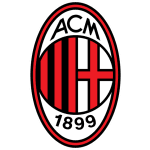 Milan
Current transfer fee
€24,000,000
Career
Club career
Atalanta (2013-2017)
A product of the Atalanta youth academy, Andrea Conti signed a professional contract with the club in 2013.
In order to allow Conti to gain valuable first-team experience, Atalanta immediately loaned him to Perugia of Lega Pro (3rd tier). He played a total of 16 games for the Perugia during the 2013-2014 Lega Pro season. The season was very successful for Perugia. They won the Supercoppa di Lega di Prima Divisione and placed first in Lega Pro, which earned them promotion to the Serie B.
The following season, Conti was loaned to Serie B's Virtus Lanciano. He played in a total of 24 league games for the club.
Following his solid performance in Lanciano, Conti returned back to Atalanta was promoted to the first squad. He made his Serie A debut in January 2016. During his career at the club, Conti played in a total 47 games and scored 10 goals.
A.C. Milan (2017-)
In July 2017, Atalanta traded the rights to Conti for €24,000,000 and the rights to Matteo Pessina. He made his debut for the club during a Europa League qualifier match in July 2017.
Two months later, after playing 2 Serie A matches for the team, Conti tore his ACL during practice. He was unable to recover completely from the injury until late 2018.
Finally healthy and cleared to play, Conti made his post-trauma debut for Milan's first squad in late December 2018.
Today, Conti is a semi-regular starter for the club.
Awards and achievements
Awards
x 1
Coppa Italia (2nd Place)
2017/2018
x 1
Super Cup (2nd Place)
2018/2019
Statistics
Club statistics
| | | | | | | | |
| --- | --- | --- | --- | --- | --- | --- | --- |
| League | Season | Club | Apps | Goals | Assists | Min. played | Cards (Y/S/R) |
| Serie A | 2020/2021 | Milan | 0 | 0 | 0 | 0 | 0/0/0 |
| Serie A | 2019/2020 | Milan | 23 | 0 | 2 | 1729 | 8/0/0 |
| Serie A | 2018/2019 | Milan | 12 | 0 | 2 | 494 | 3/0/0 |
| Serie A | 2017/2018 | Milan | 2 | 0 | 0 | 158 | 0/0/0 |
| Serie A | 2016/2017 | Atalanta | 33 | 8 | 5 | 2668 | 12/0/0 |
| Serie A | 2015/2016 | Atalanta | 14 | 2 | 1 | 814 | 2/1/0 |
| Serie B | 2014/2015 | Virtus Lanciano | 24 | 0 | 0 | 1893 | 10/0/0 |
| | | | | | | | |
| --- | --- | --- | --- | --- | --- | --- | --- |
| League | Season | Club | Apps | Goals | Assists | Min. played | Cards (Y/S/R) |
| Coppa Italia | 2019/2020 | Milan | 3 | 0 | 0 | 298 | 3/0/0 |
| Coppa Italia | 2018/2019 | Milan | 2 | 0 | 1 | 71 | 0/0/0 |
| Coppa Italia | 2017/2018 | Milan | 0 | 0 | 0 | 0 | 0/0/0 |
| Coppa Italia | 2016/2017 | Atalanta | 2 | 0 | 1 | 98 | 0/0/0 |
| Coppa Italia | 2015/2016 | Atalanta | 1 | 0 | 0 | 45 | 0/0/0 |
| Coppa Italia | 2014/2015 | Virtus Lanciano | 1 | 0 | 0 | 90 | 0/0/0 |
| Coppa Italia | 2013/2014 | Perugia | 1 | 0 | 0 | 120 | 0/0/0 |
| | | | | | | | |
| --- | --- | --- | --- | --- | --- | --- | --- |
| League | Season | Club | Apps | Goals | Assists | Min. played | Cards (Y/S/R) |
| UEFA Europa League | 2020/2021 | Milan | 0 | 0 | 0 | 0 | 0/0/0 |
| Club Friendlies | 2020 | Milan | 0 | 0 | 0 | 0 | 0/0/0 |
| Club Friendlies | 2019 | Milan | 1 | 0 | 0 | 44 | 0/0/0 |
| Club Friendlies | 2018 | Milan | 0 | 0 | 0 | 0 | 0/0/0 |
| UEFA Europa League | 2017/2018 | Milan | 3 | 0 | 0 | 176 | 0/0/0 |
| UEFA Europa League | 2017/2018 | Atalanta | 0 | 0 | 0 | 0 | 0/0/0 |
| Club Friendlies | 2017 | Milan | 0 | 0 | 0 | 0 | 0/0/0 |