Name

A. Cornelius

Full name

Andreas Evald Cornelius

Date of birth

16 March 1993 (age 30)

Birth country

Denmark

Birth place

København

Nationality

Denmark

Height

193 cm

Weight

91 kg

Position

Attacker

Current team

A. Cornelius

Current transfer fee

€4,950,000 / Max €8,700,000
Club career
FC Copenhagen (2012-13)
A product of the FC Copenhagen football academy, Cornelius played his first Danish Superliga game for the club in April 2012. Two months later, he was promoted to the team's starting eleven.
He made a total of 34 appearances for the club, helping it claim the 2012-2013 Superliga title. Thanks to his stellar performance on the field, he was awarded the Superliga Golden Boot and the title of Superliga Player of the Year. He also became the club's most popular player based on jersey sales.
Cardiff City F.C. (2013-2014)
On June 27, 2013, Premier League's Cardiff City purchased Andreas Cornelius for a club record-breaking fee of £8,000,000 GBP. He made his Premier League debut in an August 25 match against Manchester United.
Second stint with FC Copenhagen (2014-17)
In 2014, Copenhagen bought back Cornelius' contract. During his second stint with the club, he made a total of 91 appearances and scored 28 goals, helping Copenhagen claim two Superliga titles and three Danish Cups.
Atalanta (2017-)
On May 2, 2017, Atalanta purchased Andreas Cornelius' contract for €4,950,000.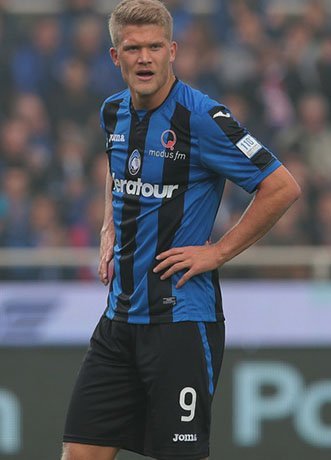 In the August of the same year, Atalanta loaned Cornelius to Bordeaux of the French Ligue 1 for €1,390,000. He made a total of 20 Ligue 1 appearances for the club and scored 3 goals.
In July 2019, Atalanta loaned Cornelius to Parma for two years. On October 20, 2019, Cornelius scored a hat trick in a match against Genoa. His second hat trick came later in the season and also against Genoa.
National career
From 2012 to 2018, Cornelius made a total of 25 appearances and scored 4 goals for the Danish national team. He represented Denmark in the 2018 World Cup, helping his team reach the Round of 16.
He scored his first goal during a 2014 FIFA World Cup qualification match against Czechia on March 22, 2013. His second goal came during a friendly against Liechtenstein on August 31, 2016. His other two goals came during 2018 FIFA World Cup qualification matches, the first against Kazakhstan on November 11, 2016, and the second against Poland on September 1, 2017.