Because of the current pandemic, the international sports industry is suffering. Some major organizations already have the resources that are needed to sustain such a blow. However, smaller clubs and non-professional teams are floundering because of the postponement of activities and the subsequent loss of revenue.
In such trying times, people are supporting each other, both emotionally and financially. Today, we have a feel-good story for you about how Portugal's national football team has donated 50% of its Euro 2020 qualification bonus.
The WhatsApp Chat That Started It All
Bernando Silva revealed that his teammate, Cristiano Ronaldo, was mainly responsible for the Portugal team's generous donation, which will be used to sustain amateur Portuguese teams. Ronaldo came up with the idea of donating 50% of the team's bonus money to lower-division teams, and the other players agreed. 
This is not the first instance of Ronaldo's generosity. In fact, he, along with Jorge Mendes, donated €1.15 million to Portuguese intensive care units. Currently, Portugal has approximately 22,000 cases of COVID-19, so this donation will be incredibly useful. Two wards in Lisbon's Santa Maria hospital will receive new equipment, as will one ward in Porto's Santo Antonio. 
Ronaldo, who is the captain of Portugal's national team, also plays for Juventus. Some members of the Juventus squad, including Ronaldo and team manager Maurizio Sarri, have agreed to waive four months of their wages and donate to organizations that combat the coronavirus. This agreement will be worth approximately €90 million. 
Other Heartwarming Donations Within the Sports World
Portugal and Juventus are not the only teams that have been supporting coronavirus victims, nor is football the only sport that has been affected. To brighten up your day, let's take a look at other donations made by sports teams across the world. 
Barcelona's Lionel Messi has donated $1.2 million towards coronavirus relief. Some of the funds are going towards hospitals in Barcelona, while the rest is going towards Messi's native country of Argentina.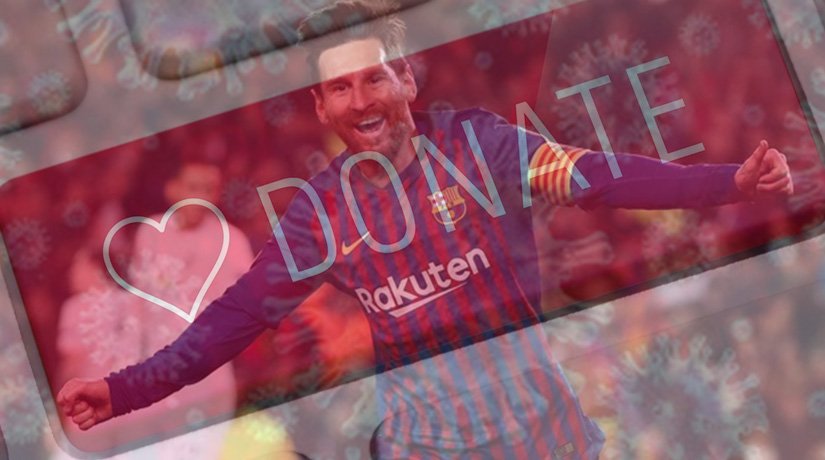 Pep Guardiola, who manages Manchester City, has pledged $1.2 million in funding to combat Spain's coronavirus outbreak. Manchester United has given $117,000 to local food banks. 
Over at the National Basketball Association, Giannis Antekounmpo, Kevin Love, and Zion Williamson have all made $100,000 donations to staff members who work at their home arenas. Because of COVID-19, many people are unemployed, especially those who work in the travel, hospitality, and sports industries. Even though the US government has issued a $1200 stimulus check to most citizens, this is not enough to cover the average cost of rent within the country. So, these donations will be directly helping people pay their bills.
Zach LaVine, who plays for the Chicago Bulls, is going to donate enough money to Feeding America to cover 12,500 meals. Feeding America is a network of food banks that helps millions of Americans put food on the table. 
The Portland Trail Blazers have set up a fund of over $1.4 million to cover their arena worker's lost wages. Similarly, the Sacramento Kings, Washington Wizards, Dallas Mavericks, and Philadelphia 76ers have each made pledges to provide their arena workers with financial assistance. 
In the NFL, the Seahawks' Russell Wilson has pledged to donate 1 million meals to a local Seattle food bank. Patrick Mahomes, who plays for Kansas City, will be donating 15,000 meals to Harvesters Community, which is another food bank network. Mahomes will also donate $100,000 to various organizations within Kansas City. Meanwhile, Houston Texans' J.J. Watt has donated $350,000 to the Houston Food Bank.
The MLB Players Association and the MLB have worked together to make a $1 million contribution to both Meals on Wheels and Feeding America. One MLB team, the Arizona Diamondbacks, has pledged half a million dollars to its local community. 
Alex Bregman, who is the third baseman for the Houston Astros, has donated 1,000 quarantine food kits to people in need. Many coronavirus victims end up stuck at home with little to no food. In the US, it can be difficult to get groceries delivered due to the surge of demand that third-party delivery companies are receiving. So, these meal kits will surely alleviate some of the stress that quarantined victims are facing. 
Greg Maddux, who is considered to be one of the best pitchers of all time, spent his recent birthday live-tweeting while the MLB television network broadcast his career highlights. During his live-tweeting session, Maddux vowed to match viewers' donations for coronavirus victims, up to $54,000
The Braves' first baseman, Freddie Freeman, has donated $100,000, which is evenly split between the Giving Kitchen and the Atlanta Food Bank. Jason Heyward, who plays for the Cubs, has donated $200,000 to coronavirus relief organizations in Chicago. Speaking of the Cubs, the team is going to allow Wrigley Field to be used as a food distribution center. They will collaborate with Lakeview Pantry in order to pack food kits and distribute them among needy families. 
Looking at the NHL, the Nashville Predators have raised over $2.5 million to help with two causes: coronavirus and tornado relief. Middle Tennessee was hit by devastating tornadoes in early March, and families are still reeling from the natural disaster's impact. The Predators' president, Sean Henry, has stated that the team is committed to helping the local community rebuild and return to normal as soon as possible. $1 million of funding will pay the Predators' event staff for wages lost due to delayed games and canceled concerts. Besides this, the team has also been facilitating blood drives in addition to delivering meals within Nashville. 
As you can see, the sports community has been banding together to uplift those who have been tragically impacted by this global health crisis.