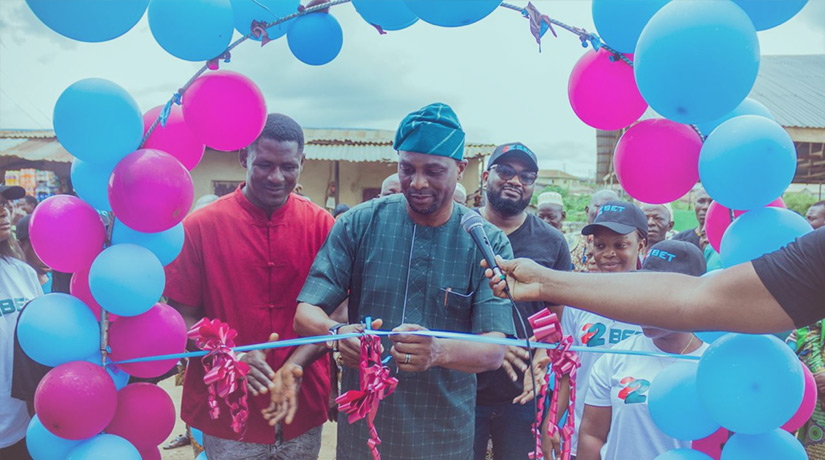 17th Oct 2022
Jubilation as 22Bet Provides Modern Boreholes to Two Market Community
As part of its corporate social responsibility (CSR) and service to humanity, 22Bet, a global sport betting brand, has provided 2 popular Ibadan markets with modern borehole facilities.  
The two recipients of this corporate goodwill are the famous Moniya and Gbagi international markets in Ibadan.
22Bet is a global betting brand that has helped people in the Akinyele and Moniya areas in particular by offering high-quality online casino games and sports betting services. It is very impressive; it's been a long time coming, something they've always wanted. "
So, for a company like 22Bet to stand up and do this as part of their CSR is commendable. He told reporters, "It is a very laudable gift; I am very happy and grateful about it."  
He also asked other companies in the state to build on 22Bet's initiative by carrying out their own corporate responsibilities to make people's lives better.
"I want to use this opportunity to encourage all other companies, whether in the gaming industry or other industries within Oyo State, to do their little bit. If every company that is domiciled in our state could do a little bit of everything, the government would not be so overstretched. So, I encourage all other companies to do stuff like this in various communities to make lives better and easier for all our people in Oyo State."
View this post on Instagram
He ended his speech by admonishing the market tradespeople and residents of the area to take good care of the facilities while noting that efforts like this will support the state government's actions.  
At the project's opening, Hon. Ojelabi Oluwaseun, the councilor in charge of Ward 5 in the Akinyele Local Government Area of the State, said he liked the project and thought it would help with the water shortage in the area.
"What they have done today came as a big surprise to me because four weeks ago, my phone rang; I picked up the call and told me that they wanted to provide a functional water borehole facility here in Moniya Market, Ibadan." I'd like to express my gratitude to 22Bet… I pray that the company will grow from level to level, strength to strength, even beyond their expectations or imaginations. " 
Alhaji Ganiyi Adetayo, who is in charge of the Gbagi international market, also thanked the company.