Name

Piqué

Full name

Gerard Piqué Bernabéu

Date of birth

2 February 1987 (age 36)

Birth country

Spain

Birth place

Barcelona

Nationality

Spain

Height

194 cm

Weight

85 kg

Position

Defender

Current team

Barcelona

Current transfer fee

€ 40.000.000
BIOGRAPHY
Gerard Pique is a Spanish professional footballer who was part of teams that won the world Cup 2010 and Euro 2012. He plays as a Central defender for Barcelona and the Spanish national team and is one of four players who have won the UEFA Champions League two years in a row with different teams, the others being Marcel Desailly, Paulo Sousa and Samuel Eto'o. He played football from a young age and started his career in 1997 when he entered the Academy of FC Barcelona at the age of ten years. Energetic, focused and talented, he soon matured into a young player who displayed great potential to be a future football star. With time he passed through the various youth levels and was especially skilled at adapting to different positions on the field. He also gained a reputation for scoring goals despite his defensive position, a trait that would help a lot in his future professional career. He made his debut for Manchester United in 2004 as a replacement for John O'shea. A few years later Gerard got an offer from FC Barcelona and it became a turning point in his career. He also represented Spain, making his debut in 2009.
Personal life
Peak grew up in a Catalan family. His father, Joan, is a businessman, and his mother, Montserrat, is the Director of the hospital of spinal injuries in Barcelona. He has a younger brother, mark. His grandfather, Amador Bernabeu, is the former Vice-President of Barcelona. During the disputed independence referendum in 2017 in Catalonia, he was seen by many as one of the public faces of the Catalan side of the argument, voting and chirping about his support for the Catalan language. Later he faced the backlash from some Spanish fans for his support of a referendum on Catalan independence.
Since the beginning of 2011 the Peak is in a relationship with Colombian singer Shakira .
They met when he appeared in the video for her single " Waka Waka (This Time for Africa) ", the official song of world Cup 2010. From Pique and Shakira same birthday, but she's ten years older than him. The couple have two children, Milan and Sasha.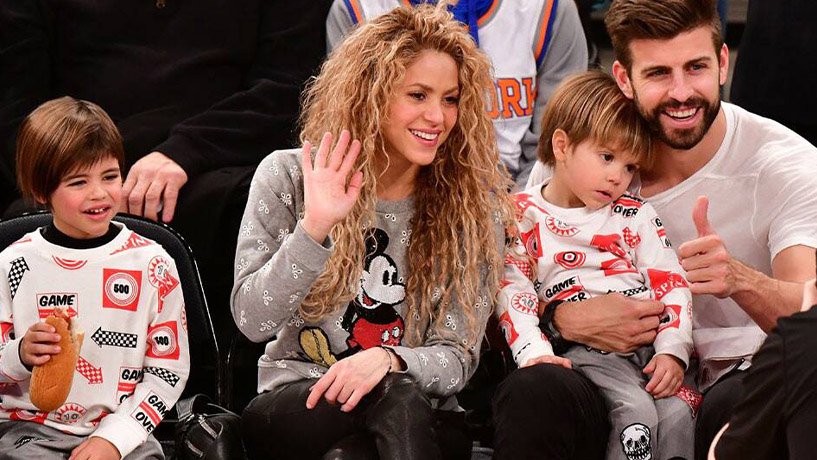 Club career
Early career
Born in Barcelona, Catalonia, Piqué started his career in FC Barcelona's youth teams as a defensive card, but before he signed his first professional contract with the club, he decided to join Manchester United. The Premier League side did not pay a fee for Piqué as he was too young to have a professional contract.
Manchester United
Piqué made his debut for Manchester United in October 2004,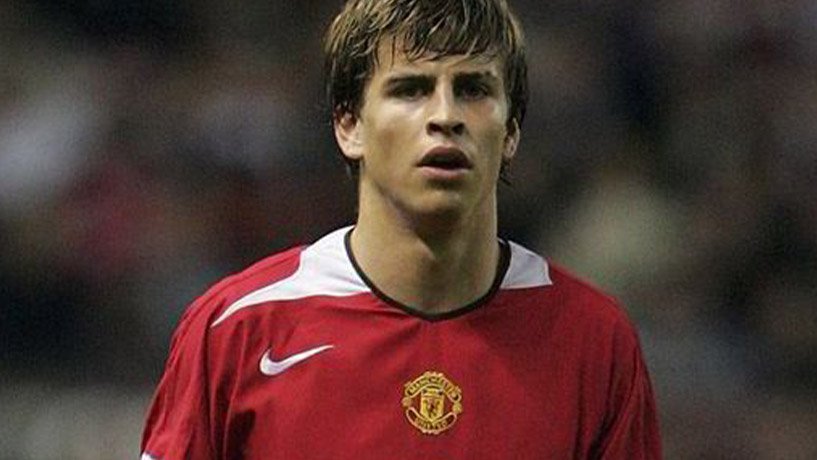 as a centre back, a 67th minute replacement for John O'shea in a 3-0 League Cup victory at Crewe Alexandra. He made his full debut in January 2005 in a 0-0 draw with Exeter City. Pique made his Premier League debut on 15 October 2005, again as a substitute for O'shea, in a 3-1 win over Sunderland. His first league start came on 29 March 2006 against West Ham United at Old Trafford, playing at right back, as Gary Neville was unavailable through injury.
His performances, most notably in the reserve team, earned him a new contract, which he signed in February 2005 to run until the summer of 2009. On 4 August 2006, however, La Liga secured Piqué on a season-long loan. The conditions of The loan involved Piqué having to feature in at least 20 games for the Aragonese club, which he did, as he made 22 first team appearances in a successful spell, alongside Argentine Gabriel Milito, either as a centre back or a defensive card.
On 5 May 2007, it was announced that Piqué would be staying at Old Trafford for the following season. Sir Alex Ferguson had intended to assess Piqué"s form at La Romareda on 6 May, prior to a meeting where the two parties would discuss Piqué"s future prospects with the club. However, Ferguson was unable to attend on account of airline difficulties.
Piqué"s return to Old Trafford saw him make nine league appearances during the 2007-08 season. In his first start in the UEFA Champions League, a 4-0 home win against Dynamo Kyiv on 7 November 2007, Piqué scored the first of Manchester United"s four goals in that match. In doing so, he became the 450th player to score at least one goal for the club. His second goal for the club also came in the Champions League, in an away match to Roma on 12 December 2007.
Return to Barcelona
On 27 May 2008, Piqué signed a four-year contract with Barcelona, with a €5 million buy-out clause. Barcelona paid a £5 million fee for the player. He expressed his joy at re-signing with his boyhood club, although he admitted he had enjoyed his spell at Manchester United:
I am very happy to be back, I didn't think I would be here again but this is very good for me. Manchester United is a great club and I enjoyed winning things. To play with world class players has helped me and now I want to continue this at Barça.
National career
Youth teams
Piqué was a member of the Spain under-19 side that won the 2006 UEFA European Under-19 Championship in Poland. In a 2-1 final win against Scotland, Piqué put in a strong performance in defence, hitting the crossbar with a header, and also providing his team's second goal for striker Alberto Bueno.
Subsequently, he played in the 2007 FIFA U-20 World Cup, starting all six of Spain's matches and scoring a goal in the team's come-from-behind 4-2 victory over Brazil in the round of 16. However, Piqué missed the deciding penalty in the shoot-out against the Czech Republic and Spain were eliminated at the quarter-final stage.
Senior side
On 6 February 2009, Piqué was called up to the senior squad for the friendly against England on 11 February. He played the entire match in a 2-0 win, in Seville. In his second match as an international on 28 March 2009, he was called up as a replacement for injured teammate Carles Puyol and he scored the only goal in Spain's victory in the 2010 World Cup qualifier against Turkey at the Santiago Bernabéu Stadium in Madrid. Four days later, he also started in Istanbul in a 2-1 win, also in the group stage.
Piqué made his tournament debut for Spain at the 2009 FIFA Confederations Cup, starting in four of the team's five matches as La Rojafinished in third place.
Piqué was Spain's first-choice centre back playing alongside Puyol at the 2010 World Cup finals in South Africa, starting all seven matches as Spain won the tournament, defeating the Netherlands 1-0 in the final. Piqué"s partnership with Puyol saw Spain concede only twice in seven World Cup matches and keep four consecutive clean sheets in the knockout stage. In Spain's 1-0 group stage defeat to scored the only goal of the game, Swiss striker tumbled over Spain goalkeeper and accidentally kicked Piqué in the face, knocking him over and leaving him with a nasty cut beside his right eye.
Piqué played every minute of Spain's UEFA Euro 2012 campaign, partnering Sergio Ramos in the centre of defence. He successfully converted the team's third penalty in a semi-final shoot-out win over Portugal. In the final, Spain recorded a fifth consecutive clean sheet in a 4-0 win over Italy. Piqué was one of three Spanish defenders included in Team of the Tournament as La Roja conceded only one goal in six matches.
At the 2013 FIFA Confederations Cup, Piqué was the third of Spain's seven successful takers in a 7–6 shootout win over Italy at the semi-final stage. On 30 June 2013, Piqué was sent off during the final against Brazil. He received a straight red card in the 68th minute for a violent tackle on recently signed Barcelona teammate Neymar. The match finished 3–0 to Brazil, ending Spain's world record 29 match unbeaten run in competitive internationals.
In Spain's opening group game of UEFA Euro 2016 on 13 June, Piqué scored his fifth goal for his country, a late in a 1–0 victory against the Czech Republic.
In Spain's second group match of the 2018 FIFA World Cup on 20 June, a 1–0 win against Iran, Piqué made his 100th international appearance.
On 11 August 2018, Piqué announced his retirement from international football.
On 25 March 2019, Pique won his 10th cap for region in a friendly match against Venezuela, a few months after he had retired from the Spanish National team and led the team to a 2–1 victory.