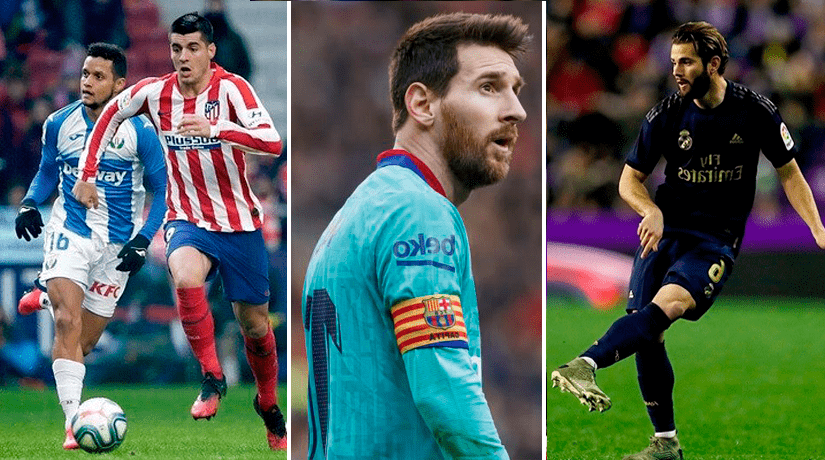 27th Jan 2020
LA LIGA 2019/20 MATCHWEEK 21 ROUND-UP & HIGHLIGHTS
What a weekend in La Liga! Real Madrid top the table, Atletico Madrid's woes continue, and Barca lose at Mestalla for the first time in nearly 13 years. Here are the highlights and round-up of La Liga matchweek 21.
Real Madrid clinch top spot
Real Madrid beat Real Valladolid 1-0 at Jose Zorrilla this Sunday in a tough victory that placed them top of the La Liga table.
It's fair to say that the unremarkable result did not come easy to Zinedine Zidane's men. They suffered through much of the clash until Nacho (finally) found the back of the net in the 78th minute with a beautiful header from a Toni Kroos cross.
3- Real Madrid haven't faced a shot on target in three games in #LaLiga this season, more than any other team in the Top 5 European Leagues: vs Sevilla at Sánchez-Pizjuán, vs Osasuna at home & vs Real Valladolid at Nuevo José Zorrilla. Calm#ValladolidRealMadrid #LaLigaSantander pic.twitter.com/j15kVWnCct

— OptaJose (@OptaJose) 26 января 2020 г.
Not that there weren't any goals in the game … Casemiro thought he had given his team the lead with a free-kick but the goal was ruled out for offside after VAR intervened. Meanwhile, Valladolid's Sergi Guardiola scored late in the match but the strike was also ruled offside.
Real Madrid are currently top with 46 points after 21 games, whilst Valladolid sit 16th with 22 points.
📄 @realmadriden occupy the top position in #LaLigaSantander while @SevillaFC_ENG secure the 3rd position! 💜❤️ pic.twitter.com/py2Xp5CcgR

— LaLiga (@LaLigaEN) 26 января 2020 г.
Setien's honeymoon period ends
Barcelona suffered their first defeat under new boss Quique Setien as they lost 2-0 to Valencia this Saturday (despite our prediction). And let's be honest, they could have been at least three goals down if it wasn't for Marc-Andre ter Stegen, who completed five saves in the first 31 minutes, more than any other league game this season.
Valencia came out spirited, strong and determined. They haven't lost a league game at home since April but also hadn't beaten Barca in La Liga since 2016. None of this mattered. Not even the fact that they did not touch the ball for the first ten minutes of play.
Посмотреть эту публикацию в Instagram
Barcelona practically camped out in Valencia's half. They had over 73% possession. They completed almost 900 passes. And still, nothing. Antoine Griezmann was dormant (and was he even there the second half?). Lionel Messi was having one of those nights where he just can't score to save his life. Barca's shambles of a defensive line brought shame to the club. And Setien's demoralized expression was grieving the sideline.
73.52% – Barcelona have lost vs Valencia at Mestalla with just 73.52% possession; the highest ratio for a loser side in this #LaLiga season after their 73.71% possession in Granada. Styler#valenciabarca #Barcelona #Barca pic.twitter.com/XgBVf6jy2q

— OptaJose (@OptaJose) 25 января 2020 г.
11 – Lionel Messi has had more shots without scoring in a single #LaLiga's game in his Barcelona's career (eleven, level with vs Deportivo de La Coruña at Camp Nou in December 2017). Dismay#FCBarcelona#LaLigaSantander pic.twitter.com/GdOam5HoNj

— OptaJose (@OptaJose) 25 января 2020 г.
Valencia did not need much to win; only catch their opponents on the break, walk past Barca's embarrassing defense and hope that they would get lucky in front of Ter Stegen. In the end, Maximiliano Gomez's double earned Albert Celades's side a hard-earned victory.
Barcelona have gone down to second spot in La Liga with 43 points, whilst Valencia are seventh with 34 points.
Посмотреть эту публикацию в Instagram
Atletico Madrid are just… bad
Atletico Madrid's poor run of results continued with a dreary goalless draw against 19th-placed Leganes at the Metropolitano this Sunday. The match confirmed that Diego Simeone's men are going from bad to worse and now sit ten points behind table-toppers, Real Madrid.
12 – No @LaLigaEN team have leading to nil at half-time more times than @atletienglish this season, 12. Clog. pic.twitter.com/faN1Z522eH

— OptaJose (@OptaJose) 26 января 2020 г.
Not only did this clash offer nothing in terms of quality football, but it was overshadowed by dramatic scenes as visiting goalkeeper Ivan Cuellar was sent off for time-wasting with a second yellow, the first thanks to drama with a ball boy earlier in the game. Tensions shot even higher when Cuellar was confronted by Atleti players on his (veeeerry slow) walk off the pitch, adding further aggravation to an already thorny match.
"What happened at the end was the result of that tension but we have to keep on fighting," said Oblak. "People are talking a lot about Simeone but we are only talking about improving. Simeone wants to win as much as anyone but recently it hasn't been happening."
Yes, we know it hasn't been happening. Question is, what will Simeone do about it? We assume his answer is: Edinson Cavani.
Посмотреть эту публикацию в Instagram
Elsewhere: Real Sociedad won a league match at home for the first time since the end of November (3-0 vs Mallorca). Betis lost a game they desperately needed to win (1-0 vs Getafe). And Celta are still stuck in their struggle to stay up after drawing Eibar 0-0. 
See you next time for another La Liga thriller weekend featuring a Madrid derby on Saturday. Make sure to bet with 22Bet!
And on behalf of all of us here at 22Bet, our thoughts and condolences go out to Kobe Bryant's family and loved ones. RIP.