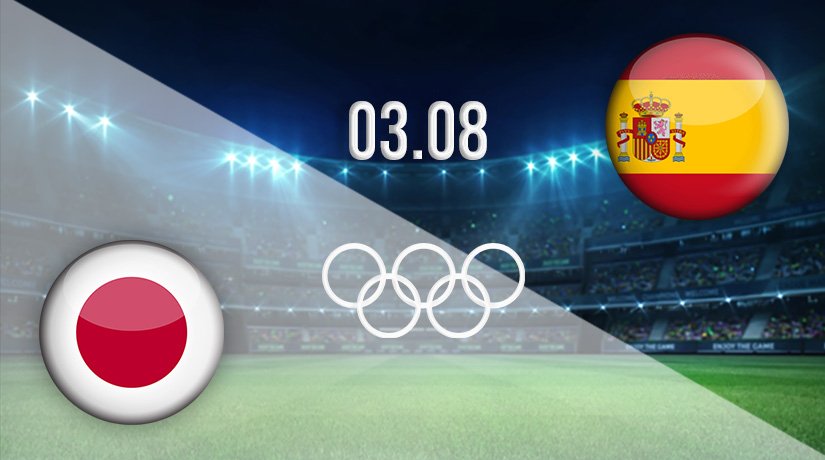 02nd Aug 2021
Japan v Spain Prediction: Tokyo 2020 Match on 03.08.2021
The Tokyo 2020 host nation will face Spain in the semi-final of the men's football tournament. Japan may rate as one of the summer's dark horses for a football gold medal, but they are in the final four on merit, and it would now come as no surprise if they went all the way. This is a real opportunity for the locals to showcase their future stars and prove to the watching world that Japan is fast becoming a nation that deserves our respect at future World Cups and major international tournaments.
The Japanese squad are within touching distance and know if they win this game, they will secure a silver medal at the very least. The team standing between them and a place in the final where they'd enjoy a crucial home advantage is Spain, who followers of the competition know are no pushovers. Spain can win this match and win gold, but they can't afford to take their opponents for granted. This will be a thrilling 90 minutes with extra time and penalties available if the teams can't be separated.
You can follow this match live on television with the kick-off time advertised as noon GMT. It's the second semi-final to be played on Tuesday after Mexico and Brazil clashed three hours earlier. It will sure to be another fascinating morning of sport, and below, you'll find our in-depth and impartial preview of the Japan v Spain clash. Also on the site is our football writers' look at how they expect the Mexicans and Samba Boys to play out. Let's get started.
Locals won their pool
Japan wanted to follow in the footsteps of previous host nations who had overachieved at the Olympic Games, and they have already achieved that. They were dropped into Group A and finished top of the pile with a maximum of nine points collected. Japan scored seven goals and conceded only one, which was a stunning effort and served as a statement of intent. Not only did they win their group, but they did it ahead of Mexico, France, and South Africa.
They opened their account with a win over South Africa on matchday one. It was a tight match, and the form of both teams since suggests it wasn't the most impressive of starts for Team Japan, but they secured all three points and hit the front of the group, which was their main aim. Once in pole position, they were not for budging, and we saw Japan reel off far more impressive wins over Mexico and then France. They beat the Mexicans by a 2-1 scoreline, then showed their class to hammer an under-achieving French team 4-0. A fantastic run of form, and there was better to come.
In the knockout stages of Tokyo 2020, the home side were drawn against New Zealand and judging by their summer form; they were hot favourites to keep the dream alive. They did just that, but it was closer than most expected. That match finished goalless, and the teams were unable to break the deadlock after 30 extra minutes of play. The game had to be settled from the penalty spot where Japan held their nerve, winning 4-2 from the spot.
Spain aren't used to being underdogs
Spain is one of the most successful and best-loved footballing nations globally, and they are no strangers to success at Tokyo 2020. It's not often a Spanish side enter a match as underdogs, but many pundits have them written off to eliminate the home nation who are playing fantastic football. How will the Red Fury deal with being the underdogs? Will it inspire them to fight back and show there's plenty of talent in the squad, or will they crumble? That remains to be seen, but it will be great fun finding out when they face Japan.
Spain were dropped into Group C, and they finished as pool winners with five points on the board. Two draws and a win isn't the greatest start, but the five points collected was enough to see them edge out the competition and stay on track for the gold medal, booking their place in the next round. Incredibly, Spain scored just two goals in their three group matches while conceding one. Such a strong defence will give the coaching staff encouragement, but a shot-shy attack gives them plenty to think about as they prepare for this match.
We last saw this Spanish team in action when hammering Ivory Coast 5-2. The final score looked like a convincing one, but those watching the match knew it flattered the victors. Spain needed extra time to win the game after the 90 minutes produced a 2-2 draw. In a late flurry of activity, Ivory Coast scored on 91 minutes to make it 2-1, and they thought they had struck late to win it, but Spain snatched a last-gasp equaliser with 93 on the clock before scoring three in extra-time. They got off with one there but deserve our respect for the way they battled, refusing to give up.
Japan v Spain prediction
Spain would be the favourites if this match was played at a neutral venue, but Japan holds the home advantage, giving them a slight edge. The home team also boast the better recent form of the two teams and enter with more confidence. Neither side was overly impressive in the previous round, and they will both be keen to improve on that in this semi-final.
This is a 50/50 match on paper, with both sides believing they are good enough to win and progress to play for the gold medal. That should make things even more interesting when the match begins but how the teams defend is just as important as how they attack. This could develop into a cagey, nervy affair similar to what we witnessed in the quarter-finals.
Tokyo 2020 odds
22Bet members looking to place a bet on the winner of this match will find Japan trading at odds of 3.62 with Spain available at 2.104 and the draw a 3.3 play. That is the 90 minutes betting, but there's also to qualify and to win the gold medal.
Want to know more about the betting odds for the game? Check out the BTTS, Handicap, Teams to Win and other markets and bet on Japan v Spain on 22Bet!