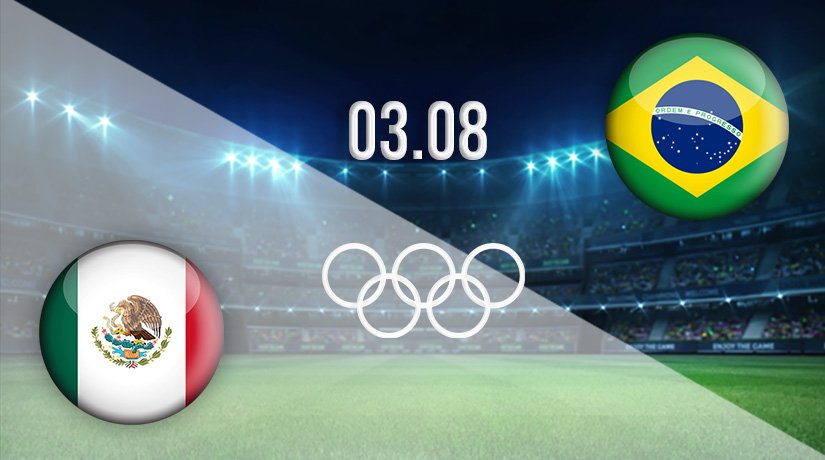 02nd Aug 2021
Mexico v Brazil Prediction: Tokyo 2020 Match on 03.08.2021
The focus of most football fans this midweek will be on the Champions League qualifiers with the likes of Glasgow Rangers in action. Teams are battling to keep alive their dreams of making the tournament's group stages and landing the cash windfall that comes with competing against the cream of the crop. It's not all about UEFA's top teams on Tuesday, though, as we also have the semi-finals of the Tokyo 2020 Olympic Games to look forward to.
The action begins at 09:00 GMT when Mexico and Brazil face off. One game stands between these rivals at a guaranteed silver medal or better. The winner of this match will progress to play in the final while the beaten side will dust themselves down and compete for the consolation prize of a bronze later this week. Both the Mexicans and Brazilians are here on merit, and having battled their way to the last four, they won't want to miss out now.
Which side will grab their chance and keep the dream of gold alive? There's all to play for here, and with this looking as close to a 50/50 match-up as you would expect to find at this late stage of the tournament, armchair fans are in for a treat. Read on as our team of international football writers preview the match, offer their predictions, and summarise the betting.
Mexico within touching distance
Mexico were the early picks of many respected pundits to secure a medal at Tokyo 2020, and they are almost there. Win this game, and they will enter the final, where they'll play the winner of Japan versus Spain, which kicks off later in the day. The Mexicans finished second in Group A behind hosts Japan. The locals were deserving pool champions winning every game and taking a maximum of nine points. The runners up collected six points with two wins and a draw, beating France and South Africa but losing to Japan.
They opened their account with a thrilling 4-1 win over France, a result that served as a message of intent to the rest of the competition. With confidence in the team, they failed to build on that fast start, losing game two against Japan by a 2-1 score. It was a close match, but the better team won on the day. Mexico needed a win in game three, and they got it when hammering South Africa 3-0. They were expected to win that game but deserve credit for the way they did it, keeping a clean sheet and scoring three goals.
Mexico were last seen in action in the knockout rounds of Tokyo 2020 when destroying South Korea on Saturday morning. That match produced nine goals, with Mexico progressing thanks to a 6-3 victory. Martin and Cordova hit doubles with the other strikes coming from Romo and Aguirre. They'll aim to keep their goalscoring run going but must tighten their defence if they are to have any chance of winning the gold medal.
Brazil have shown their quality
Brazil remains a huge name in world football, and it was no surprise to learn many had them picked as the favourites to win the gold medal. A top-three finish was the least that was expected of them, which means they enter this game with pressure on their shoulders. The players know fans demand victory, and they perform before the eyes of the watching world. Followers of the beautiful game always love to see the new crop of talent coming out of the Samba Boys' camp. Will they show the future is bright for Team Brazil?
They got off to a strong start in the group stages when winning Group D without suffering a defeat in those three games. Brazil collected seven points from a possible nine following two wins and a draw. That tally left them two points clear of runners up Ivory Coast, with Germany and Saudi Arabia going home. Brazil opened with an eye-catching 4-2 win over Germany, which set the standard for their campaign. They followed that win with a disappointing goalless finish against the Ivory Coast in a match they were expected to win and probably should have taken three points from. Brazil signed off with a convincing 3-1 over Saudi Arabia to secure their spot in the knockout rounds.
Brazil was last in action at the weekend when beating Egypt 1-0 in a fascinating contest. Those who had the Samba Boys picked to blow the Egyptians were left disappointed as a well organised, fit, and ambitious side worked hard to make a game of it. Brazil progressed thanks to a winning goal that Da Cunha scored with 37 minutes on the clock.
Mexico v Brazil prediction
What a game we have in store here as two sides who see themselves as gold medal prospects go head to head. These sides have already proven their eye for goal, but past results at Tokyo 2020 show they are just as likely to concede. This has all the ingredients of a thrilling contest, and there's extra time and penalties if needed.
It's often the case at this late stage of the tournament that the first goal is crucial as the team that takes the lead then defends it and tries to grind out a narrow victory. Armchair fans and neutrals hope that isn't true in this semi-final, and we are treated to plenty of goals and talking points. There will be no shortage of talent on the field, and both coaches boast a solid bench to influence things.
Tokyo 2020 odds
The pre-match betting odds available at 22bet has Mexico priced at 3.4 to grab the win with Brazil available at 2.09 and the draw a 3.56 play. 22bet members can gamble on the side they expect to win the game or on several specials. The options include both teams to score, total goals, handicap and more. Check out our preview of the other semi-final match that can be found on this site.
Want to know more about the betting odds for the game? Check out the BTTS, Handicap, Teams to Win and other markets and bet on Mexico v Brazil on 22Bet!