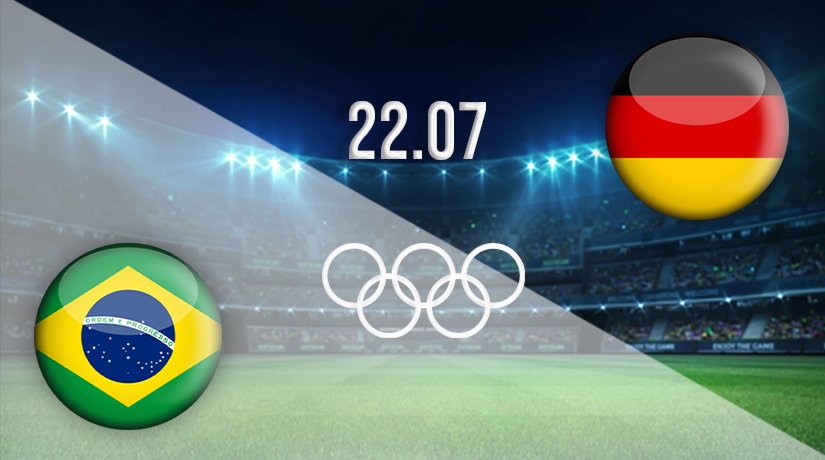 19th Jul 2021
Brazil v Germany Prediction: Olympic Games Match on 22.07.2021
If you are a lover of the beautiful game, then you have already been spoiled for choice this summer. We've witnessed a thrilling Euro 2020 tournament that saw England beaten on penalties in the final by Italy at Wembley. The Gold Cup supported that action and with UEFA Champions League matches returning this week, it's a sign that the 2021/22 domestic seasons are fast approaching.
Before diving back into the club football rivalry we all love, there's one more international tournament of note as the Tokyo 2020 Olympic Games begins this week. Team GB hasn't sent a men's team again, but there is plenty to look forward to with some of the greatest players in the world expected to play a part. It has already been a punishing summer schedule for the sport's leading names, but they have time to serve up one more classic.
Eight games will be played on Thursday with some big teams on the schedule. We get started at 08:30 GMT with Egypt v Spain, and you can read a full match preview on that one on the football section of our site. In this article, our team of football content writers focus on what's sure to be a thrilling 90 minutes of action when Brazil and Germany face off. Both nations are targeting the three points, but which team will achieve that early goal and get off to the best possible start? Let's take a closer look.
Defending champions out to impress
These teams have met once before in the Olympic Games, with that clash coming back in 2016. The game produced a 1-1 draw with a Neymar opening goal on 27 minutes, eventually matched by a Max Meyer strike on the hour mark. The play eventually went to penalties, where Brazil held their nerve to secure a dramatic 5-4 victory. This game won't go into extra time and penalties, but fans planning on watching the live action on TV hope we are treated to another thriller with plenty of talking points.
Brazil have been dropped into a group with Germany, the Ivory Coast and Saudi Arabia. Both the group winners and the runners up will progress to the tournament's knockout stages, where they'll aim to battle their way through to a podium finish and Tokyo 2020 medal. Brazil have played in 13 Olympic Games but have won gold only once before, the spare coming in that famous 2016 win. Will the current crop be good enough to help the nation defend its title? We'll find out here.
This group looks to be a two-horse race between the teams involved in this match, but nothing can be taken for granted this summer. Olympic football tournaments are famous for throwing up shock results, and that's why it's crucial both sides get off to a strong start. They'll want to defeat their main rival in the group, take three points and send out a message of intent to the rest of the tournament. They'll want to prove they are capable defending champions. The gold medal winners could come out of this fixture.
Germany youngsters out to impress
Standing in the way of Brazil and a perfect start is Germany. The Germans have sent a young, hungry and ambitious team. The hectic schedule of 2021 means many clubs weren't willing to release their best players for yet another international tournament, especially so close to the start of the season. They want their stars to be fully rested, settled and focussed on the coming campaign. As a result, several players in this German squad have been given a call up they may not have received otherwise. This is their chance to impress.
Football fans with an eye on Germany at Euro 2020 couldn't fail to notice the team has declined rapidly since the last Euros. They were knocked out by England at Wembley in the early exchanges, failing to find the net. Defeat to the Three Lions was a tough one to take, and the rebuilding project begins now. That's why it's crucial that the players called up for Tokyo 2020 put on a show. The stars of this tournament could well see themselves playing for Germany at the next World Cup in Qatar 2022, or if that comes too soon, then the next European Championships in 2024.
Germany has played in nine previous Olympic Games but has never gone to the gold medal. They came close last time when pushing Brazil to penalties before losing 5-4 and taking home the silver medal. It was a close call and one the coaching staff will be desperate to build on. There's so much uncertainty around this German team, but the squad is packed with talent, and the players will want to make an impression early on. There's a strong chance that the winner of this game will go on to win the group. Are Germany good enough to achieve that and set themselves out as a contender for gold?
If you feel nervous, as we do, because of Germany vs Brazil battle and don't know whom to give advantage, go on reading. Besides, if you are looking for more info to make a bet, remember you always have another way – live betting with live results. Just track events on the field, check the latest results and make a bet when you are ready.
Brazil v Germany prediction
What a game we have in store here, and although it comes early in the competition, this match will get plenty of attention. The opening ceremony of Tokyo 2020 hasn't been staged yet, but already the big matches are underway, with major nations out to lay down a marker. A team could lose this game and still go on to win gold this summer, but neither side will want to concede any ground. Getting off to a winning start is important.
There's bad blood between the pair following that narrow win for Brazil in 2016. Will we see a repeat or revenge? Both teams know winning this match increases their chance of winning the group, but the managers understand the damage an early defeat could do. Brazil and Germany should have enough quality to progress from the group, so they may prefer to set up and play for a point in this game and aim for the group win in the other two matches to come in the campaign.
Olympic Games odds
At 22bet for this clash, the pre-match betting has Brazil at 2.008 to win with Germany trading at 3.8 and the draw 3.42.
Want to know more about the betting odds for the game? Check out the BTTS, Handicap, Teams to Win and other markets and bet on Brazil v Germany on 22Bet!