Full name
Ousmane Dembélé
Date of birth
15 May 1997 (age 23)
Current team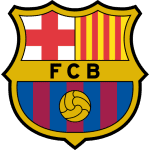 Barcelona
Current transfer fee
€ 120.000.000 / Max € 120.000.000
Biography and family
Biography
Masour Ousmane Dembélé (born 15 May 1997) is a French professional footballer who plays as a forward for Spanish club Barcelona and the French national team. Born in Vernon, Dembélé began his career at Rennes before joining Dortmund in 2016. He won the DFB-Pokal with die Borussen in the 2016–17 season, scoring a goal in the final. A year later, he transferred to Barcelona for an initial fee of €105 million, becoming at the time the joint-second most expensive footballer ever alongside compatriot Paul Pogba. Dembélé subsequently won the double of La Liga and Copa del Rey in an injury-riddled first season in Spain. After winning 20 caps and scoring five goals at youth level, Dembélé made his senior international debut for France in 2016. He was chosen in France's squad for the 2018 World Cup which they won.
Early life and career
Dembélé was born in Vernon, Eure, in Normandy. His mother is French of Mauritanian and Senegalese descent, while his father is from Mali. He took his first footballing steps in nearby Évreux, first at ALM Évreux and then at Évreux FC 27 between the ages of 12 and 13.
Career
Club career
Rennes
Dembélé made his senior debut for Rennes' reserve side in the Championnat de France Amateur, on 6 September 2014, coming on as a 78th-minute substitute for Zana Allée. He effectively set up Alseny Kourouma for the second goal of a 2–0 home win over the reserves of Breton rivals Guingamp. On 9 November, he scored his first career goal, again coming off the bench in a game at the Stade de la Piverdière, this time against the reserves of Laval. He totalled 13 goals in 18 games in his first season, including a hat-trick on 16 May 2015 in a 6–1 win over Hérouville. On 6 November 2015, Dembélé made his professional debut for Rennes' first team in Ligue 1 against Angers, replacing Kamil Grosicki for the last 5 minutes of the game. On 22 November, he scored his first Ligue 1 goal for the first team against Bordeaux, opening a 2–2 draw at Roazhon Park. On 9 January 2016, Dembélé found the net again for Les Rouges et Noirs, as they came from 0–2 down to draw 2–2 against regional rivals Lorient at home. On 6 March, he scored his first Ligue 1 hat-trick in a 4–1 victory over Nantes in the Derby Breton. Rennes' sporting director Mikaël Silvestre compared Dembélé to Cristiano Ronaldo, whom he had seen arrive at Manchester United around the same age.
Borussia Dortmund
On 12 May 2016, Dembélé signed a five-year contract with German club Borussia Dortmund, effective 1 July. On 14 August 2016, he made his debut in a 2–0 defeat against Bayern Munich in the DFL-Supercup. He scored his first goal for die Borussen on 20 September 2016, in a Bundesliga encounter against VfL Wolfsburg, which Dortmund won 5–1 at the Volkswagen Arena. On 22 November 2016, he scored the first Champions League goal of his career as the German club defeated Legia Warsaw 8–4 in a group stage meeting. On 26 April 2017, Dembélé assisted Aubameyang's goal and scored the 74th-minute winner against Bayern Munich in the DFB-Pokal's semi-final, helping Dortmund reach the cup final. In the decisive game on 27 May, he scored the first goal of a 2–1 victory as Dortmund clinched their first major title in five years by winning the 2017 DFB-Pokal Final against Eintracht Frankfurt. Dembélé was subsequently named Man of the Match. After the end of the season, Dembélé was named to the Bundesliga Team of the Season and awarded the league's Rookie of the Season award.
Barcelona
On 25 August 2017, La Liga side Barcelona announced that they had reached an agreement to sign Dembélé for €105 million plus a reported €40 million add-ons. On 28 August, he had his medical and signed a five-year contract, with his buyout clause set at €400 million. Barcelona had just sold Neymar to Paris Saint-Germain for €222 million, so the deal meant that Dembélé became the joint-second most expensive player (in euros), along with Paul Pogba. Rennes received a reported €20 million from Borussia Dortmund as a result of the sale, and Évreux 27 were also due part of the fee. He was handed the number 11 jersey that was previously held by Neymar. Dembélé made his debut on 9 September as a 68th-minute substitute for Gerard Deulofeu in a 5–0 Derbi barceloní win over Espanyol at the Camp Nou, assisting the final goal by Luis Suárez. In his first league start eight days later at Getafe, he injured his hamstring and was ruled out for four months. He was given the medical all-clear on 2 January 2018, but a couple weeks later, he again injured himself against Real Sociedad and was ruled out for up to four weeks. On 14 March 2018, Dembélé scored his first goal for Barcelona, netting the second goal in a 3–0 second leg win in the Champions League round of 16 against Chelsea. On 17 April, he scored his first La Liga goal for Barcelona, notching the opening goal in an eventual 2–2 draw with Celta Vigo. On 9 May, Dembélé scored twice, marking the first brace of his Blaugrana career, in a 5–1 home victory over Villarreal. Dembélé won both the Copa del Rey and La Liga winners' medals in his first season in Spain, with the 20-year old scoring four goals in 24 appearances across all competitions. On 12 August 2018, Dembélé scored the winning goal against Sevilla in the Spanish Super Cup, in an eventual 2–1 victory to win Barcelona their 13th Supercopa de España title. He opened his La Liga season's goal tally by scoring the only goal of the game against Real Valladolid, on 25 August, away at the José Zorrilla. A week later, on 2 September, Dembélé notched his first home goal of the season, as the Blaugrana demolished newly promoted Huesca 8–2. Dembélé was again on the scoresheet the very next game, on 15 September, netting his third match winner of the ongoing campaign in a 2–1 away victory over Real Sociedad at the Anoeta. On 18 September, Dembélé scored his first Champions League goal of the season, helping Barça defeat PSV Eindhoven 4–0 at the Camp Nou. Coming on as a substitute against Real Madrid, on 28 October, Dembélé set up Arturo Vidal's last goal of the game in a 5–1 home El Clásico triumph. Just a week later, again appearing from a bench role, he inspired Barcelona to a 3–2 comeback away against Rayo Vallecano, scoring the 2–2 equalizer with a half-volley in the 87th minute. On the 11th of October he scored a remarkable solo goal against Tottenham outpacing many defenders, finishing with a cool left footed shot past Hugo Lloris. He won the UEFA Champions League Goal Of The Week for that goal. After the match, Barça manager Ernesto Valverde praised the youngster, "He has made a great goal, within reach of players with his talent". His second brace for the Blaugrana came at the start of the year 2019. On the 17th, a match against Levante UD. Dembélé scored on the 31st and 32nd minutes. Barcelona winning by three goals to nothing. Additional goal by Lionel Messi, to advance to the next round of the Copa del Rey. Dembélé's third Champions League goal for Barcelona was on the 13th of March in a 5-1 win against Lyon. The match was played the Camp Nou scoring the last goal from a Messi assist.
National career
Dembélé was called up to the senior France squad for the first time to face Italy and Belarus in August 2016 after Alexandre Lacazette and Nabil Fekir withdrew through injury. He made his debut on 1 September against the former at the Stadio San Nicola, replacing Antoine Griezmann for the final 27 minutes of a 3–1 friendly win over Italy. On 13 June 2017, Dembélé scored his first France goal in a 3–2 friendly victory against England. On 17 May 2018, he was called up to the 23-man French squad for the 2018 World Cup in Russia. On 15 July, he was an unused substitute, as France beat Croatia 4–2 in the final.
Awards and achievements
Awards
x 1
World Cup (Winner)
2018 Russia
x 2
La Liga (Winner)
2018/2019, 2017/2018
x 1
La Liga (2nd Place)
2019/2020
x 1
DFB Pokal (Winner)
2016/2017
x 1
Copa del Rey (Winner)
2017/2018
x 1
Copa del Rey (2nd Place)
2018/2019
x 1
Super Cup (Winner)
2018/2019
x 2
Super Cup (2nd Place)
2017/2018, 2016/2017
x 1
Supercopa de Catalunya (Winner)
2018
x 1
Supercopa de Catalunya (2nd Place)
2019
x 3
Trofeo Joan Gamper (Winner)
2020, 2019, 2018
Achievenements
x 1
UNFP Ligue 1 Young Player of the Year
2015–16
x 1
UEFA Champions League Breakthrough XI
2016
x 1
Bundesliga Rookie of the Season
2016–17
x 1
Bundesliga Team of the Season
2016–17
Interviews, opinions and scandals
Interviews
Before your departure in Dortmund, in an interview he had given me, Jérémy Ménez advised you to take your time not to burn yourself. You were not afraid of that?
"Frankly, I did not listen to everything he said to himself. I had confidence in myself, I had confidence in my football. I was quiet."
What happened to your apprenticeship in the Bundesliga?
"My apprenticeship was good. I discovered the very high level. I learned to play every three days, playing at an even higher pace. In the Bundesliga, the matches were very intense. I discovered a new championship. My apprenticeship was really good even if I did not understand the German ... In the field, I learned to better manage duels, impacts, all that. Technically, I grew even more. I moved well there."
You've traumatized a lot of Bundesliga defenders...
"(He laughs embarrassed) Okay okay..."
Only "okay"? I remember this defender of Mainz who was shocked by your level and who had pointed out in the press...
"(Laughter). It's nice when an opponent says good of you. But now, do not stop at that. We must continue afterwards. For a little French guy who arrives like that, we do not know, it's pretty good."
For you, normal too?
"Yeah, it's in my genes. Without more what."
Can you compare Ligue 1 and the Bundesliga?
"I liked Ligue 1. With Rennes, we still played the leading roles. But the Bundesliga is still not bad, huh. You play against Bayern, Schake, you play against good teams. I think the Bundesliga is higher."
What differentiates these two championships?
"Rhythm. There are some great players in Germany too. Everyone can beat everyone."
What was your relationship with the Dortmund fans?
"They loved me there. Every time I put a little hook, I heard the whole stadium shouting "Ooooooooh". It made me want to put another hook on the next action. It was stimulating. I wanted to serve them every time. To make them feel even better and make me feel better. I still wanted to hear "Ooooooooh". The supporters were beautiful."
You have not finished better passer...
"Yeah, Forsberg finished in front of me. We were getting messages by Dayot (Upamecano). He had told Dayot: "Ask Ousmane to stop making passes, it's over there" (laughs)."
Not too disgusted not to have finished better smuggler?
"No, no, no, not even. But I'm happy because Aubam finished top scorer. When I arrived in Dortmund, I said: "Aubam will finish top scorer this season because I'm going to make him a lot of passes." Every time he was placed, hop, I put him at the far post."
How was your relationship with Aubameyang?
"It was a good of crazy, it was my safe guy! As we lived two minutes from each other, he came, he got me home and then took me back to training. We would eat together at the restaurant very often. I went to his place. On the ground, it advised me a lot. After the workouts, we worked the finishing together. Frankly, it was beautiful with Aubam. Too bad it only lasted a year. For me, the guy from Evreux, meeting up with Aubameyang, it made me something. I was very good with him. It's easy to play with a guy like that, he goes fast, he is always well placed. It's good delirium, it's really a good guy."
You dreamed of Barça and you realized your dream. Not bad is not it?
"Yeah, that's good, it's good. Now, we must continue, we must play. Because here I was on vacation (smile). Being in Barcelona is good, but the question is not where I am but what I'm going to do. "
It's beefy anyway, you did it all very quickly...
"Yeah, it's gone really fast. But it's good, it's good. Being in Barcelona at 20 is good."
Maybe it did not go too fast?
"No no no. I'm here, quiet. Everything is going well with the staff, with the players, we laugh well. We adapt well to the style of play because here, it is particular, it is not easy."
Compared to what?
"At the style of play. It is necessary to adapt to the movements, to understand the different patterns, to create automatisms with the partners, all these little things. All this comes into account."
I guess when you were little, you read the rumors of the transfer window with the transfer prices. And behind, it falls on you, it must do you something, right?
"Yeah but frankly, I did not pay attention to all that."
It's still a big pressure. Especially when you say "he comes to replace Neymar".
"They did not take me to replace Neymar. They did not tell me about him. They said to me: "you come, you play and there you go". Already, they wanted to buy me for a long time even when there was Neymar. So no, no, it's not a pressure."
You cried after your injury after your injury?
"No, not even. The whole club supported me, the players were very cool with me. The staff members too. They came to say to me: "Go quiet, you rest well, quiet". After that, I went to Finland for surgery. I was relaxed."
To return a little more on Barça, what does it feel like to be in this locker room?
"When you're a player and you dreamed of being in this club, like me, you're good. You look to your left a guy like Umtiti, on your right, Lionel Messi. It's laughing all over the place, you stitched that size everyone. Frankly, that's good. I'm happy to be in this locker room."
Have you been carved?
"Yeah. On my shoes for example. I do not know why they cut my shoes when they are very good. On my haircut too. On my cloakroom while I dress well, I do not understand (smile). Sam says to me all the time: "Do not worry, you're good, they do not understand"."
There are two pictures that have marked me: the one where you clasp Messi arms. We have the impression that you want to make it the woman of your life. And the one with Iniesta...
"(Laughter). Yeah. These are good guys really. They are quiet, simple. "
Tell the truth, how is Messi?
"Quiet, simple. He is as I imagined. He laughs with everyone. It puts everyone at ease. Especially on the ground, it puts you at ease. Nothing to say about him. A huge player and a big gentleman."
And the Valverde coach?
"He is quiet. He's good. He likes tactics, when his team defends well before attacking well. It is a coach who wants to win all the time, he gives everything to be successful."
Did you ask yourself questions when Coutinho signed during your injury?
"Not at all. Coutinho, they wanted to do it since this summer. They wanted to recruit us at the same time, last summer. So, no, no, no, I did not ask myself any questions. We are in Barcelona, ​​you have to give the maximum every day. Competition is part of the game. It's the law of big clubs. I'm glad a player like that joins us. He's a great player."
We also announce Griezmann...
"Yeah, imagine Griezmann here..."
Yeah but imagine Dembélé too. Where will he play?
"No, quiet. It would be nice if Griezmann came. After, I do not know if it's a rumor. But he's a hell of a Griezmann player. He's a good delusional guy. In selection, we get along well."
Otherwise, the little Frenchman has adapted well to Barcelona ...
"Yeah, very good. A few more months before speaking Spanish well."
How is life here?
"I do not go out much. I stay at home most of the time. I land on Netflix where I play playstation. I rest as soon as I can, it's important. The climate is top. It's hot, the living environment is perfect."
Ready to finish the season in ball?
"Yeah, I'm fresh, I'm fine. Big deadlines await us like the Champions League, the championship, the Cup ... We arrive in the last straight, it will have to answer present."
You missed the first Clasico. You must have been disgusted?
"Yeah a little."
You thought you were there?
"No."
You have to wait impatiently for the return, right?
"Serious. I wish I could be there for the return. I hope I will play."
What does it mean for you Clasico?
"It's the best game in the world. It's the ultimate. It's a hot match where"
Scandals
According to the German edition of Bild, now on Dembele sued. The owner of a house in Dortmund, where the Frenchman lived before leaving for the capital of Catalonia – a German named Gerd Weisenberg, did this. As the former landlord says, Usman did not keep order and lived like a pig. As a result, the house was very damaged. Weisenberg accuses Dembele of having left behind a lot of unpaid bills, stains on the walls and mountains of garbage, in particular, he scattered packages on the floor, and in the refrigerator and even between the cabinets left rotten food. Moreover, Usman did not tear up the lease in time and did not return the keys to the house to the owner. Weisenberg had to change the locks on the front door, and now Gerd is demanding compensation in the amount of 20 thousand euros. That is how much was spent on cleaning and repair. The source claims that the footballer did not even bother with long collections, leaving the home in the clothes that he was wearing.
November 15, 2018
Statistics
Club statistics
| | | | | | | | |
| --- | --- | --- | --- | --- | --- | --- | --- |
| League | Season | Club | Apps | Goals | Assists | Min. played | Cards (Y/S/R) |
| UEFA Champions League | 2020/2021 | Barcelona | 1 | 1 | 1 | 27 | 0/0/0 |
| Club Friendlies | 2020 | Barcelona | 2 | 1 | 0 | 73 | 0/0/0 |
| UEFA Champions League | 2019/2020 | Barcelona | 4 | 0 | 0 | 136 | 1/0/0 |
| Club Friendlies | 2019 | Barcelona | 5 | 1 | 0 | 235 | 0/0/0 |
| UEFA Champions League | 2018/2019 | Barcelona | 8 | 3 | 1 | 416 | 0/0/0 |
| Club Friendlies | 2018 | Barcelona | 1 | 1 | 0 | 46 | 0/0/0 |
| UEFA Champions League | 2017/2018 | Barcelona | 3 | 1 | 0 | 143 | 0/0/0 |
| Club Friendlies | 2017 | Borussia Dortmund | 4 | 1 | 0 | 196 | 0/0/0 |
| UEFA Champions League | 2016/2017 | Borussia Dortmund | 10 | 2 | 6 | 770 | 1/0/0 |
| Club Friendlies | 2016 | Borussia Dortmund | 6 | 1 | 0 | 291 | 0/0/0 |
National statistics
| | | | | | | | |
| --- | --- | --- | --- | --- | --- | --- | --- |
| League | Season | National team | Apps | Goals | Assists | Min. played | Cards (Y/S/R) |
| UEFA Nations League | 2018/2019 | France | 4 | 0 | 0 | 54 | 1/0/0 |
| WC Qualification Europe | 2018 | France | 2 | 0 | 0 | 111 | 0/0/0 |
| World Cup | 2018 | France | 4 | 0 | 0 | 165 | 0/0/0 |
| Friendlies | 2018 | France | 6 | 1 | 0 | 279 | 0/0/0 |
| Friendlies | 2017 | France | 3 | 1 | 0 | 146 | 0/0/0 |
| Friendlies | 2016 | France | 2 | 0 | 0 | 73 | 0/0/0 |