Because of COVID-19, the international sport community is scrambling to rearrange major events and is facing some confusion on where to place each one. For instance, since Euro 2020 is being deferred to the summer of 2021, that leaves Women's Euros 2021 in a precarious position. The Women's Euros may potentially be delayed until the summer of 2022, but then it would be competing for airtime with the 2022 FIFA World Cup.
UEFA is placing a priority on making sure that domestic seasons are finished out, rather than voided. UEFA president, Aleksander Ceferin, sent out a letter to its member associations asking them to finish their seasons by July 31st. In order to do this, each club would need to resume activity by the end of June. Ryan Giggs, coach of the Wales national team, has recently talked to the media about how the Nations League is being affected.
UEFA has created a task force that is responsible for drawing up a tentative calendar to be followed once the pandemic-induced shutdown has subsided. Although the calendar has not yet been made public, it will most likely condense the 2020-21 season. Ryan Giggs, who is the head coach of Wales' national team, spoke on The Football Show about this matter. Since some countries have not yet played their qualifying matches for Euro 2020, Giggs believes that the Nations League might be required to participate in triple-headers later in the season. 
Giggs is rightfully concerned about the task of preparing his squad for playing three games in one month. Wales is slated to return to playing in September, and the teammates are used to playing two games in a row rather than three. He believes that the triple-headers could occur in both September and October. Giggs continued on to say that, even though his team is not accustomed to playing triple-headers, they are all still eagerly anticipating their return to football. Wales will return to normalcy once the public health crisis has subsided, and Giggs is hoping that it would be sooner, rather than later. Giggs mentioned that the shifted calendar is not as big of an issue for him as it is for Premier League managers. 
After finishing in second place out of Group E, Wales was automatically qualified for Euro 2020. Gigg's main challenge lies in communicating with other club managers about player availability. Giggs mentioned that he already spends a lot of time communicating with managers via phone calls when they play two games. So, for triple-headers, that communication would surely increase. 
Giggs finished up the interview by stating that UEFA needs to come up with medium and long-term plans, rather than just focusing on the short term. All possible repercussions need to be considered when the task force creates the new season calendar. 
Other Advice From Ryan Giggs
Giggs has also been featured in the media lately regarding his statement to stars of the Premier League. He has been urging players to take selfless actions in order to help fight the coronavirus. This followed a wage dispute between the Professional Footballers' Association (PFA) and the heads of leagues. Club executives thought that their star players would be willing to take a wage cut, which would help the clubs survive their current economic hardships. However, the players, such as Troy Deeney, Mark Noble, and Kevin De Bruyne, stated in a video conference that they don't want to forgo their wages if it is just deepening the pockets of rich club owners. Rather, they would prefer to donate part of their wages directly to the National Health Service. The PFA agreed with the players' statement and said that the loss of earnings would have reduced tax contributions to the UK government and thus negatively impacted the NHS. 
The PFA crunched the numbers and found that the proposed 30% cut would line club owners' pockets with over £500 million, while the UK's government would lose out on over £200 million in tax revenue. 
Even though the players' choice to say no to the wage cuts aligned with their own morals, they have still been receiving much criticism. Ryan Giggs, in an interview with ITV, said that this criticism is unfounded because footballers are still coming to the aid of the NHS. He brought up an example of his former teammates, who were quite generous with their time and money and who would participate in raising funds for worthy causes. Giggs himself is no stranger to philanthropy. He, along with Gary Neville, opened up Hotel Football for NHS staff to use for free.  Service workers, as well as medical professionals, were able to utilize the hotel's 176 beds starting from March 20th. The hotel is closed to all other guests while NHS workers are using it.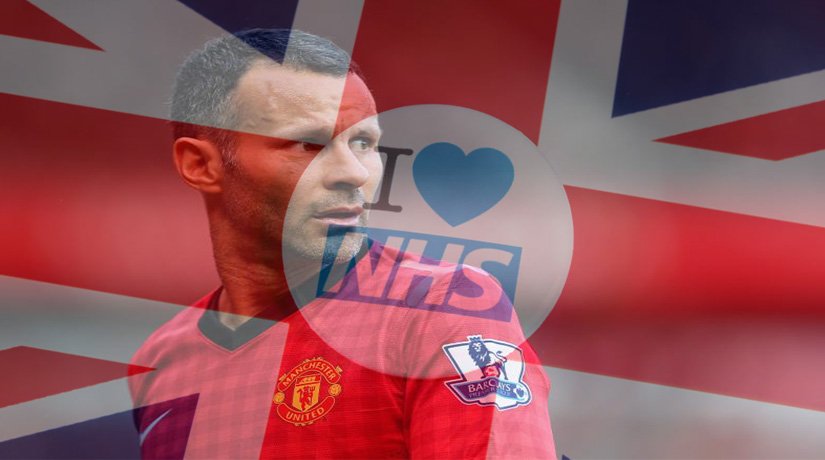 In addition to this, Giggs is not laying off any of his employees, nor is he mandating that they take unpaid leave. He worked with his staff to create a package that made sure they could retain their income. Giggs publicly stressed the importance of his staff members and said that they are the "lifeblood" of the hotel. 
More Charitable Contributions in the Sports World
Many athletes and sports teams have been donating their salaries to coronavirus relief organizations. For instance, Manchester United and Manchester City made a combined donation of £100,000 to fund food banks. Chelsea has opened up the Millennium Hotel for NHS workers while they are going up against the coronavirus pandemic. All rooms are available for workers, and the costs will be 100% covered. The captain of Borussia Dortmund, Marco Reus, has created a fund that will help local businesses. He and his spouse made a sizable €500,000 contribution. We hope that these instances of charitable giving will uplift your mood and bring you more faith in humanity during this global health crisis.