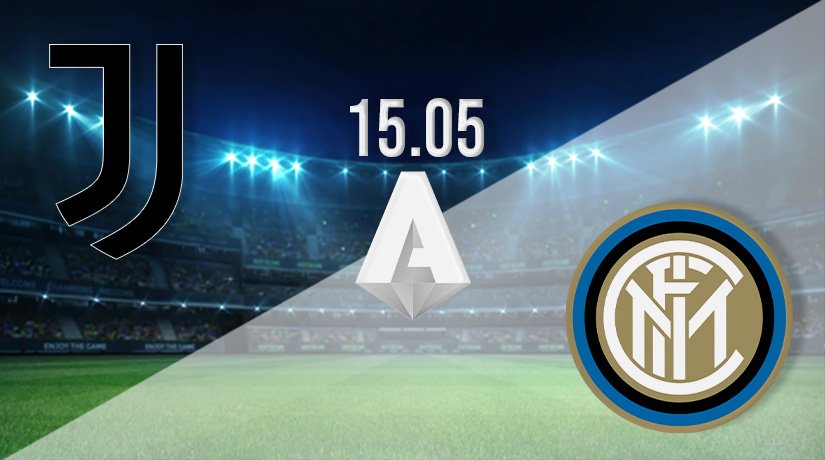 13th May 2021
Juventus vs Inter Milan Prediction: Serie A Match on 15.05.2021
Followers of the Italian Serie A have an essential weekend to look forward to as the top tier of Italian football speeds towards a grandstand finish. Four games are scheduled to be played on Saturday, with the highlight pairing Juventus with Inter Milan. That match will kick-off at 17:00 GMT and will be shown to a bumper audience across Europe. This is a meeting of last season's champions and this season's champions and could signal the changing of the guards in Italian football.
Time is running out for Juventus to make it into the top four and qualify for next season's Champions League, so all the pressure is on the home team. They started the week outside of the prize places, and that's a genuine concern for all connected to the club. Releasing their grip on Italian football is a sore one for fans to take, but missing out on the Champions League millions necessary to keep Juventus moving forward would be a real body blow for the board. One that could take them years to recover from.
Saturday's match will be the third meeting of Juventus and Inter Milan this season after they clashed twice in Serie A. On both occasions, the team playing away from home won the game and scored three goals when doing so. Juventus supporters know their team must snap that trend this weekend.
Season to forget for Juve
It started out as a chance for Juventus to make history and secure another Serie A title but quickly descended into a campaign to forget. The home team appears to have struggled more than most with the lack of fans. Still, their poor form can't be pinned solely on playing in empty stadiums without the usual capacity crowd piling pressure on officials and cheering the Old Lady to victory. They have been poor throughout, with several important players falling to pull their weight.
Juventus started the week sitting in fifth place. Their stats for the campaign read 20 wins and nine draws against six defeats, scoring 67 goals but conceding 34. On closer inspection of those figures, we see the locals have a decent return in attack, scoring more than AC Milan, who is in third place, but they have scored a dozen less than the league leaders and conceded more goals along the way. Fans will look back on too many draws as the reason their team surrendered the title so easily.
The home side suffered another damaging defeat last weekend when going down to AC Mian at home. It was a game everyone connected to the club knew they had to win, but at the full-time whistle, Juventus were 3-0 losers. In such an important fixture and with the home advantage, that has to go down as a shameful result.
Milan home and hosed
Inter Milan supporters entered the season hoping to secure another top-four finish and qualify for the Champions League again. They'd then hope to progress through the group stages of UEFA's elite tournament and serve a challenge for the trophy, building on the efforts of recent seasons. The season turned out to be far more successful than even the most die-hard supporter could have hoped for. Inter Milan raced to the top of the league, beat off competition from rivals AC Milan and Atalanta to cross the line in style.
It wasn't all one-way traffic, but there can be no denying that Inter Milan is deserving champions. They have been the most consistent team of the bunch, grinding out results and beating those around them in the table. Even their harshest critics couldn't say that Milan didn't deserve their time in the spotlight. Will they build on that and become a regular contender for the title? It looks like they will take some stopping, that's for sure.
What would put the icing on the cake for Milan supporters would be to sign, seal and deliver their trophy by beating last season's champions on their patch. That would confirm them as the best team in Italian football, sending a message out across Europe that times are changing. It would also knock the confidence of Juve ahead of the expected fightback next season. There's more at stake here than just three points.
Juventus vs Inter Milan prediction
This match means more to the home team than the visitors as Juventus know they must win to keep alive their chances of making it into the top four. Yes, it has been a terrible season by their high standards, but this is no time for the Juventus players to feel sorry for themselves. They have a job to do and must earn their wages and secure their futures by blasting the team back into the Champions League.
How much do the champions want to win this match? Will they be suffering from the effects of the title party hangover? We'll find out when this game kicks off. If Milan plans to be competitive and chase the points, they are more than good enough to do that.
Armchair fans are hoping to be treated to another gripping 90 minutes of action with plenty of goals to cheer. There may be tension in the air, especially for the home team, but both sides have the quality to create chances and score goals.
Serie A betting
The pre-match betting at 22bet has Juventus priced at odds of 2.115 to win this match with Inter Milan available at 3.24. Fancy the draw? That's 3.66.
As well as the match betting prices, there are lots of interesting specials attached to this fixture, with over 100 pre-match betting options available to members of 22bet. There's the correct score, first goalscorer, half time/full time, total goals, handicap and more. The aim of the trading team was to ensure there's something to suit all types of bettors and allow them a gamble in this match. Many of the pre-game betting markets will be live throughout the 90 minutes, thanks to in-play betting. The odds will update to keep in line with the score.
Make sure to bet on Juventus vs Inter Milan with 22Bet!