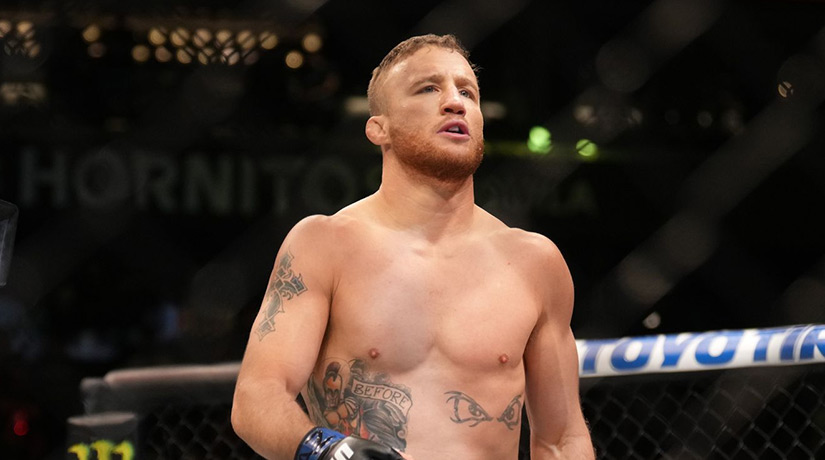 21st Oct 2022
Justin Gaethje Plans to Return in 2023 Hoping to Fight for the Title
Justin Gaethje temporarily disappeared from view in order to recover from a heavy defeat by Charles Oliveira back in May 2022 and to repair a nasal septum that was broken 13 years ago. While Gaethje is enjoying the sense of smell that has returned to him and the opportunity to fully breathe, he is already considering with whom and when he can enter the octagon.
"I told them (I'd be back) next year," he told MMAFighting. "At UFC 280 they have a title fight (Oliveira vs. Makhachev) and someone will have to fight the loser. Then the fight between Michael Chandler and Dustin Poirier and the winner will need an opponent. I will be ready to accept any offer in January, February or March. I'm not sure when Kamaru Usman will go to the rematch with Leon Edwards in London, but I would love to compete there."
Gaethje Thinks 2 or 3 Victories Are Needed
At the moment, Gaethje is third in the ranking of the best lightweights and believes that having gained two or three victories, he will again be able to get the status of a contender for the title.
"At the end of the day, my goal is still to be a champion. I think that two, maybe three wins, especially if they are knockouts in the first round, will put me back in the race for the title. Once they stop believing in me, or I myself lose confidence in my ability to become the best in the world, then there will be no reason for me to continue doing this."
But, most likely, this is just the unrealizable fantasy of Justin, who exchanged a real chance to make history and become a regular UFC champion.
The Break Was Necessary
Justin Gaethje has also revealed why, after losing to Charles Oliveira last May, he continues to turn down fights. According to the athlete, for many years he had several fights a year, spending almost ten months a year in a training camp. And only now such a tough regime began to affect the body.
"I have already told the league management that my body can withstand a lot. But it needs to be given a break" Gaethje explained.
Of the potential rivals, the American fighter singled out Michael Chandler and Dustin Poirier. And if Conor McGregor resumes his career by then, Gaethje is ready to fight him too.
Moving to Welterweight Divison
Gaethje has also hinted at a move to the welterweight division. Now he has made it clear that he wants to get a title in this weight. He is one of the best fighters on the tour and can possibly achieve his ultimate wish.
The current UFC welterweight champion is Leon Edwards. He took the title from Kamaru Usman in August of this year, defeating him by knockout in the fifth round. In 2015, the Nigerians defeated the Britons by decision, so it is expected that a trilogy will be held between them.