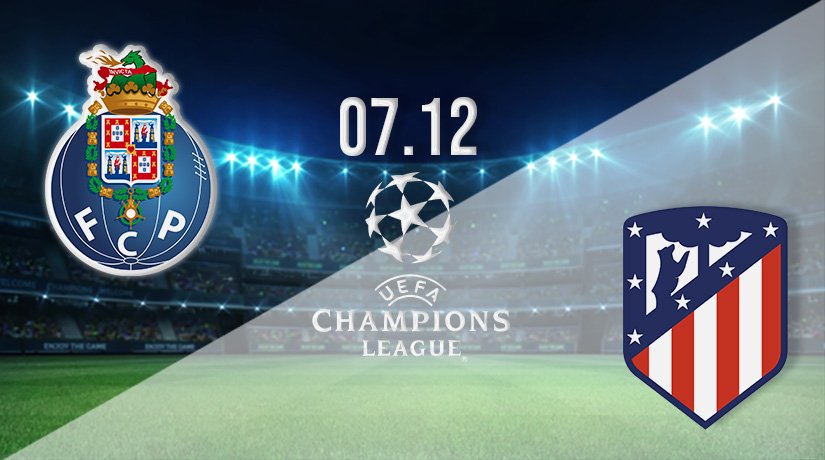 06th Dec 2021
FC Porto v Atletico Madrid Prediction: Champions League Match on 07.12.2021
Eight matches will be played in the UEFA Champions League on Tuesday with the kick-off times staggered between 17:45 and 20:00. Each match will be shown live on television and it promises to be a thrilling night for armchair fans. This is the final round from the group stages and many sets remain undecided.
That is true of Group B despite Liverpool already being confirmed as runaway winners. Ahead of round six, we have three teams with a chance of finishing second with just one point separating FC Porto, AC Milan and Atletico Madrid. This will be a grandstand finish.
Porto holds the home advantage over Spanish La Liga champions Atletico Madrid and know that if they make it count they will be playing knockout football in 2022. Atletico heads into this match with their chances of going through hanging by a thread. They know an away win is the only result that can save their involvement in the Champions League as they prepare for a late smash and grab of the runners up spot. Which team will secure the desired result?
The history books tell us to prepare for a hard-fought 90 minutes as there's little between the pair on the head to head stats.
The teams have met nine times previously with three wins for Atletico Madrid, two for Porto and four games ending in a draw. The reverse of this fixture played in Spain back in September ended goalless but both teams know they must be more adventurous here.
Porto are without a win in two
Porto prepare for round six sitting second in the group but they are just a point better than bottom club Atletico Madrid. If Liverpool do as expected and defeat AC Milan in the group's other match it means this will be a straight shootout for a place in the knockout stages.
The winner of this game is likely to be involved in the Champions League post Christmas and that's the least the big clubs aim for every season. Porto know exactly what is expected of them if they want to go through and with the added home advantage, fans can't ask for any more than that.
Despite sitting in the silver medal position of a competitive pool, Porto have managed only one win so far, drawing two and losing the other pair. They have scored three goals and conceded eight which makes them the group's lowest scorers and the weakest defence.
That doesn't do much to inspire confidence ahead of a must win match against the champions of Spanish football. Porto's recent form isn't a selling point either with the home team failing to register a win in their last two, taking just a point from the six available.
Porto were last seen in Champions League action losing 2-0 at Anfield in November. That was a match the Reds were expected to win and they collected the points, maintaining their 100% record thanks to goals from Thiago Alcantara and Mo Salah.
Liverpool are head and shoulders above the rest of the group so we can't take too much from that match. Porto must dust themselves down and come back stronger. Their fate won't be decided against Liverpool but by the outcome of this match.
Madrid have one final roll of the dice
Atletico Madrid travel for their final group match, knowing anything less than three points would see them exit the Champions League and could result in them finishing bottom of the pile, ending their involvement in European football this season.
That's something the club wants to avoid at all costs, and it would be damaging, not only to their finances but also to the reputation of Spanish football, to see the champions knocked out early. Atletico must go on the attack, score goals and win the match. It won't matter to their fans or anyone at the club if the win is a 1-0 or 5-4, as long as they get the three points and get through.
La Liga champions Madrid were expected to challenge Liverpool for the top spot in the group, but things haven't gone according to plan. The visitors are bottom of the league and have lost each of their last three matches. Their form so far reads one win and one draw against those three defeats, scoring four goals but conceding seven.
They may be holding the rest of the division up, but Madrid isn't out of it yet. They still have a fighting chance, and that's all a team like Atletico need. They are dangerous and will head to Porto fully expecting to pick up all three points and progress to the next round.
The visitors lost three games after going down twice against Liverpool, then at home to AC Milan, losing the latter match by a 1-0 scoreline. Since suffering defeat to the Italians, Atletico has beaten Cadiz 4-1 in La Liga away from home and lost 2-1 at home to Mallorca on Saturday.
Madrid thought they had snatched a draw when scoring an equaliser on 68 minutes in that game, but a stoppage-time winner from Kubo had the final say. It was a tough one for the players to take, but they can't dwell on that disappointment.
Porto v Atletico Madrid prediction
Porto are second in the table but have just one win under their belt. It's now time for the players to prove they deserve their spot in the next round, and the best way to do that would be with a win at home against the bottom of the pool.
Easier said than done, of course, but Porto have a real opportunity to progress, and they won't want to let that slip through their fingers.
Atletico Madrid face a huge challenge in getting through. They have a strong squad and the ability to win away from home, but they are also the lowest-ranked team in the pool and arrive, having lost each of their last three games.
It will take a huge effort to win this match, but Madrid are capable, and if they play to the best of their abilities, they should have enough about them to win the game.
Champions League odds
Porto is priced at 2.64 for the win, with Atletico Madrid trading at 2.67 and the draw 3.34.
Make sure to bet on Porto v Atletico Madrid with 22Bet!