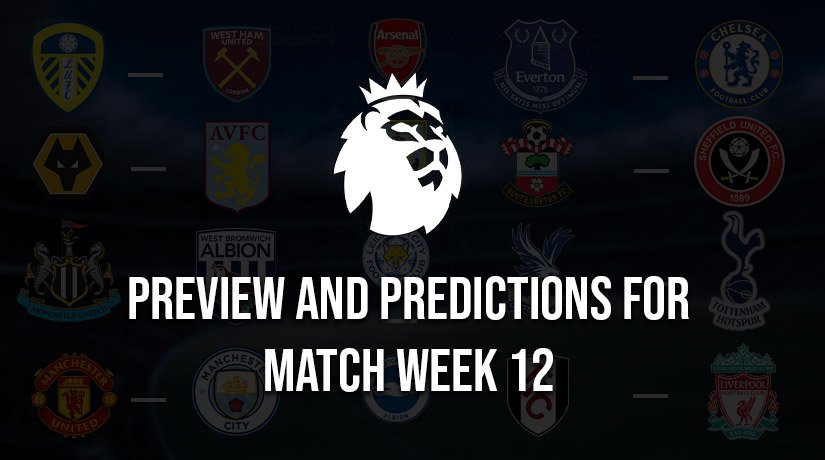 10th Dec 2020
English Premier League Predictions for Saturday – Match Week 12, Season 2020/21
Leeds vs West Ham – Friday 20:00
Welcome to our English Premier League predictions for Saturday and the rest of matchday 12. We begin at Elland Road on Friday evening where Leeds United host West Ham United in a match scheduled to be shown live on television from 20:00 GMT. The home team started the season strongly but the harsh reality of competing in the top flight of English football has since set in. They have suffered from a lack of consistency this winter and can be found in the bottom half of the table as a result.
West Ham are another side who have been unable to put together an extended run of wins, but the East London side are higher in the pecking order than their hosts. David Moyes and co put together three wins on the bounce to scoot up into the top half of the Premier League but were beaten 3-1 by Manchester United at the London Stadium last weekend. Fans will want to see them bounce back to winning ways as early as possible. How will EPL week 11 go? Find Premier League week 12 predictions below.
Odds on Leeds United to win 2.175
Odds on West Ham to win 3.168
Prediction – Draw
Betting Tip – Draw
Prediction for Leeds vs West Ham HERE.
Bet on Leeds vs West Ham HERE!
Wolves vs Aston Villa – Saturday 12:30
English Premier League predictions for Saturday. Wolves haven't quite hit the dizzy heights of last season but they remain in the running for another European finish this term and if they can piece together a strong run in the final month of the year there's no reason why they won't challenge. The hosts scored an impressive win over Arsenal in London last month and will take massive confidence from that.
We saw Aston Villa battling for pole position in the Premier League during the early exchanges of this season, but they were unable to keep it up and have since dropped off the pace. Their pre-season aim would have been to avoid relegation and in that respect, they have made a great start. Villa have suffered a run of losses and are in midtable ahead of this road trip. Premier League predictions this weekend are as follows.
Odds on Wolves to win 2.235
Odds on Aston Villa to win 3.2
Prediction – Wolves win
Betting Tip – Wolves win @ 2.235
Prediction for Wolves vs Aston Villa HERE.
Bet on Wolves vs Aston Villa HERE!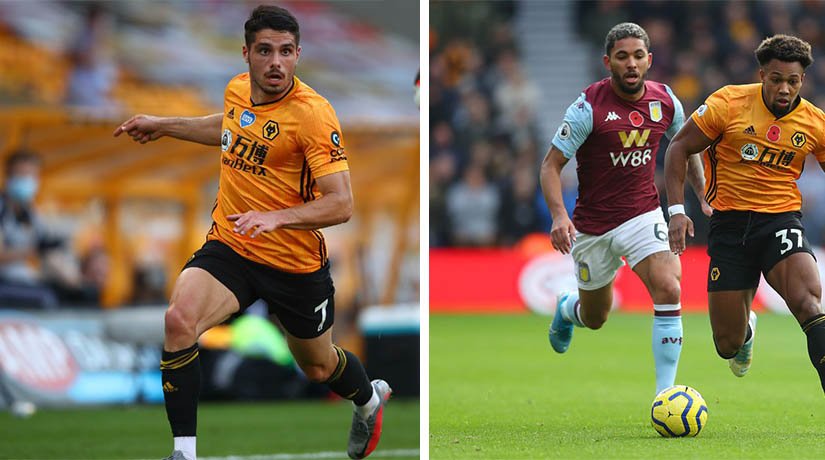 Newcastle vs West Brom – Saturday 15:00
Next in our match previews this weekend and this is the only English Premier League match due to kick-off at 3.00 pm on Saturday as Newcastle host West Brom at St James Park. The Magpies may hold the home advantage, but they have blown hot and cold in recent outings, losing to Southampton and Chelsea by a 2-0 score on each occasion. They did bounce back to beat Crystal Palace 2-0 at the end of last month.
West Brom face an uphill struggle battling against relegation this season, judging by the early signs and they failed to win 10 of their opening 11 games. The Baggies are stuck in the bottom three and showing no signs of pulling themselves free anytime soon. They did stop the rot with a shock win over Sheff Utd but were hammered 5-1 by Crystal Palace last weekend.
Odds on Newcastle to win 2.175
Odds on West Brom to win 3.36
Prediction – Both teams to score
Betting Tip – Newcastle win @ 2.175
Click HERE to bet on Newcastle vs West Brom!
Man Utd vs Man City – Saturday 17:30
It's the biggest game of the PL schedule this week as we see the return of the Manchester Derby on Saturday evening. This match will draw a massive TV audience as the warring neighbours attempt to win the points and gift fans the bragging rights ahead of Christmas. The Red Devils are on a decent run of form in both England and Europe but there's still much work to do if they are to challenge for the league title. The hosts enjoy an unbeaten run, taken a dozen points from four games to propel them into the top-four. They'd love a home win.
Manchester City were Premier League predictions 2019/20 favourites to win the title and they were fancied again this term, but things haven't gone according to plan so far with the visitors winning only half of their first 10 games. They are more than capable of taking the points here but can't afford to take United lightly and go on the attack early. There's confidence in the away dressing room and Pep Guardiola will be desperate to give supporters something to cheer. Football predictions and betting tips here.
Odds on Man Utd to win 4.42
Odds on Man City to win 1.72
Prediction – Draw
Betting Tip – Kevin de Bruyne score
Prediction for Man Utd vs Man City HERE.
Bet on Man Utd vs Man City HERE!
Everton vs Chelsea – Saturday 20:00
Next on our Premier League fixtures this weekend, Saturday's Premier League programme ends at Goodison Park where Everton take on Chelsea in the evening kick-off. The Toffees have endured an astonishing slump in form after setting the heather alight in the first few weeks. They have dropped down the list with one win from five games but it's still far too early to reach for the panic button. There's plenty of experience in the home dressing room and a win here would help turn things around.
Chelsea are going great guns and at this stage, fans will believe Frank Lampard's men have a strong chance of challenging for the title. A top-four finish and run in the Champions League was their aim back in the summer but they are in stunning form, scoring goals, defending well, and picking up important wins. Three points on the road will show just how serious they are about finishing 2020 on top of the league. Premier League tips here.
Odds on Everton to win 4.16
Odds on Chelsea to win 1.76
Prediction – Both teams to score
Betting Tip – Chelsea half time/full time
Prediction for Everton vs Chelsea HERE.
Click HERE to bet on Everton vs Chelsea!
Southampton vs Sheff Utd – Sunday 12:00
Southampton could be one of the dark horses of the Premier League this season and they are in a good position to be challenging for the European places. The Saints will want to finish the year on a high and give themselves a strong platform on which to launch the second half. They pieced together an unbeaten run but went down at home to Manchester United in their final match of November, despite scoring two goals. There's a belief in the home dressing room that they can match any opponent at this level.
Sheff Utd fans had hoped to watch their team upset the odds once again and mix it in the top-10 of the league but a nightmare start means the Blades are likely to be left battling against relegation. They make this trip bottom of the league and without a win in their first 11 games, conceding 16 goals in the process. They are in danger drifting away from safety and if things don't improve soon that's exactly what will happen.
Odds on Southampton to win 1.752
Odds on Sheff Utd to win 4.7
Prediction – Southampton win
Betting Tip – Southampton -1 handicap @ 1.752
Bet on Southampton vs Sheff Utd HERE!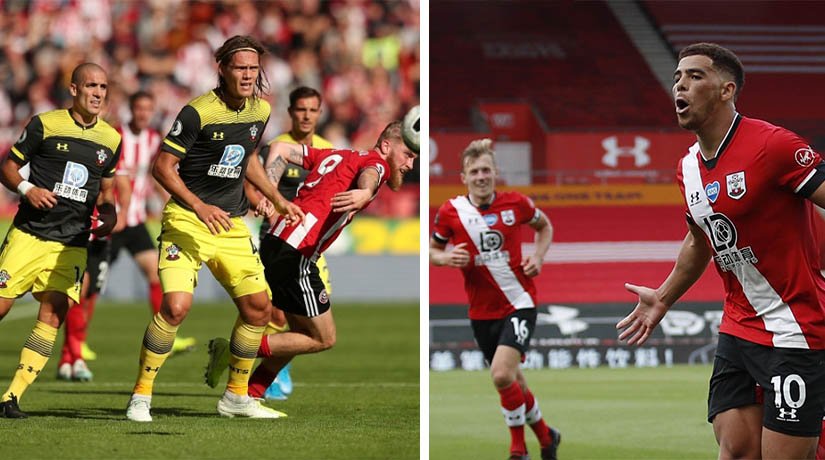 Crystal Palace vs Tottenham – Sunday 14:15
An intriguing London Derby as Palace host highflying Tottenham in this live match. The home team lost two games on the bounce and three of four recently as they drop out of contention for the European places and back down towards midtable. Much better is required if they are to get anything out of this match.
Tottenham are one of the early runners for the Barclays Premier League title and have been playing some of the best football on show in England. Jose's side are creating chances and scoring goals but have also been strong in defence. They'd love to pile pressure on a derby opponent while boosting their chances of finishing the year top of the league. There's confidence in this Spurs side and they are good enough to win this.
Odds on Crystal Palace to win 4.56
Odds on Tottenham to win 1.744
Prediction – Tottenham win
Betting Tip – Harry Kane first goal
Prediction forCrystal Palace vs Tottenham HERE.
Bet on Crystal Palace vs Tottenham HERE!
Fulham vs Liverpool – Sunday 16:30
The Cottagers have struggled to find their feet in the Premier League since coming up through the Championship playoffs in summer. They are dangerously close to the relegation zone and their form so far suggests they'll spend much of the campaign in and around the bottom three places.
Liverpool have picked up where they left off last Premier League season and are in the mix to defend their title and make it two-in-a-row. The Reds haven't been quite as ruthless as this time last year, but they are enjoying solid form and could well go top this weekend. At present, Liverpool are involved in a five-way fight for pole position. We'll see if Jurgen Klopp's side can perform under pressure.
Odds on Fulham win 8.4
Odds on Liverpool win 1.315
Prediction – Mohamad Salah first goal
Betting Tip – Liverpool -1 handicap
Prediction for Fulham vs Liverpool HERE.
Click HERE to bet on Fulham vs Liverpool!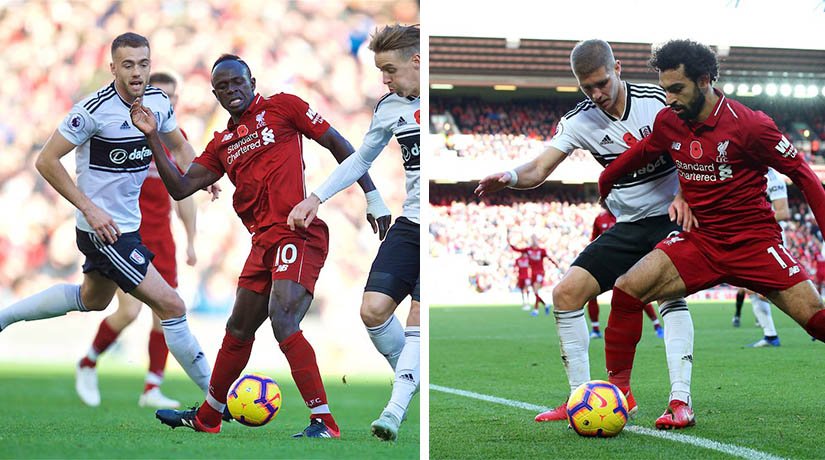 Arsenal vs Burnley – Sunday 19:15
The pressure builds on Gunners manager Mikel Arteta with every point dropped this season and although fans haven't been there to voice their disproval the Arsenal support have made their voices heard. Serious improvement is needed to rescue the home team's season and chances of clawing their way back into the Champions League. The Emirates Stadium must become a fortress again.
Burnley have stumbled from bad EPL results to worse so far and winning only one of their first 10 Premier League games sucked them into the relegation zone. They have shown they are capable of better, but a lack of consistency is the most worrying factor for fans. Premier League odds below.
Odds on Arsenal win 1.54
Odds on Burnley win 5.85
Prediction – Arsenal win
Betting Tip – Arsenal win
Bet on Arsenal vs Burnley HERE!
Leicester vs Brighton – Sunday 19:15
The final match of the weekend and we're at the King Power as Europa League side Leicester target a home win over relegation-threatened Brighton. The locals are holding their own in the race for a European finish and will want to secure a return to the Champions League. Things have been improving for Brighton, but they concede too many goals which will encourage golden boots Jamie Vardy and the home attack. Home win? Stick with us for EPL expert predictions.
Odds on Leicester win 2.02
Odds on Brighton win 3.56
Prediction – Leicester win
Betting Tip – Jamie Vardy first goal
Click HERE to bet on Leicester vs Brighton!