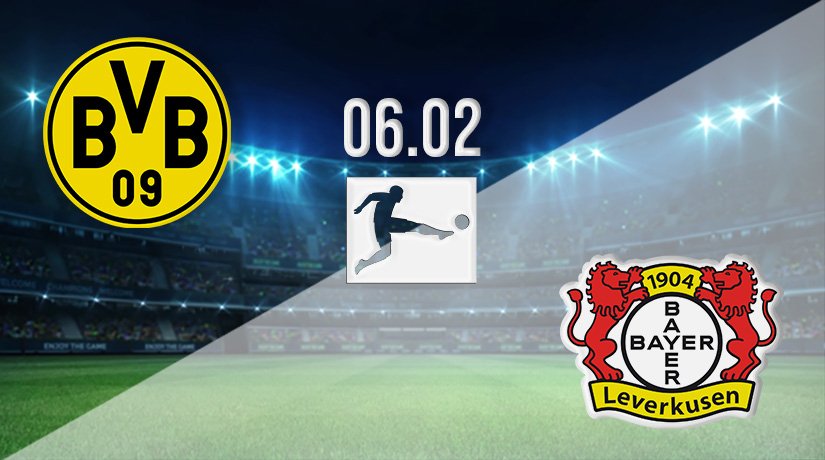 01st Feb 2022
Borussia Dortmund v Bayer Leverkusen Prediction: Bundesliga Match on 06.02.2022
The first weekend of February throws up some fascinating fixtures from the German Bundesliga with games played on Friday, Saturday and Sunday, the best of which will be shown live on television to a global audience. The focus of this preview falls on the intriguing German top-flight match involving Borussia Dortmund and Bayer Leverkusen, who face off at 14:30 GMT on Sunday. With this being second versus third in the league, it promises to be a thrilling 90 minutes of action, but which side will come out on top and secure three valuable Bundesliga points?
Only one place separates these teams in the league at present, but the home team have shown much the better form of the pair so far and enjoy a comfortable points advantage as a result. Borussia Dortmund and Bayer Leverkusen also go in with the confidence gained from a recent winning run. This clash has all the ingredients of a cracker, and those choosing to tune into the action hope the players do their bit to ensure this contest live up to the pre-match hype. Neutrals want to see plenty of goals and even more talking points.
This will be the second meeting of Dortmund and Leverkusen this season, and the first encounter played back in September was a stunning seven-goal thriller. Thanks to an eye-catching 4-3 score, Borussia won that match, and fans would like to see more of the same here, but both managers would likely settle for a boring 1-0. The three points and win is more important than the performance in this match.
Three wins keep Dortmund in it
Borussia Dortmund has an identical recent record as current league leaders Bayern Munich, which has allowed them to remain on the coattails of the pacesetters. The home team have won four and lost one of the five, keeping them in second place and as the main danger to FCB. They set up for this home match which will be game 21 of their season with stats of 14 wins and one draw against five defeats, scoring 52 and conceding 31. They trail Bayern Munich on all the critical stats but sit just six points behind, which means they are in the hunt.
Dortmund's task for the second half of the season is simple. They must keep working away, picking up points, and hoping the champions drop points. Borussia wants to be in a position to strike and make the leaders pay if their form runs dry. They must continue to breathe down the neck of Munich and hope they eventually slip up. With Munich already losing three games, there's every chance they will drop more points between now and the finish line. Will Dortmund make them pay? They must keep things simple and make their home games a fortress.
This season, Borussia Dortmund can show they are serious about challenging for the title by beating the team directly beneath them. A home win here would set up a two-horse race to the finish, leaving the others to battle it out for the remaining places in the top four and a spot in next season's Champions League. Borussia Dortmund takes heart from their recent league form, winning each of their last three and edging Hoffenheim by the odd goal in five last time out. Goals from Haaland, Reus and an own goal from Raum made the difference.
Leverkusen must win to stay in it
Fans of Bayer Leverkusen know their team must win this away match against Borussia Dortmund if they are to have any chance of throwing themselves a title lifeline. The visitors make this trip sitting in third place, 14 points off the Bayern Munich and eight behind their hosts. This already looks like a shootout between the top two, but Bayer can, at least, keep things interesting if they can grab an away win. That's easier said than done, of course, but the Bundesliga is a fiercely competitive league, and any member team can beat any other on their day, as this season's results remind us.
In most trips to Dortmund, Bayer would see a draw as a great result, and these teams have made a habit of cancelling each other out in games. That wouldn't be a strong result this time, especially for Leverkusen, who could see themselves drop further behind FCB and move closer to dropping out of the top four. Bayer would love to win way from home and see Bayern Munich drop points to re-ignite the title race, but there's a danger attached to that. In shooting for the leaders, they could leave themselves open and end up out of the top four.
Bayer Leverkusen has ten wins, five draws and five defeats on their record this season, scoring 49 goals and conceding 32. Their last five results are evidence of how unreliable this side has been in winter, and they have lacked the consistency needed to mount a serious challenge. In their last five outings, Bayer has won two, drawn two and lost the spare, but each of those two wins came back to back in their last two games. Confidence is returning to the camp, and followers of the away team want to see Leverkusen complete the treble.
Borussia Dortmund v Bayer Leverkusen prediction
Borussia Dortmund is playing at home with the backing of the support and the energy that comes from winning their last three games. They are in a great position but know this is a must-win game, and every match between now and the end of the campaign is if they want to ask Bayern Munich questions and challenge the league.
Bayer Leverkusen has blown hot and cold of late. They are a match for any opponent on their day and have had no trouble finding the net of late. The visitors played three league matches in January, with the aggregate score showing 9-4, although five of those goals were scored in a stunning 5-1 home win over Augsburg last time.
Bundesliga odds
Borussia Dortmund is 1.9 to win at 22bet with Bayer Leverkusen 3.64 and the draw 3.94.
Make sure to bet on Borussia Dortmund v Bayer Leverkusen with 22Bet!