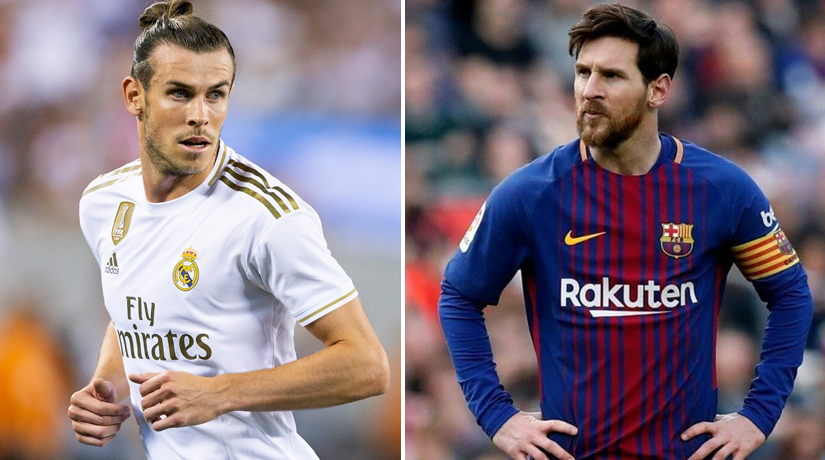 19th Dec 2019
Barcelona vs Real Madrid: EL CLASICO Round-Up & Highlights
The most-watched football derby in the world took place on Wednesday as Barcelona hosted Real Madrid for the long-awaited El Clasico, the first of the season and the last of the decade.
Originally scheduled for the 26th of October, La Liga's blockbuster was postponed due to civil and political unrest in Catalonia. Although Wednesday's clash was also shrouded in uncertainty and amplified security, the wait was finally over and the stage at Camp Nou was set for football's biggest game.
Or so we thought…
Посмотреть эту публикацию в Instagram
WHO WAS THERE?
Ernesto Valverde changed his initial XI when he made a last-minute swap as Sergio Busquets was replaced with Ivan Rakitic. This was Antoine Griezmann's first Clasico and let's be honest, we all forgot he was even on the pitch.
⚠️ There has been a change to the starting 11 for #ElClásico. pic.twitter.com/AdpM0aKTtx

— FC Barcelona (@FCBarcelona) 18 декабря 2019 г.
Zinedine Zidane (who remains unbeaten in this clash at Camp Nou) started Ferland Mendy, Casemiro and Gareth Bale, who returns to Real Madrid's XI for the first time since last month. Unfortunately, Eden Hazard missed what was to be his first ever Clasico due to an ankle injury.
📋✅ ¡Nuestro XI inicial 🆚 @FCBarcelona_es! #ElClasico | #HalaMadrid pic.twitter.com/33CjavdK8D

— Real Madrid C.F.⚽ (@realmadrid) 18 декабря 2019 г.
Record of the day: Sergio Ramos became the player with most appearances in El Clasico history (43), surpassing Manolo Sanchis, Francisco Gento, Xavi Hernandez and Lionel Messi (42 for each one).
WHAT'S HALF OF NOTHING?
The first half started off in typical Clasico style, full of promise, energy and quality.
Twenty minutes in (predominantly spent in Barca's half) and we had already witnessed a yellow card, a call for handball, a couple of strikes cleared on the goal line and a few dramatic saves by Marc-André ter Stegen. Gerard Pique and Ramos both stopped a ball on their respective goal lines in dangerous chances that could have put either team ahead.
By the time the final whistle of the half blew, Rakitic and Luis Suarez both walked into the dressing room with a yellow card to their name.
Federico Valverde attempted not one but two shots on target from 30-yards out, making him our Real Madrid player of the first 45 minutes, whilst Barca's star was unquestionably Ter Stegen.
The first half saw Barcelona producing too many mistakes, wrong crosses and missed opportunities. Messi was nowhere to be seen, Griezmann too, and all the hard work was left to the centre-halfs. The Catalans should consider themselves lucky to have ended the half without lagging by at least one goal, considering Madrid's twelve shots on target compared to their mere two.
12 – @realmadriden mustered 12 shots in the opening 45 minutes against Barcelona, their highest total in a first half at Camp Nou in #ElClásico in all competitions since at least 2003/04. Brave. pic.twitter.com/2Vk6EC3f9S

— OptaJose (@OptaJose) 18 декабря 2019 г.
AND THEN THEY ALL DECIDED TO HAVE A NIGHT IN?
Barcelona finally managed to stick around in Madrid's penalty area for more than five seconds, in a full-cringe moment, which saw both Messi and Suarez missing the ball by inches. Then Casemiro gifted Messi with a free-kick that produced a relaxed chip straight into the wall.
We can't even make this up.
1 – Casemiro in #ElClásico by numbers:

4 shots – 1st in the game
67 passes – 2nd Real Madrid
7 duelos won/15 duels – 1st Real Madrid
10 recoveries – 1st in the game

Spectacular. pic.twitter.com/NuYcanDG5v

— OptaJose (@OptaJose) 18 декабря 2019 г.
A few minutes later, a goal by Bale was ruled out due to a minituresque offside and that pretty much sums up the highlights of the second half. Both teams played with the sole purpose to not be defeated, which made for a forgettable clash nowhere near its usual level of spectacularity.
The game saw Luca Modric and Rodrygo get subbed in for Real Madrid, whilst Vidal and Fati made an appearance for Barca, and walking onto the pitch was pretty much their entire contribution.
Посмотреть эту публикацию в Instagram
JUST ONE OF THOSE GAMES…
0 – This is the first 0-0 in #ElClásico in all competitions since November 2002, 6235 days ago. Battle. pic.twitter.com/iHMfuuOoCe

— OptaJose (@OptaJose) 18 декабря 2019 г.
We can't complain, it has been 17 years since the last goalless Clasico. We'll just have to keep our fingers crossed that March 1st graces us with more than… this.
Посмотреть эту публикацию в Instagram
Make sure to bet on La Liga 19/20 with 22Bet!