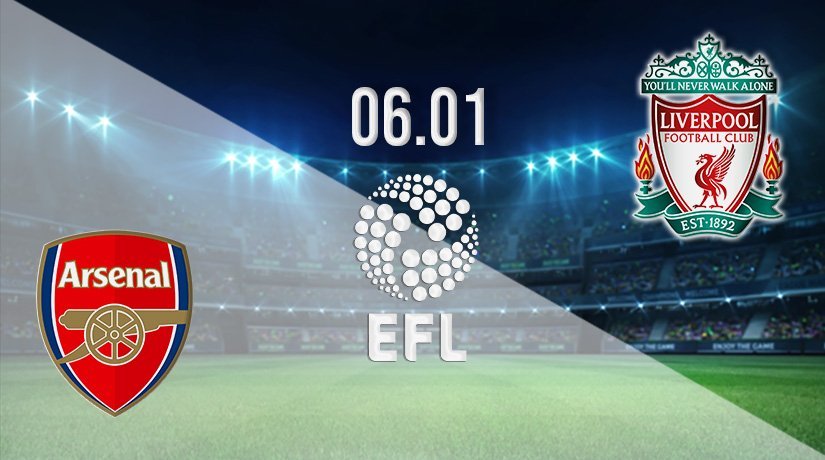 03rd Jan 2022
Arsenal v Liverpool Prediction: EFL Cup Match on 06.01.2022
This midweek heralds the return of the EFL Cup as the remaining four teams left in the competition enter the semi-final first leg stage. The two matches are played on Wednesday and Thursday, and you can find both games covered in detail on this site by our team of football writers who preview and offer their predictions. On this page, we focus on Thursday's match in London where Arsenal take on Liverpool from 19:45 GMT, a match you can follow live on television. Which side will move closer to booking their place in the final at Wembley, the Gunners or the Reds?
This match is the first leg, with the second played at Anfield on the 13th of January. The winner of this tie won't be decided in this game, but a strong win and comfortable margin would greatly enhance the chances of one team going through. Arsenal will be eager to make their home advantage count, feeding off the expectations of their fans packed into the impressive stadium while the Reds will be out to silence the crowd, frustrate their opponents and ensure the tie remains live ahead of the return leg on Merseyside.
Arsenal and Liverpool have served up some memorable games over the years. Followers of the stats will be interested to learn Liverpool are currently on 91 wins, with Arsenal showing 79 victories with 64 games ending in a draw. Focussing on this competition, there is nothing between the old rivals with both the Gunners and the Reds on five wins with six games ending in a draw. The pair last met in November on league action at Anfield when Liverpool ran out 4-0 victors thanks to four different scorers. Fans of the away team would love to see anything near a repeat performance here.
Gunners aiming to bounce back from defeat
Arsenal is going great guns in the league this winter, clambering into the top four following an impressive turnaround. Their chances of challenging for the league title are already long gone, with current leaders Manchester City already 18 points clear and off into the distance. That leaves Arsenal scraping to hold their position in the top four and make a long-overdue return to the UEFA Champions League, something that has been missing for this club for too long now. Their recent league form is strong, but they do set up for this EFL Cup semi-final match on the back of a defeat last time out.
The hosts were last seen in action ending a winning streak with defeat at home to Manchester City at the weekend, losing 2-1 to the champions and league leaders on New Years Day. It was a match most pundits expected them to lose, and they did end empty-handed, but Arsenal played better than many predicted, taking the lead and looking like they could pull off a huge upset to blow the title race wide open. It wasn't to be as Man City showed the fighting spirit of champions to get level before going on to win the match. Saka gave the Gunners a first-half lead, but Mahrez scored a penalty on 57 minutes to equalise, Gabriel was sent off on 59, and Rodri scored a 93rd-minute winner.
Arsenal was the most impressive side in the previous round of this tournament when routing lowly Sunderland at the Emirates Stadium just before Christmas. It was a match the home side were strong favourites to win, and they didn't disappoint, easing to a 5-1 victory including a stunning hat-trick scored by Nketiah who was the star of the show. They face a much sterner test here, but Arsenal starts with confidence and will believe they are good enough to get the home win they desire.
Reds went through the wringer
Liverpool were in London at the weekend when serving up a four-goal thriller with Chelsea. That Premier League match was as entertaining as Arsenal's game with Manchester City and set the tone for what will be an exciting 2022 for English football. The Reds raced into an early 2-0 lead at Stamford Bridge and looked like they could run away with the match with Chelsea's star striker Romelu Lukaku forced to miss out. Many predicted a landslide win for Liverpool and an embarrassment for the Chelsea coaching staff, but the game didn't work out that way.
Despite holding a 2-0 lead with most of the game still to play, Liverpool surrendered their lead before half-time and went into the interval locked at 2-2. Having fought back to get themselves level after going two goals down, it was Chelsea that looked the side more likely to win the match during the second 45 and, with the wind in their sails. They created some good chances. At the end of the play, a draw looked like a fair result, and both teams seemed happy enough to share the spoils, but there was no getting away from the fact Liverpool leaked two goals and drew a match they should have won.
The Reds were also involved in a dramatic match when last seen in EFL Cup action. They played host to fellow Premier League side Leicester City at Anfield, and that clash produced six goals, finishing 3-3. With the teams locked after 90 minutes and extra time, the game went to penalties, where Liverpool succeeded thanks to a 5-4 scoreline. They rode their luck somewhat in that match, and it was another example of the fragility of this Liverpool defence, something the team must improve upon before their quickfire return to London.
Arsenal v Liverpool prediction
Here we have a meeting of two free-scoring sides but also two fragile defences, and that means followers will be treated to an entertaining 90 minutes. The fact there are no Premier League points at stake here allows both Arsenal and Liverpool to be a little more ambitious in how they set up for this match, aiming to score the goals needed to give them an advantage ahead of the next leg. The pressure is on Arsenal to win at home and avoid having to go to Anfield in search of victory.
Liverpool know if they can get at least a draw from this semi-final first leg and keep the tie alive ahead of the return to Merseyside, then they will have the advantage. The Reds do have the firepower and are good enough to win the game, but being successful over two legs requires a strong defence as well as a capable attack.
EFL Cup odds
The pre-match betting available at 22bet ahead of this fixture has Arsenal priced at odds of 2.13 for the win with Liverpool 3.3 and the draw 3.54.
Make sure to bet on Arsenal v Liverpool with 22Bet!