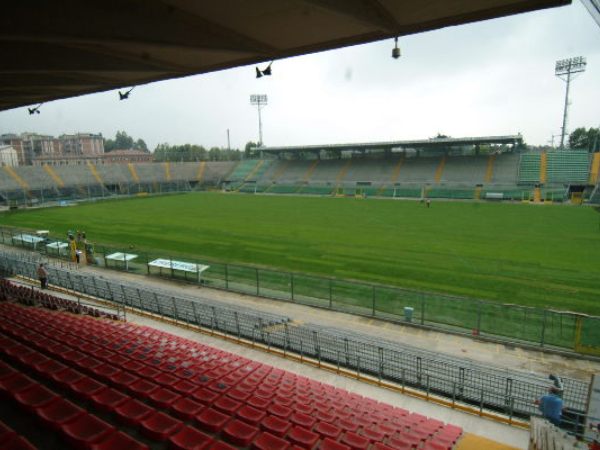 General information
The Atleti Azzurri d'Italia, known for sponsorship reasons as the Gewiss Stadium since July 2019, is a stadium in Bergamo, Italy. It is the home of Atalanta. The field is 120 m long, and 70 m wide. The stadium has a capacity of 21,300 seats.
The stadium was seen by many to be outdated and not up to standard for Serie A due to inadequate facilities, poor views from a number of stands and because most of the stadium has no roof cover.
In the last decade some projects for a new stadium have been put forward, though issues with funding and location have stifled these plans. As a result, a plan of action was proposed to gradually develop the existing stadium, and finally, the first stage of improvements were completed just after the beginning of the 2015–2016, with future work to be carried out if a 99-year lease can be agreed with the city council.
The first stage improvements included a revelation in the removal of the pitch side barrier, one of the first Serie A clubs to make this change, along with better management and substitute bench facilities and the introduction of luxury Sky Boxes atop the grandstand complete with sofas, TV screens and amenities. There have also been areas dedicated to cater for disabled spectators. At the same time, the press box has been lowered and moved, bringing reporters closer to the action offering them a better all-round match experience. These improvements have come at the cost of reducing the overall capacity by around 3,000 seats.
Atalanta officially owned their stadium from 8 August 2017, after €8,608,600 was paid to own the arena, with a further €2,600,000 for the partial redevelopment of the ground carried out in 2015.
On 30 April 2019, new renovation works on the stadium began, with the demolition and rebuilding of the Curva Nord "Federico Pisani" (North Stand) being the first move. All planned renovation works are expected to be completed by 2021, and are expected to cost around €40mln in total.
Source Wikipedia