Full name
Clément Nicolas Laurent Lenglet
Date of birth
17 June 1995 (age 25)
Current team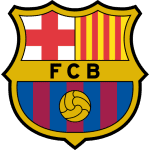 Barcelona
Current transfer fee
50,000,000 €
Career
Club career
Nancy
Born in Beauvais, Oise, Lenglet made his Ligue 2 debut with Nancy on 27 September 2013 in a goalless home draw against AC Arles-Avignon entering the field after 32 minutes for Rémi Walter.
He made 34 appearances over the 2015–16 season as Nancy won the second-division title. He scored his first goal for the team on 29 January 2016, equalising in a 3–1 home win over Clermont. He was sent off on 12 February for conceding a penalty with a foul on Sehrou Guirassy in a 2–2 draw at Auxerre. On 25 April, he finished Benoît Pedretti's corner kick for the only goal of a win over Sochaux at the Stade Marcel Picot, winning his team promotion to Ligue 1 after a three-year absence.
In the first half of the 2016–17 season, he made 18 starting appearances in Ligue 1 for Nancy.
Sevilla
On 4 January 2017, Lenglet moved to Spain, signing a deal with Sevilla FC until 2021. The transfer fee paid to Nancy was €5 million. He was brought in to replace compatriot Timothée Kolodziejczak, who had joined Borussia Mönchengladbach.
He made his debut for the Andalusians eight days later in a 3–3 home draw with Real Madrid in the last 16 of the Copa del Rey (6–3 aggregate loss). On 15 January he made his league bow against the same opponents in a 2–1 win at the Ramón Sánchez Pizjuán Stadium that ended their 40-match unbeaten run in all competitions. He played 17 of their league fixtures in the second half of the season.
On 19 August 2017, Lenglet scored his first goal for Sevilla, opening a 1–1 home draw against RCD Espanyol in the first game of the new season; whether or not it crossed the line became a matter of controversy after the game. He scored his first goal in European competition on 1 November, heading Éver Banega's cross to open a 2–1 home win against FC Spartak Moscow in the group stage UEFA Champions League. Having been part of the Sevilla side that kept a clean sheet against Manchester United in the round of 16 first leg, ESPN FC put Lenglet into their Champions League Best XI.
Barcelona
On 12 July 2018, Lenglet joined Barcelona when they triggered his release clause of €35 million. He played the full 90 minutes for Barcelona as he helped them beat his former club Sevilla 2-1 in the 2018 Supercopa de España. On 23 September, Lenglet was sent off in his La Liga debut against Girona following an elbow on Pere Pons. He scored the winning goal in their Copa del Rey clash against Cultural Leonesa in 1-0 win. He scored his first goal for Barcelona in La Liga against Real Sociedad at the Camp Nou.
Awards and achievements
Awards
x 1
La Liga (Winner)
2018/2019
x 1
La Liga (2nd Place)
2019/2020
x 1
Ligue 2 (Winner)
2015/2016
x 2
Copa del Rey (2nd Place)
2018/2019, 2017/2018
x 1
Super Cup (Winner)
2018/2019
x 1
Supercopa de Catalunya (2nd Place)
2019
x 3
Trofeo Joan Gamper (Winner)
2020, 2019, 2018
x 1
Emirates Cup (2nd Place)
2017
Statistics
Club statistics
| | | | | | | | |
| --- | --- | --- | --- | --- | --- | --- | --- |
| League | Season | Club | Apps | Goals | Assists | Min. played | Cards (Y/S/R) |
| La Liga | 2020/2021 | Barcelona | 4 | 0 | 0 | 312 | 2/1/0 |
| La Liga | 2019/2020 | Barcelona | 28 | 2 | 1 | 2428 | 9/2/0 |
| La Liga | 2018/2019 | Barcelona | 23 | 1 | 0 | 1935 | 8/0/1 |
| La Liga | 2017/2018 | Sevilla | 35 | 3 | 1 | 3001 | 9/0/0 |
| La Liga | 2016/2017 | Sevilla | 17 | 0 | 0 | 1359 | 2/0/0 |
| Ligue 1 | 2016/2017 | Nancy | 18 | 0 | 0 | 1620 | 4/0/0 |
| Ligue 2 | 2015/2016 | Nancy | 34 | 2 | 0 | 2976 | 7/0/1 |
| Ligue 2 | 2014/2015 | Nancy | 22 | 0 | 0 | 1772 | 3/0/0 |
| Ligue 2 | 2013/2014 | Nancy | 3 | 0 | 0 | 16 | 0/0/0 |
| | | | | | | | |
| --- | --- | --- | --- | --- | --- | --- | --- |
| League | Season | Club | Apps | Goals | Assists | Min. played | Cards (Y/S/R) |
| Copa del Rey | 2019/2020 | Barcelona | 3 | 1 | 0 | 270 | 0/0/0 |
| Copa del Rey | 2018/2019 | Barcelona | 9 | 1 | 0 | 629 | 0/0/0 |
| Copa del Rey | 2017/2018 | Sevilla | 8 | 0 | 0 | 702 | 2/0/0 |
| Copa del Rey | 2016/2017 | Sevilla | 1 | 0 | 0 | 90 | 0/0/0 |
| Coupe de la Ligue | 2016/2017 | Nancy | 2 | 0 | 0 | 180 | 0/0/0 |
| Coupe de la Ligue | 2015/2016 | Nancy | 1 | 0 | 0 | 90 | 1/0/0 |
| Coupe de France | 2015/2016 | Nancy | 1 | 0 | 0 | 120 | 0/0/0 |
| Coupe de la Ligue | 2014/2015 | Nancy | 2 | 0 | 0 | 180 | 0/0/0 |
| Coupe de France | 2014/2015 | Nancy | 2 | 0 | 0 | 210 | 0/0/0 |
| | | | | | | | |
| --- | --- | --- | --- | --- | --- | --- | --- |
| League | Season | Club | Apps | Goals | Assists | Min. played | Cards (Y/S/R) |
| UEFA Champions League | 2020/2021 | Barcelona | 1 | 0 | 0 | 90 | 0/0/0 |
| Club Friendlies | 2020 | Barcelona | 2 | 0 | 0 | 73 | 0/0/0 |
| UEFA Champions League | 2019/2020 | Barcelona | 9 | 1 | 0 | 720 | 1/0/0 |
| Club Friendlies | 2019 | Barcelona | 3 | 0 | 0 | 180 | 0/0/0 |
| UEFA Champions League | 2018/2019 | Barcelona | 12 | 0 | 0 | 999 | 2/0/0 |
| UEFA Champions League | 2017/2018 | Sevilla | 11 | 1 | 0 | 990 | 1/0/0 |
| Club Friendlies | 2017 | Sevilla | 1 | 0 | 0 | 84 | 0/0/0 |
| UEFA Champions League | 2016/2017 | Sevilla | 1 | 0 | 0 | 55 | 0/0/0 |