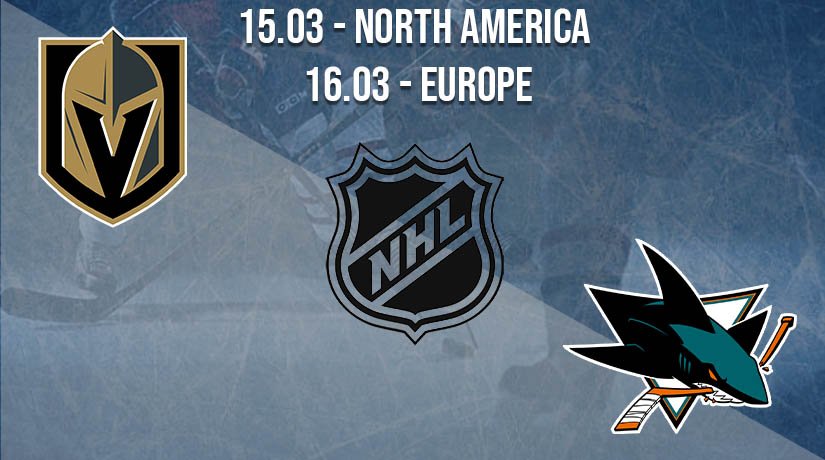 15th Mar 2021
NHL Prediction: Vegas Golden Knights vs San Jose Sharks on 15.03.2021 North America, on 16.03.2021 Europe
Vegas, as the clear favourite, will play against San Jose. Let's find out whether the Sharks have a chance to win the Golden Knights.
Vegas Golden Knights
Vegas played six away games, losing only to Minnesota (0-2 and 3-4). It was impossible to defeat the Wild because of goalkeeper Fleury's weak play, who even had to be replaced in the second meeting after another conceded goal. In all other matches, the Golden Knights prevailed. The Knights also occasionally have problems at the home arena, but the team is still the winner in most games. In five games, Vegas has two defeats to Anaheim (0-1) and Colorado (2-3). Peter Deboer's charges continue to be at the top of the Western Division table with 37 points.
San Jose Sharks
San Jose started their performance this season with a long series of away matches, where they showed poor results. When the team still had to prove themselves at home, the Sharks won just two times in seven meetings over Colorado (6-2) and St. Louis (3-2 OT). Then the Sharks again played two away games, defeating Anaheim (6-0 and 3-1). So far, San Jose remains one of the weakest clubs in the West, occupying the penultimate line in the table.
Vegas Golden Knights – San Jose Sharks prediction
Vegas is by far the favourite in this match and should beat San Jose on their ice without any problems. The Sharks, in turn, will try to challenge the Golden Knights, but the team rarely gets points in matches against such strong opponents.