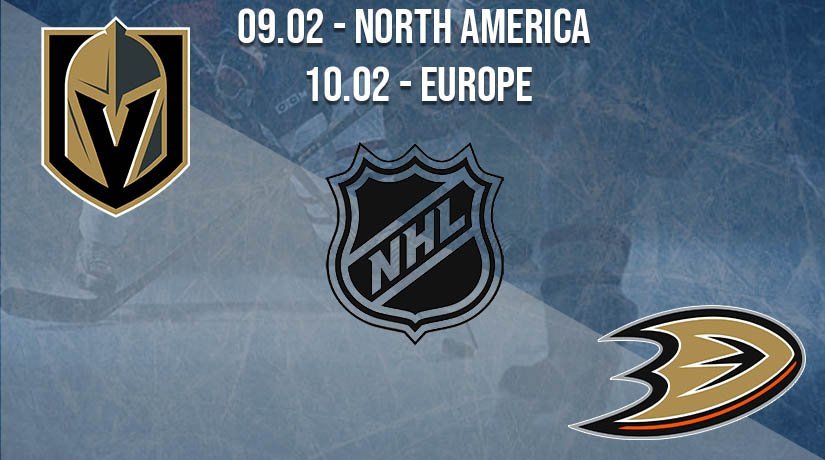 09th Feb 2021
NHL Prediction: Vegas Golden Knights vs Anaheim Ducks on 09.02.2021 North America, on 10.02.2021 Europe
Vegas will face Anaheim at home, and they are looking to extend their winning series. How will the match end? Look for the answer in the prediction.
Vegas Golden Knights
Vegas is leading the Western Conference with fewer appearances than all other clubs. Recall that after the defeat from St. Louis (4-5 SO), the team was forced to miss more than a week due to quarantine. But this did not affect them in any way, and the Knights are winning again. On the home ice, they managed to deal with Los Angeles twice. In the first game, they proved superiority over the opponent with a score of 5-2, and after that, they gained the upper hand in a tighter struggle – 4-3.
Anaheim Ducks
Anaheim has so far secured 13 points and is in the fourth position. We can't say that the team demonstrates a stable game, but at the same time, it does not lose without a fight. Note that in the previous two matches out of three, they achieved success over Los Angeles (3-1) and San Jose (2-1 SO), but meanwhile lost to the Sharks with a score of 4-5 in the series of shootouts. The Ducks' big problem is that they score very little and, on average, open up the opponent's defence no more than twice per game. The lack of performers in the offence seriously affects the poor performance of the team.
Vegas Golden Knights – Anaheim Ducks prediction
Anaheim looks very bad in the offence and often cannot open the opponent's defence more than twice. Vegas looks like a clear favourite against the Ducks. Vegas demonstrates high performance and usually easily opens the opponent's defence, so we will bet on the Knights in this confrontation. Another option of betting is Ducks'total under 2.5.