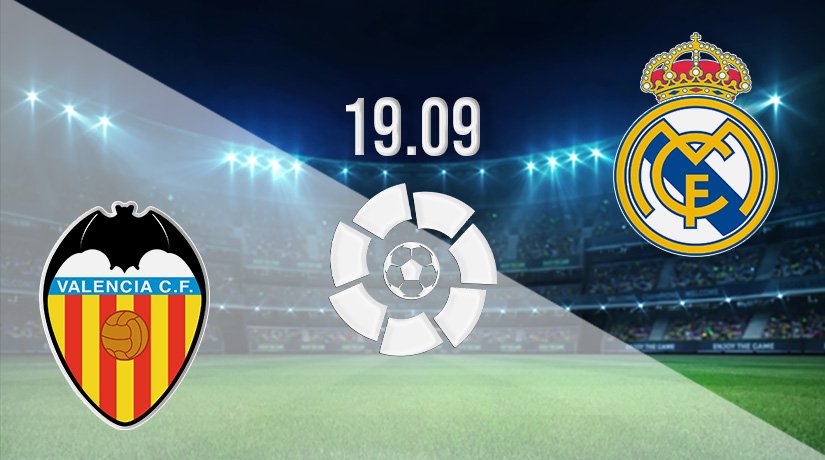 13th Sep 2021
Valencia v Real Madrid Prediction: La Liga Match on 19.09.2021
With the midweek European results in the books, including the opening round of the Champions League group matches, football fans cast their eyes back to the league action. The Spanish La Liga presents round five, and the table is already taking shape. The games begin on Friday evening and run through to Monday evening, and there are plenty of games shown live on television to appease armchair fans. In this preview, our team of football content writers focus on the match involving Valencia and Real Madrid. You can follow the play live from 20:00 GMT on Sunday.
Real Madrid are determined to win the La Liga title back from rivals Atletico Madrid after the latter caused an upset last season when becoming the champions of Spanish football. Due to Barcelona's well documented off-field problems, which include losing star player Lionel Messi, it's likely we could see the two Madrid teams go head to head for the trophy once again. To stand the best chance of winning that fight, Blancos must find consistency early.
Valencia and Real Madrid last met at this venue in November 2020 when the home team ran out winners by a comfortable margin. That match produced an unexpected 4-1 victory for Valencia, and fans would love to see their team do something similar here. Madrid got their revenge at home with a 2-0 victory earlier this year. The stage is set for a thriller.
Valencia pushing for pole
Valencia started this season with the same expectations as most campaigns, to challenge for the top four in the league and secure entry to the Champions League. Most fans know their team is capable of achieving that but lack the little bit of quality and consistency needed to challenge for the title. That harsh realisation is something they had to learn to deal with a few seasons ago. The hosts enter this match with confidence in the camp and can be found sitting in a strong position.
The locals started the weekend joint top of the league with 10 points on the board, an effort shared by Real Madrid and Atletico Madrid. They have collected three wins and a draw so far, scoring nine goals and conceding two. Those stats show Valencia has seven in the goal difference tally, and that is the same as their opponents, but Blancos have a higher number of goals while conceding more. The locals bring form lines of win, draw, win, win and take huge confidence from the fact they have secured six points in their last two games. Will they complete the treble? Doing so would see them end the week top of the league.
That impressive double began with a 3-0 victory at this venue over Alaves at the end of August and was followed up with a winning start to September. Valencia was last seen in action on Sunday, hammering Osasuna 4-1 on the road in what was a real show of strength, making a mockery of what had been billed as a 50/50 contest. They fell behind on eight minutes but showed the character and determination to battle back and win the points.
Madrid out to shoot down a rival
This is the season Real Madrid fans hope to see their team back on top of Spanish football and European football. They were rocked when watching their neighbours sprint to the title last season, but the fightback starts here. Blancos fans know Barcelona are weaker than they were last season without Lionel Messi in their ranks, and that should allow them to concentrate on Atletico who have also sold their best players over the summer. Real have an opportunity to wrestle back the trophy and show they are top dogs in La Liga.
The visitors arrive on top of the league with 10 points claimed from a possible dozen. Their form is win, draw, win, win, with 13 goals scored and six conceded. The stats of the pacesetters make for interesting reading as Real Madrid have scored more goals than any other team in the competition but conceded more than most, leaking two more goals than Getafe who are second bottom of the league and in the relegation zone.
We last saw Blancos in action on dismantling Celta Vigo with a stunning 5-2 home victory. That effort made global headlines and showed the team is fast approaching their best. The worrying aspect for Valencia and the rest of the competition is there's a good bit more to come from Real Madrid. They are only just getting started. The visitors will want to put on another show and collect another three points.
Valencia v Real Madrid prediction
Valencia is the home team with a proud unbeaten record, and they'll want to hang on to that in this game. The match against Real Madrid seems to have come at the right time for Valencia as they are confident, playing great football and remaining tight at the back. That sturdy defence will be called into action in this match, but they are capable of limiting the chances that fall to their opponents' attack.
The stats show Real Madrid still have a lot of work to do on their defence but going forward, they are a different animal. They create plenty of chances and have the players to score goals. If their backline remains organised, then Real Madrid could go and win this while scoring a few goals in the process.
La Liga odds
The pre-match betting odds available at 22bet on this fixture has Valencia priced at 4 for the win with Real Madrid 1.864 and the draw 3.74. Bets are available up until the advertised kick-off time but please keep in mind the odds noted on this page are subject to change. When the first whistle sounds the betting moves to in-play with odds available throughout the 90 minutes. Prices will be updated to reflect the score and flow of play.
Make sure to bet on Valencia v Real Madrid with 22Bet!