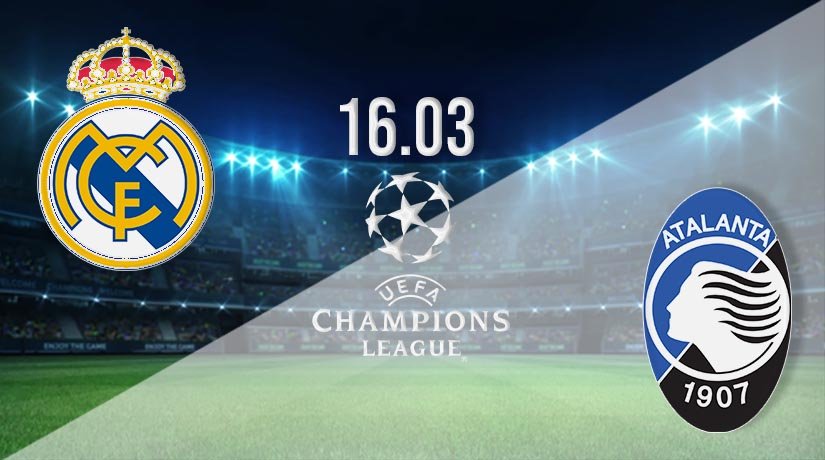 15th Mar 2021
Real Madrid vs Atalanta Prediction: Champions League Match on 16.03.2021
The focus of football fans returns to Champions League action this midweek and there's plenty designed to hold your interest. Last season's La Liga champions play host to Italian Serie A side Atalanta from 8:00 p.m. GMT on Tuesday in a match you can follow live on television. With the tie hanging in the balance, a bumper audience is expected to follow the play.
Real Madrid are the home team for this second leg and hold a narrow aggregate lead having claimed a 1-0 win in Italy last month. An advantage to protect but it is a narrow one and the Zinedine Zidane's men know the job is far from finished. If they lose the first goal of this game the advantage will move to Atalanta. There's all to play for here.
Mendy strikes late
Real Madrid left Atalanta with a narrow 1-0 aggregate lead which puts them in the driving seat, but they were made to work for their advantage. Atalanta had Freuler sent off inside the first 17 minutes of the match and playing most of the evening with 10 men against the might of Real Madrid was always going to be difficult. Blancos eventually made it count thanks to a winning goal scored by Mendy with 86 minutes on the clock.
The match-deciding goal was a thing of beauty and good enough to beat any goalkeeper in the world. Madrid now have their noses in front but can't rest on the advantage. They must keep pushing if they are to see off a determined and capable opponent. Madrid were last seen in action beating Elche 2-1 here on Saturday.
Discipline is key
Atalanta knew they had to punish Real Madrid in Italy if they were to have any chance of eliminating the Spaniard's from this competition. A win without conceding was the ideal scenario and a couple of goals scored would have been even better. They failed to get the desired result, but it wasn't through a lack of trying.
We'll never know how the first leg match would have played out had Atalanta been able to keep 11 players on the field of play. Even with the man sent off, it took a stunning goal from Mendy to sink them just minutes from escaping with a goalless draw. Get the first goal of this game and Atalanta will be right back in the running.
Real Madrid vs Atalanta prediction
Real Madrid hold all the aces in this second leg but if they take Atalanta lightly, they will be made to pay a hefty price. The locals must defend as they did in the first leg and keep their opponents out. This game is unlikely to be a nervy, defensive encounter given the number of attacking players on the pitch. Armchair fans will want to see goals.
Champions League odds
Real Madrid are 2.08 at 22bet with Atalanta available at odds of 3.3 and the draw 3.7.
Make sure to bet on Real Madrid vs Atalanta with 22Bet!