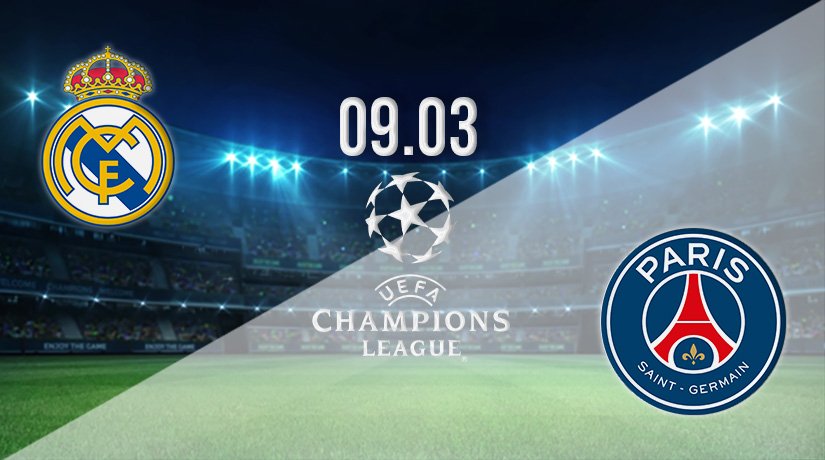 07th Mar 2022
Real Madrid v PSG Prediction: Champions League Match on 09.03.2022
Betting Tip
Real Madrid to Win
Odds
2.4
Bet Here
Two giants of European football clash in the Champions League Round of 16 on Wednesday when Real Madrid host PSG in Spain. This is the second leg of this tie following the game in Paris, which ended in a thrilling 1-0 win for the free-spending Parisians. PSG may have used their home advantage to nick a win and take control of this tie, but Blancos are still very much in the running and will believe they are favourites to progress to the next round. They need to win in Spain before their own fans but have the quality to score and keep things competitive. The first goal in this match will be crucial and could decide which team goes through.
Real Madrid and PSG were both well quoted in the pre-season predictions of respected pundits, with many votes coming for these teams to lift the trophy. It wouldn't come as a major surprise to see either Madrid or PSG win this match and go all the way to the final, but we will lose one of the field's biggest names at full time. Which side will hold their nerve and advance to the next round, and which will drop out of the running and have to concentrate on domestic success in the remainder of the season? It's anyone's guess at this stage, and there's all to play for here.
When browsing the history books, we discovered that Real Madrid and PSG have met seven times previously, with the head to head stats reflecting the competitiveness of this tie. Real Madrid hold a slight edge at this point with three wins against the two of PSG and a pair of draws. The last time Madrid hosted, we were treated to a four-goal thriller with the teams cancelling each other out in a 2-2 draw. Armchair fans hope to see plenty more goals here.
Madrid fancy their chances
Real Madrid may have lost the first leg in Paris, but this team are experienced enough to know it could have been much worse. Sometimes, a narrow defeat isn't the end of the road, and that's especially true in knockout football over two legs when the first match is played away from home. The defeat is accepted, and there's no getting away from it now, but the tie remains live, and that's the main source of encouragement for fans. If Real Madrid win by two clear goals or more on Wednesday evening with their own supporters watching on, everyone will forget that loss in France.
The hosts sit on top of La Liga after 27 games played and enjoy an eight-point advantage over nearest rivals, Sevilla. The league title is now theirs to throw away, but the pace-setters are going from strength to strength, winning matches, collecting three points and opening the gap on second place. Their recent form shows that they are showing no signs of slowing down or taking their foot off the gas. Blancos are well clear and look more likely to pull away than get caught. The locals have won each of their last three league starts.
That winning run does Madrid two favours. It helps fill the team with confidence and self-belief ahead of their biggest game of the season. An advantage over the chasing pack also allows the coaching staff to put this competition at the forefront of their thinking. They can rest players, use the depth of their squad and ensure the team that starts on Wednesday evening is as fit, sharp and ready for action as they could possibly be.
PSG have a lead to protect
PSG know they are up against it. They understand the quality that exists in the home dressing room, and they are well aware that Real Madrid will be up for the challenge. The stadium will be packed with thousands of vocal football fans who want to see the greatest side in French football eliminated. A difficult match lies ahead, but the visitors will take confidence from that aggregate lead. It could have been greater, and PSG know a 2-0 win would've put them within touching distance of the next round. But they do have that lead and know Madrid must go on the attack.
That puts all the pressure on the home team and allows PSG to lay out their game plan. Yes, they want to protect the 1-0 advantage gained in Paris in the first leg, but you won't see the visitors shut up shop and aim to defend their goal for 90 minutes. They are a team packed with attacking talent and know if Real Madrid are too gung-ho, they possess the flair to hit them on the break. With the likes of Messi, Mbappe, and Neymar in attack, PSG are a constant threat.
They claimed victory in France thanks to a 1-0 win with the goal scored by Mbappe with 90 minutes on the clock. It was late drama, and it looked like Madrid had done enough to take a goalless draw back to Spain for the second leg, but Mbappe proved why he's a superstar of the sport. He held his nerve and took his chance in the closing stages to give PSG a crucial win.
Real Madrid v PSG prediction
Real Madrid are the home team and will be backed by a large support, but they still have it all to do. They must score at least twice to go through while keeping the talent in the PSG attack quiet. One job is difficult enough, but trying to achieve both might just break the locals.
PSG can relax knowing they have the advantage and have the players capable of scoring more goals. They left it late in Paris, but this team can score in the first minute or closing seconds. They are always a threat.
Champions League odds
Real Madrid are priced at 2.485 for the win with PSG 2.59 and the draw 3.78.
Make sure to bet on Real Madrid v PSG with 22Bet!