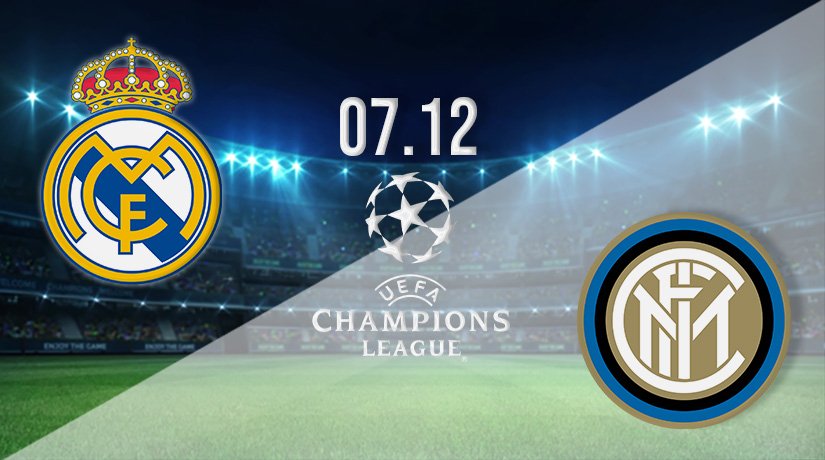 06th Dec 2021
Real Madrid v Inter Milan Prediction: Champions League Match on 07.12.2021
Two giants of European football face-off on Tuesday evening in front of a global live television audience when Real Madrid and Inter Milan meet. Spain v Italy, and although the Champions League title won't be decided here, this is a fixture that is good enough to be a final later in the season.
Armchair fans tuning in to the game are guaranteed a thrilling 90 minutes, but which side will come out on top and collect the three points? It's anyone's guess at this stage with a strong argument for either team.
Many groups don't have a lot to play for at this late stage of proceedings, with the major places already secured by the best teams. That's not the case in Group D, as both Real Madrid and Inter Milan have a chance to win the pool.
The side that is victorious here will be the winner of the pool, and that should give them an easier draw in the knockout rounds. Both teams have already secured their passage to the next round. All that's left to do is decide the group winner.
As you would expect with two major sides, Real Madrid and Inter Milan are no strangers to meeting in competitive action. The history books tell us Blancos and Inter have played a dozen times, and there's very little between the rivals on the head to head count at present.
Real Madrid has a slight edge with six wins from the 12 while Inter Milan have five victories, the spare ending in a draw. Each of the last two games has been won by Real Madrid without conceding a goal, and that's something that may interest followers of the form.
Madrid sit in pole position
Real Madrid enters round six in pole position, and with the home advantage for this match, they are in a strong position to hold their place. The locals did as expected and secured their place in the knockout rounds with plenty of time to spare, and the 12 points gained means they are already two better than Tuesday's opponents and six ahead of Sheriff Tiraspol in third.
Their form so far reads four wins against one defeat, scoring a dozen goals while conceding three. When looking closer at those numbers, we note Madrid are the highest scorers in the pool, and no team has conceded fewer goals.
They got off to something of a sketchy start, taking just three of the first six points that were available to them. They were beaten on matchday two but didn't allow that to derail their campaign, winning each of their next three games to rocket to the head of the set.
Three wins on the bounce saw them take control, and they now need just a draw or better at home against their only rivals to cement the top spot. A share of the spoils would mean Real Madrid went through with two more points than Milan, and we could see the home team set up and play for a draw.
We last saw Real Madrid in action in the Champions League when beating Sheriff 3-0 away from home in November, a win that secured their passage while ensuring their opponents would be bowing out of the competition at the end of the groups.
Since that 3-0 win, Madrid has beaten Sevilla 2-1 in the league at this venue, edged Bilbao 1-0 and passed Sociedad 2-0 on Saturday. The locals are on a winning run and have conceded just one goal in their last four games in all competitions. This match comes at the right time for Blancos.
Milan are unbeaten in four
Inter Milan travel to Spain on a four-match unbeaten run that has put them within touching distance of their opponents and top of the pool. Win this match, and Inter Milan will progress to the knockout stages of group winners, sending out a message of intent to the rest of the competition just as things start to get interesting.
Any group winner must be respected in the next round, but the winner of a pool that includes Real Madrid is a team well worth keeping an eye on. Can Milan do it? Their fate is in their own hands.
The away team followed a draw with victory in their next three Champions League matches. Their stats for the campaign show eight goals scored against three conceded, and they sit on 10 points with Madrid on 12.
A win here would see them snatch the top spot at the last minute, but anything short of leaving Spain clutching the win would see them settle in second. That won't damage their chances of lifting the trophy at the end of the season but could make things more difficult in the next phase.,
Inter Milan's last match in this competition was their third win on the spin when beating Shakhtar Donetsk 2-0 in Italy to ensure their progress. Since that win in Europe, Inter Milan have been in great domestic form, beating Venezia 2-0 away from home, Spezia 2-0 and Roma 3-0 on the road at the weekend.
Beating Real Madrid in Spain is no mean feat, but this game comes at a good time in Inter Milan's season, and they travel with confidence. An away win is a real possibility here, and both sets of fans know it.
Real Madrid v Inter Milan prediction
Real Madrid holds all the aces here, and they are the hot favourites to win this match and finish on a high with many respected pundits. The locals are in great form, have vital experience of coming through tense matches in this competition and also know a draw would be an excellent result for them.
Will we see Blancos play for a level finish? It's not something that happens too often with this team.
Inter Milan are hanging by a thread, but their destiny is in their own hands, and fans can't ask for any more than that. If they win this game, they will win the group.
It's as simple as that. Wins over Real in Madrid don't come cheaply, but Inter have the quality to challenge and the fact they need a win should make this an exciting match.
Champions League odds
Real Madrid is priced at 2.088 for the win at 22bet, with Inter Milan trading at 3.44 and the draw available at 3.5.
Make sure to bet on Real Madrid v Inter Milan with 22Bet!