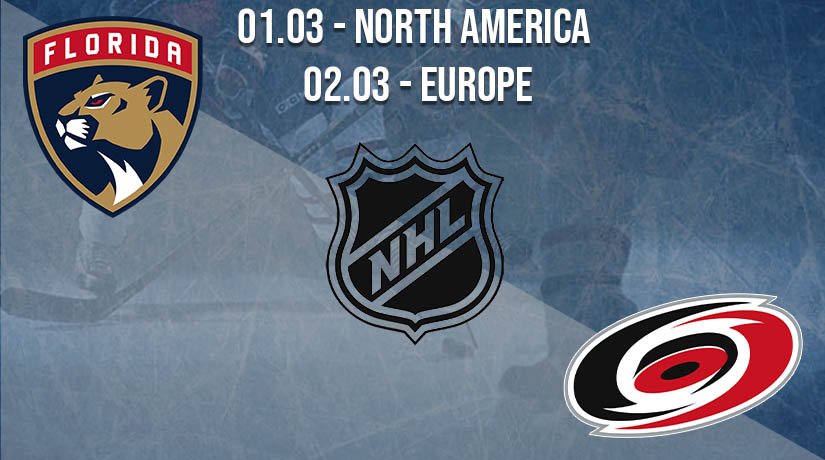 01st Mar 2021
NHL Prediction: Florida Panthers vs Carolina Hurricanes on 01.03.2021 North America, on 02.03.2021 Europe
Florida will fight Carolina on another NHL game day, and our experts will present a prediction for this event. Who will be stronger in this confrontation? Let's find out.
Florida Panthers
Florida is still in second place in the Central Division and has 29 points to their credit. The team cannot establish the series and continues to alternate between successful games and defeats. So, on their home ice, they managed to deal with Dallas (3-2), but they failed in the match against Carolina (3-4 SO) in the next meeting. In the previous game with the Hurricanes, the Panthers could have lost in regulation time but managed to escape a couple of minutes literally before the end of the third period, levelling the score in 6×5 format.
Carolina Hurricanes
Carolina is only two points behind its rival and occupies the third position in the standings. The team had a bad time, during which it suffered three defeats in a row. Note that Rod Brind'Amour's charges were lost in all three matches to Tampa while scoring only three goals.
Hurricanes play a little worse away from home than on the home arena and allow their opponents a lot in their defensive zone. So, on average, the team concedes more than three goals in a match. It should also be mentioned that the Hurricanes won only four times in regulation time while playing away.
Florida Panthers – Carolina Hurricanes prediction
In our opinion, Florida can take revenge in the upcoming match, since last time they were very close to gaining two points. Carolina will play their fourth challenging game in a row on the road, so it should physically be more comfortable for the Panthers. Based on this, we bet on their victory.