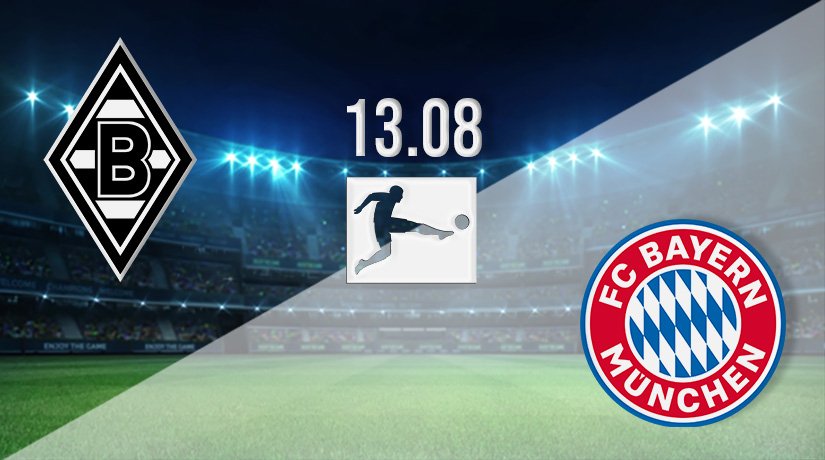 09th Aug 2021
Monchengladbach v Bayern Munich Prediction: Bundesliga Match on 13.08.2021
Following a summer spent watching international football competitions including the delayed Euro 2020 and Tokyo 2020 finals, followers of the beautiful game now turn their attention to club football. Some of the biggest divisions in Europe return this weekend, including the German Bundesliga and English Premier League. It's good to be back. There's a game of note in Germany where Borussia Monchengladbach open their campaign with a home tie against defending champions Bayern Munich.
With both teams starting the campaign expecting to challenge for the league title as well as blaze a trail of glory in Europe, this promises to provide armchair fans watching the action live on TV with an exciting 90 minutes of play. This fixture on Friday 13th begins an action-packed opening weekend from the Bundesliga with nine fixtures packed into three days. Which team will get off the mark with three points? Munich are favourites with many respected pundits, but they can't afford to take Borussia lightly.
Recent matches involving Borussia and Bayern have been interesting, and the rivals shared 11 goals in their two league meetings last season. The team enjoying the home advantage won on each occasion, with Borussia Monchengladbach landing the points back in January with a 3-2 victory before Bayern Munich roared back in May with a stunning 6-0 win. Football fans hope this game provides us with another goal-fest.
Borussia know they must improve
Borussia Monchengladbach enter this campaign knowing they must improve on their previous efforts. They were disappointing the last term with the team finishing way off the pace in eighth place, which meant they missed out on a Champions League and Europa League spot this term. The pressure from fans and the media is now on for the coaching staff and players to fire the club back towards the major places.  A top-six finish is the least followers will want to see this time, and they won't be slow in letting the players know that now they are back in the stands in full force.
Their stats for last season make for difficult reading for all connected to the club, with Borussia winning 13, drawing ten and losing 11 matches while scoring 64 goals but conceding 56. A fragile backline played a huge part in the team's poor finishing position, and that's something the staff would have been working hard to improve on during the long summer days on the training pitch. Knowing they start as underdogs, it'll be interesting to see how the locals shape up for this match.
Monchengladbach couldn't have been handed a tougher opening match to their season, but if they are to play the champions, perhaps it's best to face them as early as possible in the hope of catching them cold. If Borussia can get a point from this match, it will encourage them going forward. Victory would give the players a massive boost going into what will be an important season for the team, but those camped inside the home dressing room know a win won't come cheaply.
Bayern Munich aiming to continue their dominance
Bayern Munich enters the season aiming to continue their dominance of German football after winning another Bundesliga title last season. FCB may not have been as successful in Europe in recent times as fans would have liked, but they have fought off all comers in the league, tightening their grip over the competition. They defended their title last term with ease, finishing a remarkable 13 points clear of runners up RB Leipzig with their stats showing 24 wins, six draws and four defeats, scoring 99 and conceding 44. Fans want to see more of the same again this year.
As well as continuing their winning streak in Germany, Bayern Munich aims to challenge for the Champions League trophy this season. They'll want to make it to the latter stages and match the likes of Manchester City, Chelsea, Real Madrid, Juventus and PSG for the crown. The group stages of that competition don't start for another few weeks yet which allows Bayen Munich to give league games their full concentration. The coaching staff will want to get as many points on the board as possible before splitting their attention between domestic games and challenges in Europe.
Bayern Munich fans know their side has been handed a tough opening game, but it's one they are capable of winning and getting off to the perfect start. There can be no settling in period to the campaign, and everyone in the away dressing room will understand that. The defending champions are seen as the team to knock down, and opponents will try that little harder to make a name for themselves by beating the champions. As all league winners know, the pressure is on them from matchday one, but Munich has already shown they can handle that on many occasions.
Monchengladbach v Bayern Munich prediction
This match has all the ingredients of a thriller, and football fans planning to watch the action live on television are hoping to see a thrilling 90 minutes. The winner of this game will move to the top of the league, at least overnight and that's something that will drive the players on as they take part in their first competitive club contest since spring. There will be a few tired legs in the second half as the squads battle to get up to speed.
This is a tough opening match for both teams, and a share of the spoils wouldn't be the worst result. The coaches may view avoiding defeat at the earliest opportunity as more important than shooting for the win, and it's possible we could end up with a tense game if neither side is able to make the breakthrough early.
Bundesliga odds
The pre-match betting available at 22bet on this game has Borussia Monchengladbach priced at 5.15 for the victory with Bayern Munich, the 1.97 betting favourites. 22bet members can also play the draw at 2.68.
Make sure to bet on Monchengladbach v Bayern Munich with 22Bet!