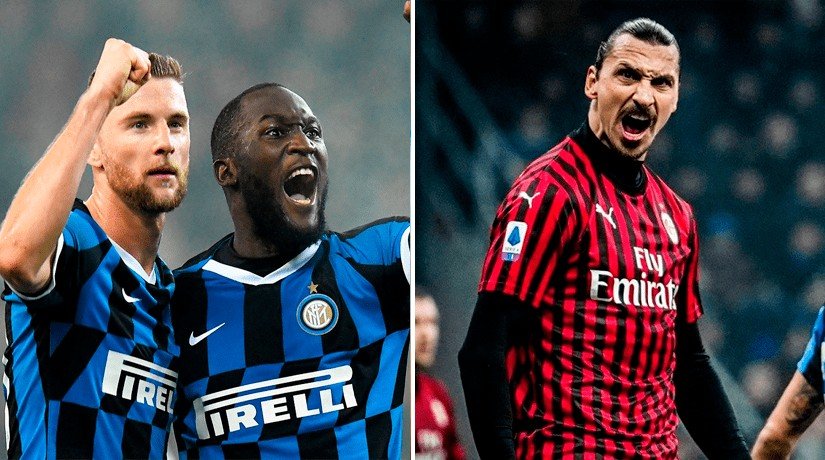 10th Feb 2020
Inter Milan vs AC Milan Round-up & Highlights: Serie A Match on 09.02.2020
The city of Milan stops everything for 90 minutes when San Siro's lights go on for Derby della Madonnina, Italy's most notorious fixture. And what an insane game it was! Here is what happened as Inter came back from two goals down to thrash Milan 4-2 this Sunday night.
Arch-rivals and bitter enemies Inter and Milan played a Serie A clash and it will go down in the books as one of the most entertaining derbies in years. Antonio Conte vs Stefano Pioli, Romelu Lukaku vs Zlatan Ibrahimovic, must we say more? Here is what we had predicted ahead of the game.
Milan took the lead in minute 40 thanks to Ante Rebic, a Gianluigi Donnarumma mishap, and an Ibra assist in the Inter box. Zlatan doubled their one-goal lead with a powerful header from a corner kick, and Milan were leading by two goals at half-time.
38 – Zlatan #Ibrahimovic (38 years, 129 days) is the oldest ever goalscorer in a Milan derby in the Serie A history. Eternal.#InterMilan pic.twitter.com/1RGnhFwQKy

— OptaPaolo (@OptaPaolo) February 9, 2020
But whatever Conte said to his squad during the break worked, because they came back bristling with confidence and oozing determination. Marcelo Brozovic scored our personal choice for Goal of the Match, an absolute belter followed by Matias Vecino's equalizer just two minutes later. And just like that, the two teams were level in minute 53.
Ecco tutti i risultati al termine della 23ª Giornata! ⁰#SerieATIM #WeAreCalcio pic.twitter.com/c9DUuTXCXA

— Lega Serie A (@SerieA) February 9, 2020
Milan struggled to cross the center of the pitch for most of the second half and got punished for it. Conte's men got ahead from a corner kick beautifully converted into their third goal by a Stefan de Vrij header. The Nerazzurri had officially come back from two goals down to take the lead against their bitter rivals, something that hadn't happened since 1949.
2 – Inter have won just the second ever Serie A game against AC Milan after being trailing by 2+ goals, the first one was on November 1949 (6-5). Personality.#InterMilan

— OptaPaolo (@OptaPaolo) February 9, 2020
Christian Eriksen hit the bar with what would have been the most ridiculous free-kick of the Serie A season, but alas, it wasn't meant to be. Minutes later Zlatan was unlucky and also smacked the post on the other end of the pitch. And just to seal the deal, poorly marked Romelu Lukaku secured the final scoreline with a close-range header past Donnarumma in the last minute of play. 
"At half-time we told ourselves, the first 15 minutes going back out there will be crucial, and in that 15-minute spell we conceded two goals," said Zlatan after the game. "We stopped playing, the team stopped believing, we stopped pressing, didn't pass it around enough. From the equalizer onwards, everything collapsed."
4 – Inter have won four consecutive Serie A games against Milan for their first time since 1983. Exaltation.#InterMilan pic.twitter.com/yP7SNcKJNQ

— OptaPaolo (@OptaPaolo) February 9, 2020
Thank you, Serie A. Thank you, San Siro. This kind of game is the reason why we are football fans, to begin with. Here is the current table in Italy and we'll see you next weekend for more action! Make sure to bet with 22Bet!