The football schedule has been completely wiped out by the coronavirus outbreak across Europe. The much-anticipated Euro 2020 tournament was forced to suspend for 12 months, now set to be played between June and July 2021.
This drastic move was forced to enable club teams, leagues and competitions across the continent a chance to return and finish the 2019/20 seasons. Some have decided they won't return at all, with Belgium, Holland and now France deciding to scrap the campaign. As a result, no champions will be crowned in Ligue 1 or Ligue 2 and no sides will suffer relegation.
Slim pickings for football fans
Others are keeping an open mind to returning this season, although some nations look more likely to complete the fixture list than others. The English Premier League recently announced their plans to allow players to return to training in May for a mini pre-season before hosting games in June. English football is still in the early stages of their recovery, but they do appear to be heading in the right direction.
In Scotland, Hampden bosses voted to end the lower leagues now, crowning champions and relegation teams before a full campaign had been played. That was met with fury in some sections of the media. The top-flight – Scottish Premiership – continued the suspension but have promised to revisit this and make a final decision in the coming weeks. Will they be swayed or influenced by goings on in England? That remains to be seen but the SPFL seem preoccupied with bickering around the negotiating table, rather than making any firm decisions.
There have been some football fixtures played across the world during the pandemic, however. The Belarus Premier League has gone ahead over the course of the last few weeks and this has been backed up by action from Nicaragua and Turkmenistan. Lovers of the beautiful game have been forced to show an interest in competitions that, under normal circumstances, wouldn't feature too highly on their list of priorities. Pickings have been slim, but all that is about to change in May.
Bundesliga back in business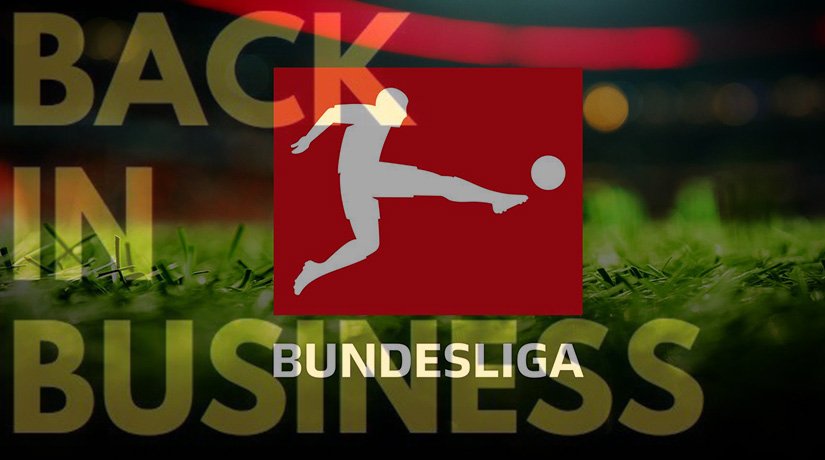 Reports in the media tell us Bundesliga is about to make a dramatic return to action this month with games taking place across the division. The German top-flight will be the first major European league to host games and it is thought this will prove to be the testing ground for other nations, although in Germany they are hoping to set an example to the rest of the world. Teams have been back training for a few weeks now and are prepared to get back to 90 minutes of play.
The plan, at present, is to begin Bundesliga games in early May with all 18 clubs going through the remaining fixtures before the season finishes in June. the schedule will be a hectic one but, in the interest of public safety, all matches will be played behind closed doors. That is expected to be the case for the rest of the year. The idea if for the 2019/20 Bundesliga campaign to be played to a finish over the course of the next two months before taking a brief break and getting back into the swing of things for the 2020/21 season.
There has been no shortage of critics over the idea of playing football matches behind closed doors but, in the current climate, this looks to be the only option available to nations wishing to finish the current league campaign. It is likely all games will be shown live on TV and some newspapers have reported a selection of matches could go ahead on free-to-air television. Football played in empty stadiums just doesn't seem right and when it comes to crowning champions, there will be no wild celebrations, open top bus tours or parades.
Summer transfer window could be scrapped
The Bundesliga season has nine rounds of fixtures still to be played and the timeline for both competitions suggests the German top-flight could be completed before the English Premier League returns. Play may be on the way back in Germany, but it is expected the COVID-19 crisis will have a lasting effect on the game across Europe.
Bundesliga CEO Christian Seifert told the world's media he thinks it's likely the summer transfer window will be all but scrapped. This looks to be a measure put in place to stop players moving across the continent.
Football fans across Europe will welcome the return of Bundesliga with open arms and, after month of no fixtures, the division is expected to see a surge in interest. Games are usually shown live in the UK on BT Sport. It will also be encouraging news for traders and bettors who have been desperate to get back to business. Games may be played behind closed doors in Germany and England between now and the end of the season but that doesn't mean there will be no betting markets.
Thrilling climax
German football outright betting will soon return at 22bet and that will be followed by match betting odds on every game played. Members can expect to find all their favourites, including match winner, both teams to score, total goals, first goal scorer, handicap, half-time/full-time and plenty more besides.
These will be available pre-match with in-play betting odds available throughout the course of the 90 minutes. Our team of content writers and football betting experts will also be here to help, publishing big match previews with relevant stats and facts included.
The last match played in Germany was on Wednesday 11 March when Borussia Monchengladbach beat FC Koln 2-1. Followers are set for a dramatic finish to the season when it does return. Bayern Munich lead the way on 55 points but are only four better than nearest rivals Borussia Dortmund. RB Leipzig have 50 points on the board in third, Monchengladbach showing 49. After 25 games, only eight points stands between the leaders and Bayer Leverkusen down in fifth.