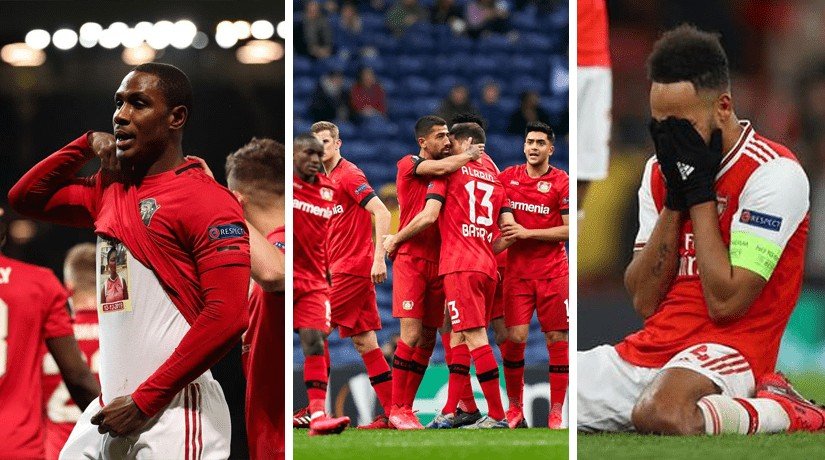 28th Feb 2020
Europa League 2019/20 Round of 32, Second Leg Round-Up and Highlights, 27 Feb 2020
The second leg of Europa League's Round of 32 came and went! Manchester United score five, Wolves are through whilst both Arsenal and Ajax got eliminated! Here are all the scores and highlights from Thursday night:
⏰ RESULTS ⏰

✅ 15 teams confirmed for round of 16

Biggest shock tonight? 🤔#UEL pic.twitter.com/28cHK4JQxv

— UEFA Europa League (@EuropaLeague) February 27, 2020
Manchester United 5 – 0 Club Brugge (6 – 1 on agg)
Manchester United unapologetically beat Bruges at Old Trafford five goals to nil and qualified for the Round of 16 with 6 – 1 on aggregate. This was the first time in seven years that United have won a European game by a five-goal margin, and the first time since 2018 that they were three goals ahead at half-time at Old Trafford.
Посмотреть эту публикацию в Instagram
The five goals came from Bruno Fernandes (P, 27′), Odion Ighalo (34′), Scott McTominay (41′) and a Fred brace. Fernandes is the first Portuguese to net in consecutive appearances for Manchester United in all competitions since Nani April 2012. And that's about it, when it comes to interesting things to say about this match; five goals in but we wouldn't exactly call it a thriller … 
Посмотреть эту публикацию в Instagram
Ajax 2 – 1 Getafe (2 – 3 on agg)
Ajax are out of Europa League after failing to beat La Liga side Getafe on aggregate, as was expected. Although the legendary Dutch club triumphed 2 – 1 in Amsterdam on Thursday night, it was not enough for them to go through to the next phase of the tournament. 
5 – Getafe's Jaime Mata has scored the earliest goal conceded by Ajax in all competitions at Johan Cruyff Arena this season (min. 5). Fast. pic.twitter.com/SogwDuFgrv

— OptaJose (@OptaJose) February 27, 2020
Getafe had another fantastic game and their single goal on the scoresheet hardly reflects their quality on the pitch. The Spanish club hit the woodwork not once, but three times, all with epic shots. The score was one-all just ten minutes in thanks to goals by Jaime Mata (5′) and Danilo (10′) and then Ajax scored a superb free-kick, which got a slight deflection off Mathias Olivera's head and was recorded as an own goal.
9 – Fewest shots Ajax in a home game this season: v Getafe (9)
Fewest shots Ajax in an away game this season: v Getafe (2).
Exit. pic.twitter.com/tgeMltCjxX

— OptaJohan (@OptaJohan) February 27, 2020
Arsenal 1 – 2 Olympiakos (2 – 2 on agg)
Nobody could have predicted this; a Greek tragedy in London on Thursday night as Arsenal's Europa League dreams were crushed when Olympiakos beat them 2 – 1 and progressed on away goals. This was the Gunners' first defeat of 2020 and probably their worst performance under Mikel Arteta.
Посмотреть эту публикацию в Instagram
The game went into extra time and tensions ran high at the Emirates. Pape Abou Cisse took the lead in the 53rd minute, which was canceled by Pierre-Emerick Aubameyang's wonder goal in extra time, only for Olympiakos to net their winner in the 120th minute of play, just when it hurts the most.
Arsenal fans (and everyone else) are completely flabbergasted by the fact that Ousseynou Ba was not sent off in the 21st minute for bringing down Nicolas Pepe in what was the most unquestionable red card of all time. VAR failed us once more, and had the officials got the decision right, Arsenal could have played against 10 men and perhaps save themselves from the humiliating elimination.
And as if Arsenal's heartbreak wasn't enough, this happened in the last seconds of play 🤦‍♂:
⏰ RESULTS ⏰

✅ 15 teams confirmed for round of 16

Biggest shock tonight? 🤔#UEL pic.twitter.com/28cHK4JQxv

— UEFA Europa League (@EuropaLeague) February 27, 2020
Espanyol 3 – 2 Wolverhampton (3 – 6 on agg)
Espanyol had their work cut out for them as they were already trailing by four goals when they welcomed Wolves on Thursday night. Despite the heroics from the La Liga side the visitors qualified for the Round of 16 with an aggregate score of 3 – 6. 
Espanyol star Jonathan Calleri scored a hat-trick and became the first player for the club to do so in European competition (including qualifiers) since Luis Garcia 14 years ago. The Argentinian striker tapped in his first European goal in the 16th minute to give his side a glimmer of hope, before Adama Traore equalized six minutes later. 
14 – Wolves' Matt Doherty has scored 14 goals in all competitions since the start of last season, more than any other defender for a Premier League side. Leveller. #ESPWOL #UEFAEuropaLeague pic.twitter.com/qjpmq04UPr

— OptaJoe (@OptaJoe) February 27, 2020
Calleri gave Espanyol the lead once more when he netted a penalty in the 57th minute, which was canceled out by Wolves' Matt Doherty twenty minutes later. And Calleri's third goal came in extra time but was unfortunately not enough to push his side through to the next round of Europa League 2019/20.
Wolves 👉 round of 16

How far will they go? 🧐#UEL pic.twitter.com/86Z0ss3ytT

— UEFA Europa League (@EuropaLeague) February 27, 2020
Porto 1 – 3 Bayer Leverkusen (2 – 5 on agg)
Just as we predicted, Bayer embarrassed Porto in their own house as they beat them 1 – 3 on Thursday night and qualified for the next round with 2 – 5 on aggregate. The visitors netted their first goal ten minutes in after Lucas Alario applied a superb finish past his Argentina countryman Agustin Marchesin, a goal that will be remembered for the longest ever VAR check in the world.
6 – FC Porto have been eliminated from six of their previous seven knockout ties in major European competition after losing the first leg, with the only exception being a 4-3 aggregate win over Roma last season in the Champions League Last 16. Challenge. #FCPB04 pic.twitter.com/eWVXODMdB9

— OptaJoao (@OptaJoao) February 27, 2020
By the 57th minute, Bayer were three goals up (Kerem Demirbay, 50′ and Kai Havertz, 57′), whilst Porto still hadn't produced a single shot on target. Even though Moussa Marega scored a brilliant header in the 65th minute, the city of Porto was glum and disheartened on Thursday night.
3 – @kaihavertz29 has been directly involved in 3 goals in a competitive match for the 2nd time in his professional career. The only time he achieved this before was in October 2017 when he assisted 3 goals versus Mönchnengladbach (5-1). Unstoppable. #FCPB04 #UEL @bayer04_en pic.twitter.com/Ma6ctfyZF5

— OptaFranz (@OptaFranz) February 27, 2020
Elsewhere in Europe
Wolfsburg thrashed Malmo away 0 – 3 (1 – 5 on agg) and became the first German club to be undefeated in nine consecutive Europa League away games in the history of the competition. Basel beat APOEL 1 – 0, whilst Istanbul Basaksehir triumphed over Sporting in a thriller that went to extra time.
Steven Gerrard's Rangers beat Portuguese side Braga by one goal to nil (2 – 4 on agg) and qualified for the Round of 16. Gent and Roma achieved a one-all draw in Belgium and despite the hard work by the hosts (23 attempted shots), they were eliminated and Roma moved forward with 1 – 2 on aggregate. 
10 – For the first time in an Europa League match, AS Roma have faced 10 shots in the first half. Struggle.#GentRoma #EuropaLeague

— OptaPaolo (@OptaPaolo) February 27, 2020
That's all from the 2019/20 Europa League Round of 32 and the draw for the next round will take place on Friday, February 28th. Here are all the scores once more and tune in for the last fixture on Friday night (Red Bull Salzburg vs Eintracht). Make sure to bet with 22Bet!