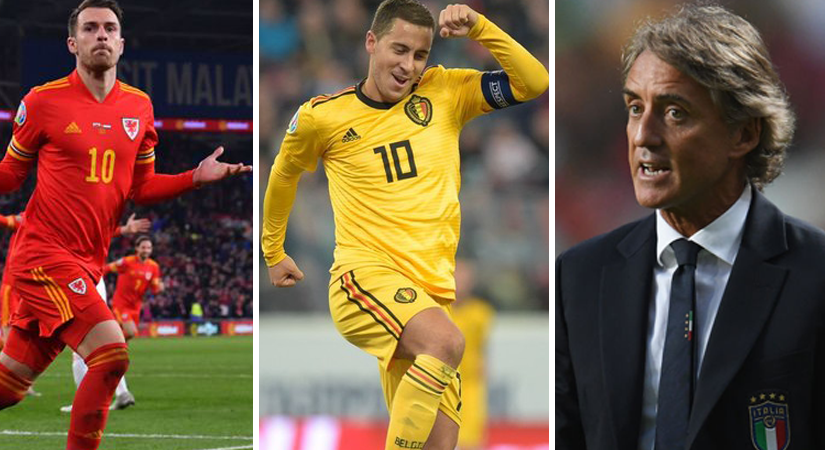 20th Nov 2019
EURO 2020 Qualifiers Recap 19.11.2019 – Winners that Proceed to EURO
The 2020 European Football Championship qualifiers were wrapped up last night as the latest passengers for the tournament secured their tickets to attend the spectacle in the summer.
The most notable match of the night was Wales' clash with Hungary. Three teams in the Group E competed for a solitary qualifications spot, as Croatia dusted away as the first a couple of days ago. All of Slovakia, Hungary, and Wales had their calculations completed before the last night's matches. In the case of Slovakia's expected win against Azerbaijan, Wales would need a win over Hungary. 
That's exactly the scenario which did happen – Hamsik-led Slovakia easily beat Azerbaijan, with Marek Hamsik scoring and assisting in a 2-0 win. Simultaneously, Aaron Ramsey scored a brace versus Hungary, who never actually looked like a threat, in order to secure the Euros for Wales at their home soil as the Welshman beat Hungary 2-0. The team ticked like a and never gave a chance to the Hungarians, who now only have World Cup qualifiers to look ahead to now. 
Belgian Machine
And while Group E offered some drama, the Group I provided us, once again, with such a repetitive scenario of Belgium demolishing their opponents. This time, in their 10th win in the qualifiers in the same amount of matches, The Red Devils beat Cyprus 6-1 behind De Bruyne and Benteke's brace combined with Carrasco's goal and an own goal from the unlucky Christoforou. 
The guests actually stunned everyone by taking an early lead which lasted the whole two minutes. The big win circled the most successful qualification cycle in Belgium history. In the other match of Group E, San Marino suffered another big 5-1 loss to Russia, as they ended the group with zero points on 1:51 goal-difference. Scotland managed to please their home fans with a 3-1 win after going a goal down early on.
The inspiring story of the day comes from Latvia, who won their first points in a 1-0 win over an uninspired Austrian side, as Oss scored the only goal of the match for the home side. The other matches in Group I resulted in Poland beating Slovenia 3-2 in a thrilling matchup, as Lewandowski scored a goal for ages for the home side. North Macedonia ended the qualifiers on a strong foot with a minimal win over Israel. 
Group C just confirmed Germany as the leaders, with both the Elf and the Netherlands noting big wins as the Germans beat Northern Ireland 6-1, while the Dutch railed Estonia in a 5-0 win behind a great hat-trick by Gini Wijnaldum.
This leaves us with Nations League mini-tournament qualifiers now, and it will be played in March. A lot of teams will fight as they get another chance to go to the big stage next summer.