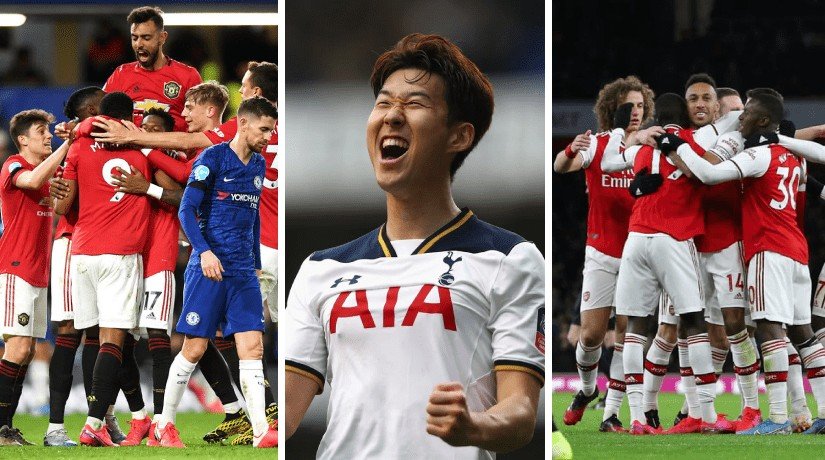 18th Feb 2020
Premier League 2019/20 Matchweek 26 Round-up & Highlights: Part Two
The weird matchweek 26 is lasting 12 days and is the gift that keeps on giving. It started last Saturday and ends this Wednesday with the rescheduled Man City vs West Ham game. Here are the highlights from this weekend's games, including a five-goal thriller at Villa Park, unlucky Chelsea, and a victorious Arsenal. We know… brace yourselves.
Chelsea 0 – 2 Manchester United
Frank Lampard's men were left feeling robbed when Manchester United beat them by two goals to nil at Stamford Bridge, with contribution from VAR decisions that went against them.
Ole Gunnar Solskjaer managed two consecutive victories over Chelsea for the first time since the 1987/88 season, a win that got his squad just three points away from their four-placed opponents.
4 – Anthony Martial has scored four goals in his last three Premier League games against Chelsea; his strike tonight was the first shot on target in the whole match. Breakthrough. #CHEMUN pic.twitter.com/6d2VvLlsy0

— OptaJoe (@OptaJoe) February 17, 2020
Anthony Martial opened up the scoreline in the last minute of the first half with a super-assist from Aaron Wan-Bissaka. And captain Harry Maguire guided in a header from a Bruno Fernandes corner in the 66th minute.
However, Chelsea had leveled the score. Twice. Kurt Zouma made it 1-1 but his goal was ruled out for a push by Cesar Azpilicueta somewhere else on the pitch … please! And then Olivier Giroud had scored another leveler in the 76th minute, but his header was ruled out because his toe was in an offside position. Meh.
2 – Chelsea are only the second team to have two goals awarded on the field only to be later ruled out by VAR in the same Premier League game, after Sheff Utd v Brighton in December. Denied. #CHEMUN pic.twitter.com/LFJqUai6xc

— OptaJoe (@OptaJoe) February 17, 2020
And that's it for the Big One of the weekend. Were Manchester United the better team? Were Chelsea better than what the final result reflected? Was this even a good game? We're not sure any more …
Aston Villa 2 – 3 Tottenham Hotspur 
How can we say this so it doesn't sound too ridiculous? Spurs traveled to Villa Park this Sunday for a five-goal Premier League thriller that was largely decided by three players.
Here is how it went: Toby Alderweireld scored an own goal in the ninth minute to put Aston Villa ahead, but then redeemed himself when his equalizer went past Pepe Reina less than 20 minutes later.
3 – Toby Alderweireld is the third Spurs player to score for and against his own side in a Premier League game, after Gareth Bale vs Liverpool in November 2012 and Chris Armstrong vs Arsenal in March 2000. Rebalance.

— OptaJoe (@OptaJoe) February 16, 2020
1 – Toby Alderweireld is the first player to score a goal and an own goal in the first half of a PL match since Fabian Delph for Aston Villa vs West Brom in January 2014; Delph's instance was also at Villa Park, while his own goal was also scored in the 9th minute. Oddity. pic.twitter.com/HXVkIE4LjN

— OptaJoe (@OptaJoe) February 16, 2020
Foward to seconds before the break and enter Bjorn Engels, who gave away a penalty and Son Heung-min got the ball in the back of the net regardless of Reina's brilliant initial save. 
50 – With his 8th league goal of the season, Son Heung-min has become the first Asian player to reach 50 Premier League goals. Representation. pic.twitter.com/XF4EHv4Mq6

— OptaJoe (@OptaJoe) February 16, 2020
Посмотреть эту публикацию в Instagram
BUT! Engels went from zero to hero when he scored for 2-2 in the 53rd minute. It didn't end there. It was his mistake that led to Heung-min's winner that crushed Aston Villa's hearts in injury time of the clash.
Norwich City 0 – 1 Liverpool
Liverpool beat Norwich City with a single goal by injury-ridden Sadio Mane, who came on in the 60th minute just to remind Liverpool fans what they have been missing for weeks. The Senegalese star scored the winner in the 73rd minute and put Jurgen Klopp's men 25 points clear.
Welcome back, Sadiooo!
Посмотреть эту публикацию в Instagram
17 – Liverpool have won 17 Premier League games in a row, matching their best ever winning streak in league football last set between March – October 2019, and just one shy of Manchester City's all-time English top-flight record of 18 between August and December 2017. Imperious. pic.twitter.com/wIlzTJ21Rr

— OptaJoe (@OptaJoe) February 15, 2020
Arsenal 4 – 0 Newcastle United
Arsenal scored four goals (said nobody in ages) to thrash Newcastle United at home on Saturday. The Gunners have drawn 13/25 games, a Premier League record so far into the season, so we were ready for another dull point from the Emirates.
Посмотреть эту публикацию в Instagram
The first half was exactly what we expected, but Mikel Arteta must have said something at half time because goals started reigning in from Pierre-Emerick Aubameyang (53′), Nicolas Pepe (57′), Mesut Ozil (90′) and Alexandre Lacazette (90′ + 5).
Shout-out to Bukayo Saka, just for being awesome and for this: 
8 – Bukayo Saka has assisted eight goals in all competitions this season, two more than any teammate; he also has the most assists of any Premier League teenager this season. Bright. pic.twitter.com/C8ea17WbB2

— OptaJoe (@OptaJoe) February 16, 2020
Sunday's victory puts Arsenal six points behind Tottenham Hotspur in the tenth position with 34 points.
Посмотреть эту публикацию в Instagram
Here are the final standings at the end of Part One of matchweek 23. See you next weekend for the second half and stay tuned to find out when the postponed Man City vs West Ham clash will take place. Make sure to bet with 22Bet!
Liverpool not top. 👀
Manchester United in the top four. 👊
Southampton flying high. 📈

This Premier League xG table is interesting to say the least. 😅

(Via @experimental361) pic.twitter.com/8XTkJcbGOW

— Sky Bet (@SkyBet) January 27, 2020