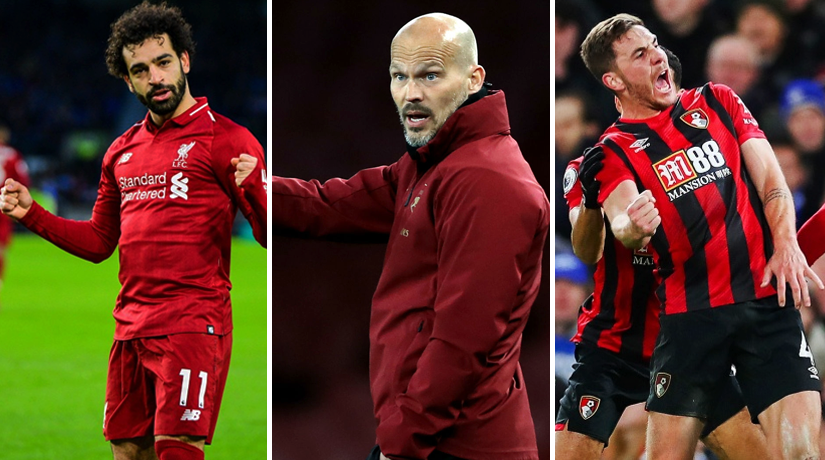 17th Dec 2019
English Premier League 2019/20 Matchweek 17 Round-Up & Highlights
Christmas is less than ten days away and the closer we get the more festive and generous the Premier League becomes, gifting us with late winners, solo stunners and improvised shockers in true holiday spirit.
Premier League 2019/20 Matchweek 17 Photos
We won't ask for much this Christmas, we won't even wish for Mo
There is no point beating around the bush. Liverpool, who remain unbeaten this season, were not that great this Saturday as they hosted bottom-table side, Watford.
The Hornets turned up at Anfield full of determination and had some eye-catching chances. But even when Liverpool are having an off-day, they can always unleash their secret weapon, Mo Salah. The Egypt international, who played as a No 10, stunned Watford's defense with a 38-minute goal that put the current Premier League table-toppers ahead just before half-time.
And then there was his sensational heel flick between the legs of Watford defender in injury time. Take a bow, Mo.
That finish, @MoSalah 🤤 pic.twitter.com/ASK2uXzzda

— Liverpool FC (@LFC) December 15, 2019
Everyone dancing merrily, in a new old-fashioned way
Super Sunday's clash between Arsenal and Manchester City went pretty much as expected. Arsenal got thrashed 3-0 not even a week after they finally ended their winless run at West Ham.
Kevin de Bruyne scored twice (first one just three minutes in) and provided an assist as the Citizens earned a deserved win in London.
Poorer teams than Arsenal have caused Pep Guardiola's squad more problems than the London side we witnessed this Sunday, and on home turf – as if the embarrassment wasn't enough. The Gunners were miserable, spineless, and in many ways, sad to watch.
Frustrations were high both on and off the pitch. Mesut Ozil lost his nerves as he was taken off, and after the match Gunners interim manager, Freddie Ljungberg urged Arsenal to make a management appointment soon.
Not soon enough, Freddie. Not soon enough…
Silent night, holy s**t
Bournemouth traveled to Stamford Bridge for what we all assumed was going to be a mediocre game between a barely-Champions League-qualified-Chelsea and five-consecutive-league-defeated-Bournemouth. 
And the game was exactly as we predicted. It lacked tempo, creativity and a sense of enthusiasm. All that changed in the 84th minute, which saw a scrappy, magnificently-improvised overhead flick by Bournemouth's Dan Gosling.
The effort was initially ruled out for offside before VAR intervened and awarded the goal, handing injury-ridden Bournemouth their first victory since November 2nd.
Man of the match, Gosling scored his first league goal since April in what was his first start of the 2019/20 Premier League season.
Needless to say, Frank Lampard was left unimpressed and desperately waiting for January's transfer window.
"I think it's a reaction time for everybody, myself, the players. Fans are coming here and watching us at home struggle to beat teams that we should beat."
John Fleck, the red-nosed reindeer
All hail Sheffield United, whose latest victory has placed them fifth on the Premier League table, currently above the likes of Manchester United, Tottenham and Arsenal.
The clash did not promise to be of epic proportions. In fact quite the opposite. The first half ended with both sides not having recorded a single shot on target.
But the second half started with a complete resurgence in energy. John Fleck gave United the lead 50 minutes in and doubled their advantage 25 minutes later with a masterclass in team goals. Two minutes after that, Aston Villa were awarded a penalty that Jack Grealish sent straight to the bar. 
View this post on Instagram
The dramatic second-half placed Aston Villa barely above the relegation zone and Sheffield United merely four points away from a Champions League spot.
Yes, take a moment.
Make sure to bet on Premier League 2019/20 with 22Bet!