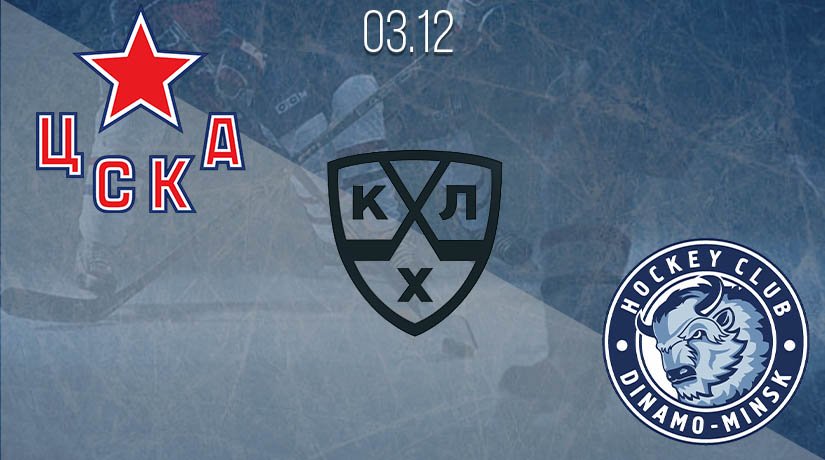 03rd Dec 2020
KHL Prediction: CSKA Moscow vs Dynamo Minsk on 03.12.2020
On December 3, CSKA Moscow will host a game against Dynamo Minsk and try to get a significant victory. Will the Minsk team be able to fight back? Let's find out.
CSKA Moscow
CSKA Moscow is the best club in the league in many aspects, including goals scored. So far this season, the team has scored 110 goals while conceding only 67 times. Not so long ago, the army club unexpectedly and devastatingly lost to HC Sibir in their home arena with a score of 1-5, but they won in the next three meetings.
We want to emphasize that Igor Nikitin's club beat HC Sochi (4-1) and HC Avtomobilist (5-1), and in their home arena, oddly enough, they experienced problems in the confrontation with Kunlun Red Star and won only in overtime with a score of 3-2. In the match against Red Star, CSKA scored two goals just in the third period. They did not look the best in the first two periods.
Dynamo Minsk
Dynamo is trying to show quality hockey this season and wants to enter the playoffs from one of the West's first positions. Now the team has earned 39 points and is in fourth place. They achieved victory in the previous three meetings out of four, losing only to Lokomotiv on the road in overtime (2-3).
In the last match, the team looked very active, and due to their perfected actions in the opponent's zone, they prevailed over Neftekhimik with a score of 5-1. Shane Prince scored two goals in that confrontation. Note that in away games Dynamo plays effectively and, on average, scores more than three goals.
CSKA Moscow vs Dynamo Minsk prediction
Dynamo had to draw the right conclusions after the crushing defeat from CSKA on their ice. The Minsk team plays no worse this season on the road than in the home arena and scores more than two goals per game on average. It seems to us that even Dynamo will be able to break through the defence of the army team at least twice. Our prediction is that Dynamo will score at least two goals.