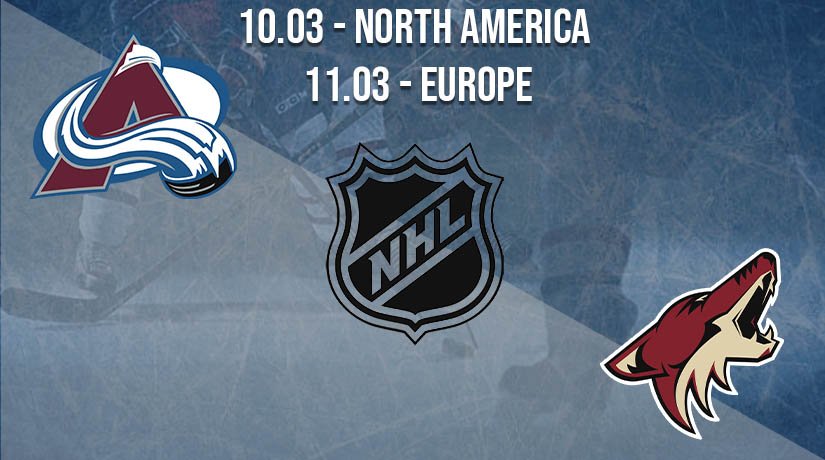 10th Mar 2021
NHL Prediction: Colorado Avalanche vs Arizona Coyotes on 10.03.2021 North America, on 11.03.2021 Europe
Colorado will sort things out with Arizona at their home arena, and we will make a prediction for this contest.
Colorado Avalanche
Colorado dropped to the fourth line of the standings since they suffered two defeats in a row. Let us remind you that on their home ice, first, Avalanche lost to Anaheim (4-5 OT), and then lost to Arizona with a score of 2-3, while in both cases, the club was considered the clear favourite of the match. The team has a strong line-up, an excellent attacking line and scores more than three goals on average on their home ice. As a rule, the team deals with such rivals without difficulty, but now, as we can see, even in confrontations with outsiders, they are having a difficult time. By the way, Colorado is one of the most reliable clubs in terms of playing in defence.
Arizona Coyotes
Arizona will fight this season to make it to the playoffs. The team is on the fifth line of the table but lags behind the fourth position by only one point. The Coyotes have worked on the quality of their game and have achieved success in the last three games out of four. Note that before the meeting with Colorado, the team on their ice confidently dealt with Minnesota with a score of 5-2. However, the team can hardly be called an attacker. Instead, they prefer to act in defence and wait for their opponent's mistakes, but at the same time, they take advantage of their scoring chances.
Colorado Avalanche – Arizona Coyotes prediction
In our opinion, Colorado will work on its mistakes and take a more serious approach to the return leg. Avalanche is superior to their opponents in class and can play well in defence, while the Coyotes will have to work in defence again and look for their chances in the attack. Plus, this season, the hosts have already beat Arizona twice.