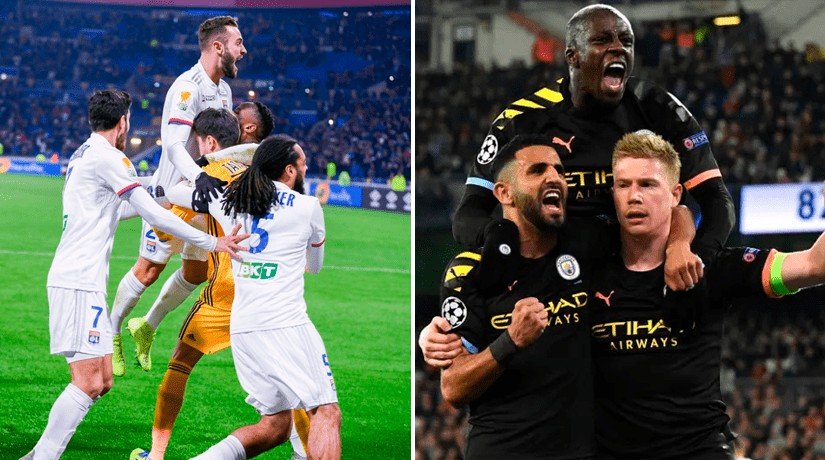 27th Feb 2020
Champions League Round of 16, First Leg Round-Up and Highlights, 26 Feb 2020
Red cards, bloodied faces, heart-crushing comebacks, and broken records – here is everything that went down in the first leg of the Champions League Round of 16 this Wednesday night.
Lyon 1 – 0 Juventus
Serie A giants Juventus arrived in Lyon as certain favorites to beat the Ligue 1 seventh-placed side but instead, they deservedly lost 1-0. Juve were lousy, lethargic and genuinely lifeless. Lyon, on the other hand, were patient, calculative and played a smart game of football that thankfully paid off in their favor since they were by far the better team on the pitch on Wednesday night.
Not gonna lie, we witnessed the blandest opening to a game of football ever, and things didn't improve much after that. Cristiano Ronaldo and the rest of his star-studded team were all having an off-night … all night. The Bianconeri did not record a single shot on target and the match consisted of one grinding halt after another, actual blood, sweat, and tears.
0/25 – 🇵🇹 Cristiano Ronaldo's last 25 direct free kick shots in the Champions League:
❌
❌
❌
❌
❌
❌
❌
❌
❌
❌
❌
❌
❌
❌
❌
❌
❌
❌
❌
❌
❌
❌
❌
❌
❌
Pjanic?#OLJuve pic.twitter.com/KtkMtbqFM9

— OptaJean (@OptaJean) February 26, 2020
Matthijs de Ligt received a heavy cut to the face and was being bandaged on the sidelines. Lyon took advantage of 10-man Juventus and Lucas Tousart scored a belter to give the hosts the lead. Ousmane Dembele had a chance to make it 2-0 a few minutes later.
Посмотреть эту публикацию в Instagram
3 – Houssem Aouar 🇫🇷 has been involved in 3 of Lyon's last 5 goals in the Champions League (1 goal, 2 assists). Essential.#OLJuve pic.twitter.com/zECpen7dEy

— OptaJean (@OptaJean) February 26, 2020
Since scoring, Lyon dominated the game. Ronaldo flopped a free-kick, Gonzalo Higuain came on and missed a great chance and before we knew it, the game was over. Lyon beat Juventus at home and we can only hope to see better football from Juve when they play the second leg in Turin on March 17th.
Real Madrid 1 – 2 Manchester City
We were all ready for an exciting draw, but instead, Man City triumphed in Madrid in a thriller game that saw them came back from a goal behind to stun Real Madrid and win 1-2 at the Bernabeu. Pep Guardiola's squad are the first English team to beat Real Madrid there in 11 years. The stats keep pouring in; City are also just the second side to win over Real Madrid away from home in the Champions League despite conceding the first goal (after Milan in 2009).
1 – Isco has scored his first Champions League goal since September 2018 (vs Roma), and his first in the knockout stages since May 2017 (vs Atletico Madrid). Smash. #RMAMCI

— OptaJoe (@OptaJoe) February 26, 2020
Isco opened up the score sheet an hour in thanks to an assist by the impressive Vinicius Junior. The pace picked up and Man City, who were having a brilliant game, finally scored their deserved equalizer 18 minutes later. Gabriel Jesus slotted in from close range thanks to a fantastic cross by who else but Kevin de Bruyne.
50 – Kevin De Bruyne has now scored 50 goals in all competitions for Manchester City; this is the first time he's both scored and assisted in the same Champions League game. Captain. #RMAMCI pic.twitter.com/hN5qhdQt8M

— OptaJoe (@OptaJoe) February 26, 2020
And then for the winner. Seven minutes from time, Raheem Sterling was fouled inside the box and De Bruyne cooly converted a penalty to give his side a victory and take control of their Champions League last-16 tie.
Real Madrid's eight minutes of hell continued as captain Sergio Ramos got a red card for taking down Jesus, making this his 4th in the Champions League (26th for Real Madrid), tied with Edgar Davids and Zlatan Ibrahimovic and for the most red cards in the history of the tournament.
124 – @realmadriden's Sergio Ramos has now played more @ChampionsLeague games with all of them being starts than any other player in the competition (124), surpassing Gianluigi Buffon's record of 123. Captain. pic.twitter.com/MnEq1qfqjC

— OptaJose (@OptaJose) February 26, 2020
Special shout-out to Jesus, who was selected to feature in Guardiola's starting XI ahead of Sergio Aguero. The bet more than paid off as the Brazilian star showed leadership, skill and was a true pleasure to watch. So thank you, Gabriel. 
Посмотреть эту публикацию в Instagram
Real Madrid will travel to the Etihad for the return leg against Man City, who head into the fixture with two away goals to their name. Will Zinedine Zidane's men reach the quarter-finals this season? Only time will tell … 
That's it from the first leg clashes of this round! See you on March 17th and 18th for the return ties of Champions League's Round of 16. Make sure to bet with 22Bet!