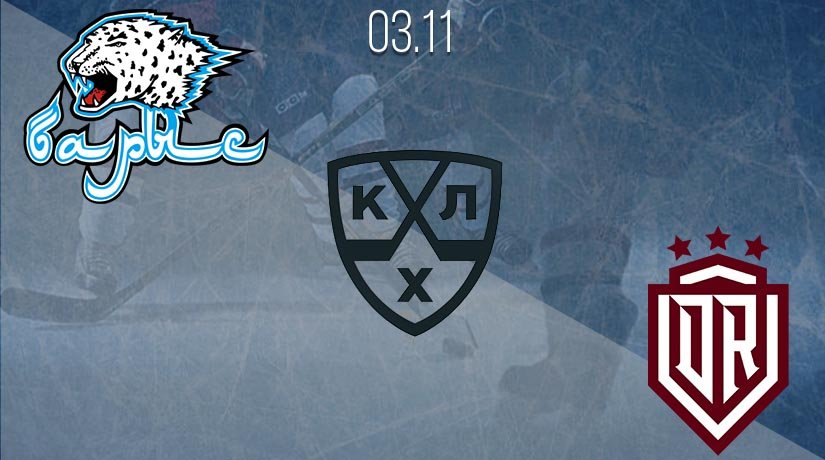 02nd Nov 2020
KHL Prediction: Barys vs Dinamo Riga on 03.11.2020
On November 3, Barys will host a KHL regular-season game against Dinamo Riga. Will the team from Riga be able to stop its extended series of defeats? Let's find out!
Barys
In their previous match, Barys finally won a game within regulation. The last time they achieved this was on September 9 over Kunlun on the home ice. The team now has 18 points and occupies the 10th position in the Eastern Conference standings.
But, due to a three-week quarantine, the Kazakhstanis have several matches in reserve. Therefore, it is not too late for them to solve their tournament problems.
The victory over Kunlun should give confidence to the team from Kazakhstan.
The next rival is not one of the strongest and is now in distress due to crucial personnel problems. For the hosts, this is the right option to obtain a convincing victory while scoring many goals. After all, Barys does not often manage to upset the rivals' goalkeepers many times.
Dinamo Riga
Dynamo is not in the best situation. Things are not going well for the team as 15 players of their main team are in quarantine. The coaching staff has to manage with those hockey players who remained in the lineup and reservists. It is clear that the players are not used to playing with each other, the defence isn't very good, and so on.
This tournament is not easy for the Latvian team this year, but the regular season must be continued. So far, the team is playing as best they can, but they concede a lot of games. In the last two matches, they conceded 12 goals from Traktor and Avtomobilist. In Nur-Sultan, their chances are minimal, and the hosts will surely upset the goalkeeper at least a few times.
Barys vs Dinamo Riga prediction
There is no need to bring up the statistics of personal meetings at this point. Let's start with the fact that now the Riga team is experiencing difficulties with their lineup, which leads to a lot of goals conceded. This is a perfect opportunity for Barys's players to improve their stats. This time we expect a confident victory of the hosts.