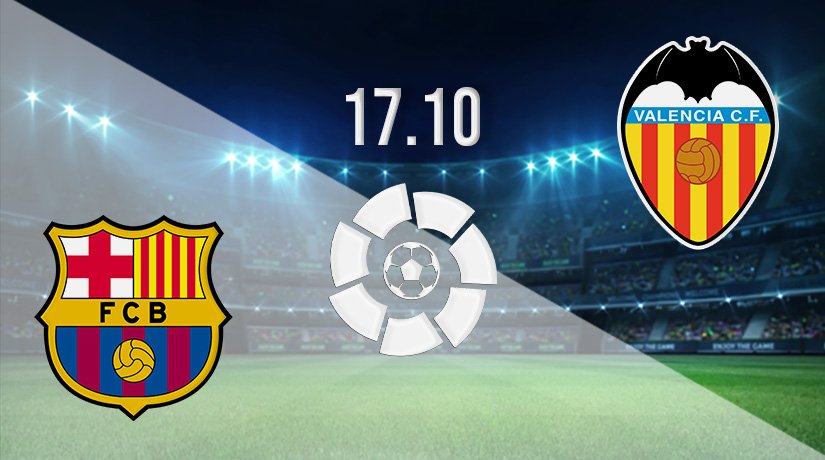 11th Oct 2021
Barcelona v Valencia Prediction: La Liga Match on 17.10.2021
The international break is over and we return to club football action across Europe, with the continent's biggest teams picking up their pursuit of points. There's a competitive list of matches set to be played in Spain, with the majority of games from round nine of the season scheduled for Sunday between 13:00 and 20:00 GMT.
Barcelona host Valencia in one of the standout matches on the schedule, and our team of football writers preview the match, looking at the form of both teams involved before checking out the odds and making our predictions on how the game could play out.
Barca finished third in La Liga last season, and they started that campaign with a stronger squad than is available to them today. The expectations of fans haven't dropped any, with supporters demanding the players rise to the occasion and keep the team competitive in La Liga and the Champions League.
Valencia knows this isn't the Barca of old and understand they have a good chance of getting something from this trip. Will the visitors pile pressure on their host, or will Barca's class shine through?
These teams met twice last season in La Liga, with those games producing a total of nine goals. The most recent meeting ended in a 3-2 win for Barcelona on the road, and armchair fans will hope to see this renewal live up to the trends and provide us with another high scoring encounter.
Both teams have scored in seven of the last eight meetings of the teams, with the spare being a 2-0 win for Valencia in January 2020.
Barca were beaten last time
Barcelona suffered defeat in their last La Liga match as the giants of Spanish football continue to toil following a disastrous summer. The locals were forced to release star player Lionel Messi to help cover huge cost-cutting measures, and the greatest player of the modern era left for PSG.
Barcelona didn't gain any transfer fee, but they did benefit from saving on the players' wages which went a long way to helping them stay in business and avoid any further punishment from officials conducting a financial fair play investigation. Messi had accepted a 50% wage cut to stay, but even that wasn't enough to protect his future in Spanish football.
Since this season began, Barca has struggled for consistency, and it's not yet clear if they will be challenging for the title this term. It may be a case of the club finding its feet and dealing with off-field problems. They are still a strong side, and the players that remain look good enough and experienced enough to mix it with the likes of Real Madrid and Atlético Madrid, but they have lacked consistency so far.
Barca started the weekend down in ninth place in La Liga with their stats for the season reading three wins and three draws against one defeat, scoring 11 goals but conceding seven. They have lost the same number of games as league leaders Real Madrid but the attack minus Messi has scored the same number as Real Betis in 10th, and they have the same number of wins as Mallorca in 12th.
The home team were beaten last time, going down at the home of champions Atletico Madrid courtesy of a 2-0 final score. That was a match few expected them to win given their issues, but fans did want to see them remain competitive and get at least one goal.
They were unable to achieve that, with strikes from Lemar and Suarez helping to wrap up the points before halftime. It was another example of how strong Madrid can be and how weak Barca have been going forward.
Valencia winless in four
Valencia journey to the Camp Nou without a win in their last four league matches which will worry all concerned with the away team. They can be found down in eighth place, one spot higher than their opponents with stats of three wins and three draws against two defeats, scoring a dozen goals and conceding eight.
Failure to improve on their recent efforts could see them drop further down the pecking order and further off the level needed to secure a place in European football next season. Improvement is required, and everyone inside the away dressing room on Sunday knows it.
The visitors have lost two and drawn two of their last four league matches following a decent start to the campaign. Back-to-back defeats brought the players back to earth with a bump, but they had enough character to help steady the ship with a pair of draws.
Two points gained from the dozen available to them is a woeful return, but if they are able to bag a rare away win over Barcelona on Sunday, it would help get their push back on track while providing a boost to the team morale. Easier said than done, of course, but beating Barcelona certainly isn't an impossible task at this point.
Valencia's two draws came from a 1-1 at home to Athletic Bilbao at the end of September and a goalless finish away to Cadiz before the international break. That was two matches they were expected to win and had chances to win but failed to deliver.
The 0-0 at Cadiz last time was a particularly disappointing result. The pressure is now on Valencia to respond by making a welcome return to scoring ways and a return to winning ways. Valencia are under as much pressure as their toiling hosts.
Barcelona v Valencia prediction
Barca are the home team and will be backed by an expectant crowd, but that can work one of two ways. The players can start well and feed off the enthusiasm of the crowd, or they can start poorly, and the support will get on their backs early, moaning about the lack of cutting edge in the final third of the park. To win over the fans, Barca must hit the ground running.
Valencia are stuck on a poor run of form, but they are ranked above their opponents in the league table and have claimed a draw in their last two matches. Another share of the spoils on Sunday would mean another game without a win, but a point at Barca is never a bad result, and Valencia fans would likely accept that.
La Liga odds
Barcelona can be backed at 1.485 for the win, with Valencia trading at 6.6 and the draw 4.38.
Make sure to bet on Barcelona v Valencia with 22Bet!