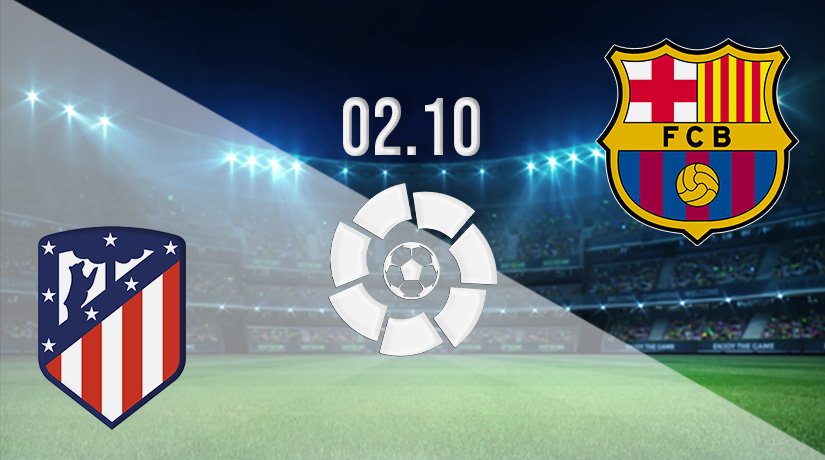 29th Sep 2021
Atletico Madrid v Barcelona Prediction: La Liga Match on 02.10.2021
Round eight of the Spanish La Liga season presents an interesting match involving champions Atletico Madrid and title rivals Barcelona. The home team from Madrid caused a major upset last season when finishing as kings of Spanish football, holding off the attentions of derby rivals Real Madrid and Barca that finished second and third respectively. Atletico is out to show it was no fluke.
The locals haven't been exactly convincing during the early exchanges of their title defence, but they do have the benefit of the home-field advantage and will want to make it pay against a weakened opponent. Barcelona lost Lionel Messi to PSG in the summer as a cost-cutting measure, but those left behind will want to prove they are good enough to challenge for the title, and Barca isn't a one-man team.
The last match involving Atletico and Barca at this venue ended in a 1-0 win for the home team thanks to a goal from Yannick Carrasco, who found the net on 45 minutes to nick the points. Followers of the stats may be interested to learn that Atletico hasn't lost a match to Barcelona since the opening day of December 2019. That's a run of four games with two wins and a pair of draws. Will that unbeaten streak continue, or can Barca bag an away win and push themselves back into contention for the title?
Madrid's stats fail to impress
Atletico Madrid sits fourth in the table after seven games with their form for the season so far, showing four wins and two draws against one defeat. The 14 points collected leaves them three off the pace set by derby rivals Real Madrid, but there's still a long way to go, and the last few months of 2021 could have a huge impact on which team goes on to win the trophy come spring. Looking closer at their early season form, we note Atletico have scored nine goals and conceded six, which helps explain why they are off the pace at present. Their goals scored tally is worse than Osasuna, who are down in nine and their goals against is double that of Villarreal in 11th place.
Madrid has won only two of their last five games, and they have struggled for consistency at the end of summer. Results in that period show two wins, a couple of draws and a defeat, with the spare loss coming in their last match. Interestingly, the champions are the only team in the top seven in the league that has suffered defeat in the last five starts. Fans will want to see the players respond to that loss and get back to winning ways as quickly as possible. Victory over Barcelona would be a fine way to achieve it.
Atletico were last seen in league action losing away to Alaves in what ranked as a shock defeat. 1-0 was the score in that match, the winning goal scored by Laguardia inside the opening four minutes of play. Atletico were stung early and struggled to regain their composure and get themselves level despite creating plenty of chances. That lack of fight will be a cause for concern to the fans and coaching staff.
Barca have a long season ahead
All eyes are on Barcelona this season following a disastrous summer that saw them lose star player Lionel Messi, a man that had made Barcelona his own and was expected to play out the remainder of his career there. Ordered by officials to get their books up to scratch, Barca had to sell while cutting their wage bill. Despite accepting a 50% wage slash, Messi eventually moved to PSG as that sacrifice wasn't enough to save his former employers and laws in Spain prevented him from taking any more of a hit.
Will Barca rise like the phoenix from the flames or will their fans now suffer a fate similar to followers of most other clubs in the game – a season without success. Messi may be away, and the board may be running around trying to fight fires every day, but even their weakest team is good enough to challenge for the La Liga trophy and cup success. The Barca players now have a chance to show what they are made of, helping shoulder the club's burden while pushing it back into the major places in the league.
You'll find Barca down in sixth place in the league after six games with their points tally stuck at a dozen, already five off the pace set by Real Madrid. The visiting team's form shows three wins against three draws which makes them one of only four unbeaten teams in the league. Can they avoid that first loss another week longer and take at least a point from the home of the champions? Victory would prove to any doubters they are good enough to challenge for the title following a sticky start.
Atletico Madrid v Barcelona prediction
This is one of the most intriguing matches from European football this weekend, and it is sure to draw a TV  audience in the millions. Followers of La Liga want to see if Atletico has what it takes to defend their crown, and beating Barcelona would help prove that. Barca is playing under the pressure of being followed by the world, doubters hoping to see them fall harder still. Will that happen?
There's no doubt the team that started this season for Barcelona was much weaker than the one that began the previous campaign, but they don't have a weak squad by anyone's standards. This is still a team with an embarrassment of talent, and now they are fighting to silence their critics, there should be an extra bite in the visitors' performance.
La Liga odds
The match winner betting available at 22bet on this clash has Atletico Madrid priced at 1.99 while Barcelona is 3.82 and the draw 3.46. There is also a long list of specials to bet on, including first goalscorer, correct score and total goals.
Make sure to bet on Atletico Madrid v Barcelona with 22Bet!