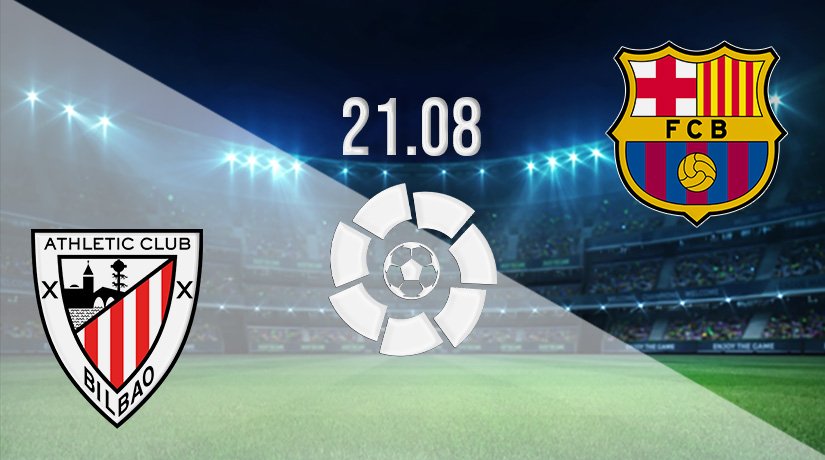 16th Aug 2021
Athletic Bilbao v Barcelona Prediction: La Liga Match on 21.08.2021
We head into round two of the new La Liga season, and followers of the top division in Spain have a hectic schedule to look forward to this weekend. Four games are scheduled to be played on Saturday, with the action beginning at 16:00 when Alaves take on Mallorca. The main attraction and most interesting contest for La Liga lovers kicks off at 21:00 GMT when Athletic Bilbao take on Barcelona in a match you can follow live on television. The stadium will be packed with millions of more fans worldwide watching the play live.
A difficult season is expected for both teams, with Athletic Bilbao predicted by many respected pundits to finish no higher than the Europa League Conference places while the mighty Barcelona must compete without fans' favourite Lionel Messi. The Little Magician recently moved to French Ligue 1 side PSG as Barca's backroom staff continued their savage cost-cutting measures designed to bring the club's finances back into line with fair play rules. Everyone residing on planet football will watch the team's progress closely this season.
Athletic Bilbao and Barcelona met four times in competitive action last season, twice in La Liga, once in the Spanish Super Cup and once in Copa del Rey. Barca won three of those four games, but each one was a fascinating affair with plenty of goals scored. The four matches produced a total of 17 goals, with the most recent clash producing a resounding 4-0 win for the Catalans in the Copa del Rey back in April. Messi notched a double in that game. Will this renewal follow the trends and produce more goals?
Bilbao aiming to fight back
Athletic Bilbao were disappointing last season when finishing further down the league table than fans had hoped to see. It was a disappointment for all concerned with the club ending 10th of 20, giving supporters little to cheer and nothing to get excited about towards the end of the campaign. Their poor form meant they miss out on European football again this term and the potential riches that accompany playing alongside some of UEFA's elite teams. Followers will hope to see them improve a few places and move into Europa League contention in the coming season. To have any chance of achieving that, the club must ensure they are tough to beat at home.
Bilbao were last seen in action on Monday evening when completing round one of the new La Liga season. They travelled to Elche for that game which means they have less recovery time than their opponents. They do hold the home advantage for this fixture, but time is already against them as they are back on the field of play just five days after facing that road trip. They played on Monday, would have had Tuesday off, then begun preparing for Barca on Wednesday. The coaching staff may want to rotate the squad as best they can.
Bilbao will enjoy the backing of the home support, and that should drive them on in the opening exchanges of this fixture. The locals are aware of the problems faced by Barcelona but aren't naive enough to think the visitors are powerless. This remains a tough match for the home dressing room, and they must be better in defence than they were against Barcelona in those four games last season.
Barca off to a winning start
Since the conclusion of this summer's Euro 2020 final in London, all the talk amongst football fans has centred on Barcelona. The former champions of Spanish football are enduring a torrid time off the field, with officials now adamant the club must adhere to the strict rules on financial fair play after years of overspending and living beyond their means. In a desperate attempt to slash the wage bill, the club offered Messi a 50% wage reduction to remain on board, and the player many view as the best in the world accepted. Even that wasn't enough to put a dent in the huge hole in their books, so Messi was allowed to leave, moving to PSG with a heavy heart. The focus is now on surviving life after Messi. Are Barca good enough to challenge for the title?
Football fans across the world were looking for an answer to that question last weekend when Barca opened their league campaign with a game against Real Sociedad at the Camp Nou. It was a league game they simply had to win as there was much more than three points on the line. The players wanted to prove the squad wasn't all about Messi, and they had the desire, talent and fight to challenge for the title despite all the club's ongoing problems. They did just that, and they did it in emphatic style.
Barca destroyed Real Sociedad last Sunday with the final score in that match reading 4-2 to the home team. The final score flattered the beaten team as they scored each of their two consolation goals in the final eight minutes of the match, finding the net twice in quick succession on 82 and 85 minutes. Pique and Roberto were on the scoresheet for the winning team, with Braithwaite noticing a double, one at the end of the first half and the other with an hour played. The performance and scoreline was a message of intent from a club that must feel the world is against them.
Athletic Bilbao v Barcelona
Athletic Bilbao has endured a tough week following Monday's outing, and things are just about to get even tougher when hosting Barcelona in this match. The locals know the size of the task ahead of them here and are aware of how good Barca are when allowed to play their brand of football. It's up to Bilbao to shove them off their stride and frustrate the players and away fans. The longer this match remains goalless, the better for Bilbao, who will then look to capitalise on any frustration.
Barcelona were sensational last week and showed they are up for a fight this season. They scored two goals and kept a clean sheet until the contest was over, but that was at their home. Doing it on the road is a much tougher task, and fans are looking forward to seeing if this team can be consistent enough to grind out another three points.
La Liga odds
The pre-match betting available at 22bet had Athletic Bilbao at 4.14 for the home win while Barcelona are trading at odds of 2.53 to maintain their 100% record to the new season and make it six points from two games. The draw is 2.28.
Make sure to bet on Athletic Bilbao v Barcelona with 22Bet!