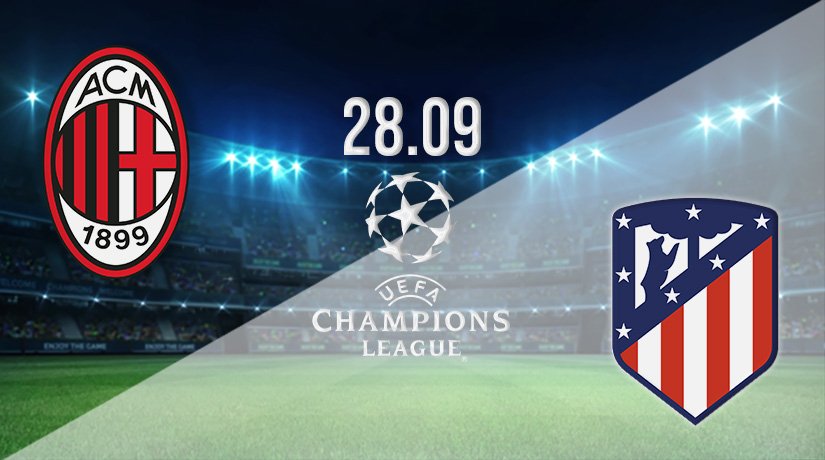 27th Sep 2021
AC Milan v Atletico Madrid Prediction: Champions League Match on 28.09.2021
Both matches from Champions League Group B will be played on Tuesday and shown live on television to an audience in the millions. AC Milan hosts Atletico Madrid in an exciting Italy vs Spain clash from 20:00 GMT and this game will attract its fair share of neutral football fans. Supporters of Liverpool will be busy watching their side's trip to Porto where they aim to make it two wins from two games but they will also be keeping close tabs on this match, eager to see where the main competition for the top spot in the pool comes from.
In Italy, AC Milan and Atletico Madrid know the pressure is on to get the win and claim three points after failing to do so in their opening games. If Liverpool wins on Tuesday they could pull clear of the chasing pack and that would ramp up the pressure further as two qualification slots are suddenly cut to just one between three teams. A win here though would change all that with three points ensuring the victors remain on the hunt for pole position and a place in the next round as group champions.
Followers of the away team will take heart from the stats attached to this fixture as they show Atletico Madrid holds a 100% record over AC Milan from two previous meetings. Those games came in this competition in 2014 when the Spaniards won home and away. They opened with a 1-0 win in Milan before returning to Spain and slaughtering AC 4-1, easing into the next round courtesy of a 5-1 aggregate score. There is no aggregate needed here, of course, but Atletico will be confident in their ability to protect their winning form over Milan and add their points to their group count.
AC Milan beaten on matchday one
AC Milan, encouraged by their form in Serie A last season, entered the group stages of this Champions League intent on making an impression. They were added to what was referred to as the "group of death" by most football fans but Milan knows they are good enough and have talent enough to hold their own at this level. They will be eager to book their place in the Champions League in the new year but know they must be strong at home if they are to stand any chance of achieving that. Three points and a win over Atletico Madrid would do wonders for their chances.
Their campaign got off to a poor start when AC Milan was beaten on matchday one by Liverpool at Anfield. The Reds were the favourites with the most respected pundits to win the points that day and they lived up to expectations thanks to an impressive 3-2 final score. In what was a thrilling contest, Milan fell behind early in the game due to an own goal but fought back and entered the halftime interval with a 2-1 lead. They weren't able to hold onto that and buckled under the heavy pressure applied by the Premier League side. Liverpool got level with a goal from Salah then won it thanks to Henderson.
A fine effort from AC Milan at Anfield and they controlled long periods of the game, looking likely to get at least a point from that match before falling just short. It will hurt them that they returned to Italy with nothing to show for their efforts despite finding the net twice against one of the competition favourites but the coaching staff, players and fans can take encouragement from the way they played, certainly going forward. More of the same will see them go close to winning at home.
Madrid drew their opening match
Atletico Madrid caused one of the biggest upsets in European football last season when holding off Real Madrid and Barcelona to win the La Liga. They did this despite being written off by just about everyone with an interest in Spanish football, when during the final few weeks when they remained in pole position. Madrid stuck to their guns, held their form and continued to pick up important points as they raced across the finish line and lifted the title. They now hope to build on that by making progress in the Champions League.
Atletico Madrid may have won the title as underdogs but that won't take any of the shine off their achievement. They are now in the Champions League and mixing it with UEFA's elite on merit, flying the flag of Spain as champions of La Liga. That comes with its own pressures but it will also help drive the squad during what is sure to be a gruelling campaign. A win in Italy would see them move ahead of their opponents and strengthen their claims on qualification to the knockout rounds.
Atletico drew their opening match at home to FC Porto, stumbling to a goalless finish. It was a game they were expected to win and take three points from but the champions looked off-colour that day, certainly in the attack. That goalless finish was followed by another in La Liga at home to Athletic Bilbao before edging Getafe 2-1 on the road and losing 1-0 away to Alaves at the weekend. Fans want to see much better from their team here, and the players will be eager to leave their problems at the door and enjoy the distraction of Champions League football.
AC Milan v Atletico Madrid prediction
Two teams that look to be in direct competition for second place in the group behind Liverpool, even at this early stage. AC Milan knows they must make the home advantage count to get off the mark and claim something from this match. Even a draw would be viewed as a step in the right direction. Atletico comes to Italy with a point on the board, and if they can avoid defeat, the balance of power will swing their way.
Here we have two teams packed with talent, and that should make this an exciting 90 minutes of play. There is plenty of attacking flair in both camps, but the winner of this game will be the club that defends better. With so much at stake, especially for the home team who have no points on the board, this should be a tense match.
Champions League odds
The pre-match betting odds available at 22bet offers members 2.952 on AC Milan winning the game. If you'd prefer to back Atletico Madrid for the away win, you'll get 2.56, or there's the draw chalked up at 3.09.
Make sure to bet on AC Milan v Atletico Madrid with 22Bet!